i saw this craft after the years of different butterfly punch art and i was finally ready.
i had pictures of annie painting the paper but they have disappeared.
the first step is to watercolor paint on paper.
paint all over with pattern or with out….less water makes for brighter colored paint.
and let it dry.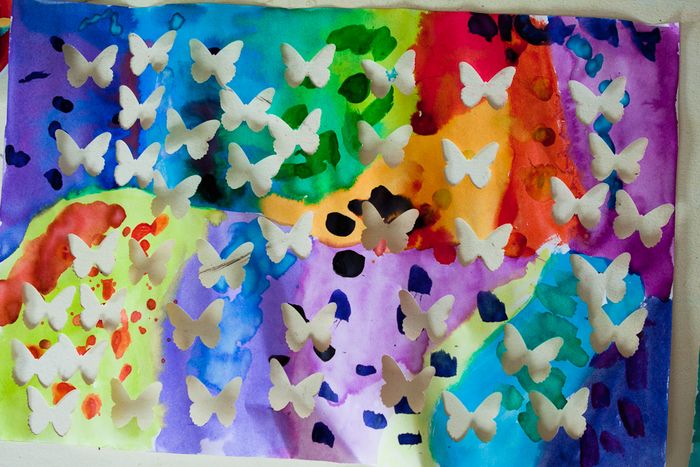 then punch out as many butterflies as you can.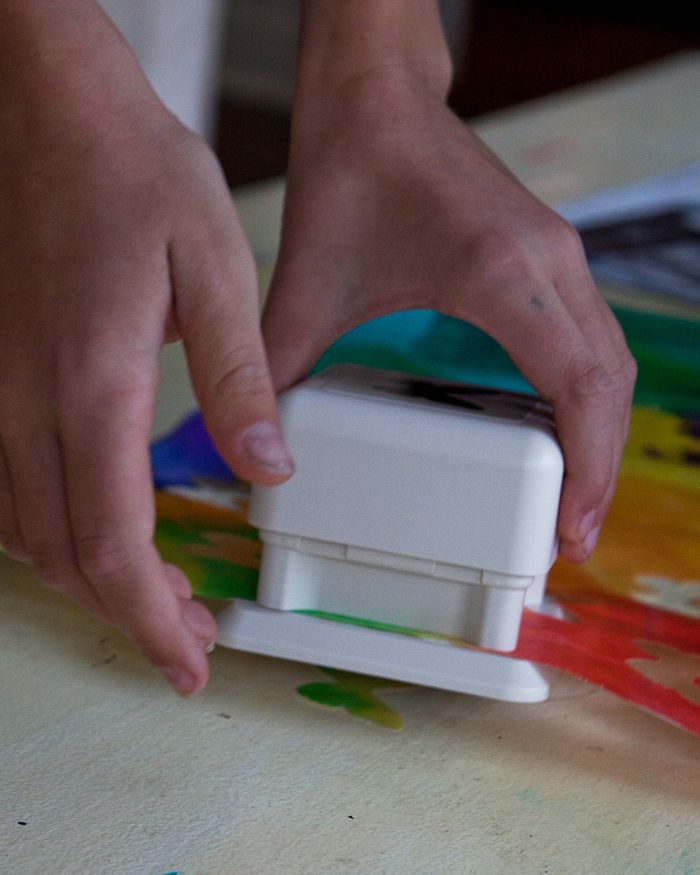 i bought this martha stewart butterfly punch at joann's.
they are not cheap but it was on sale and they do have 40% off coupons quite often.
and THAT punch is really cool.
VERY easy to use!
it's in two pieces so you can punch out from any part of the paper not just on the edge.
VERY COOL.
i get why it costs more than the other brands….quality.
it's martha!  what would you expect?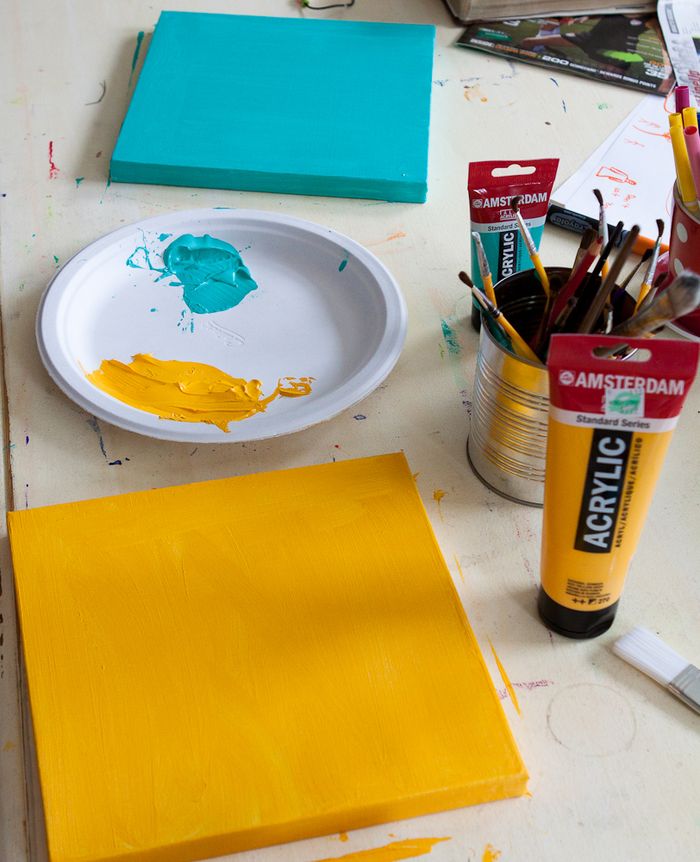 we used 10×10 canvases also from joann's….i wished i had bigger canvases….like 20 x 20 would have been great!
the girls painted them with acrylic paint.
it was fine to have the streaks in the paint….i liked it.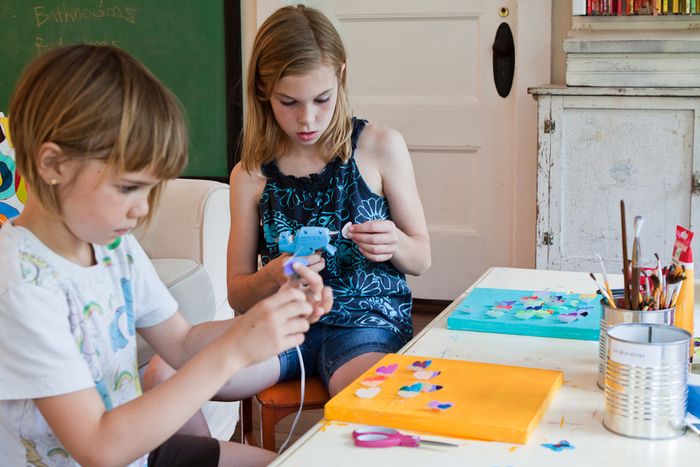 when the paint was dry they plugged in their glue guns and got to work with a pile of colorful butterflies.
we bent them in the middle and put a tiny dot of hot glue in the center of the back of the butterfly.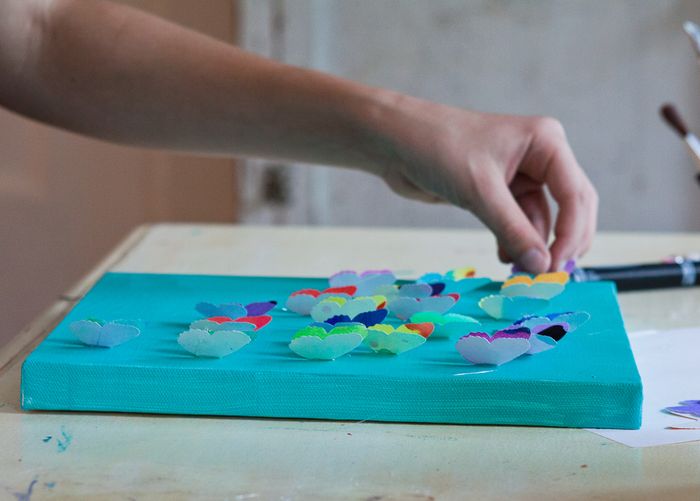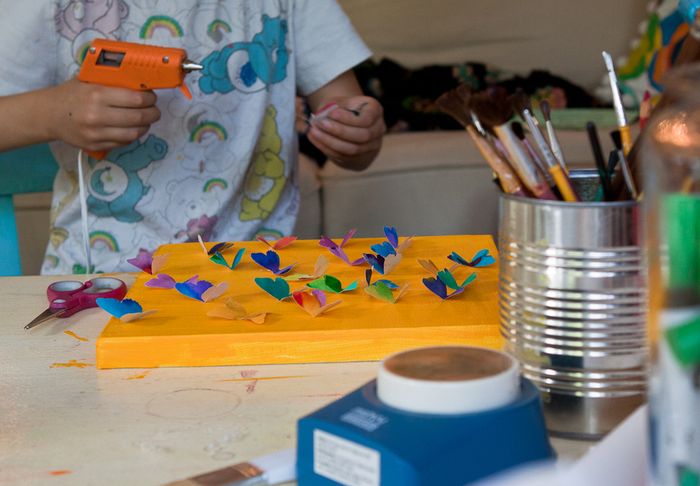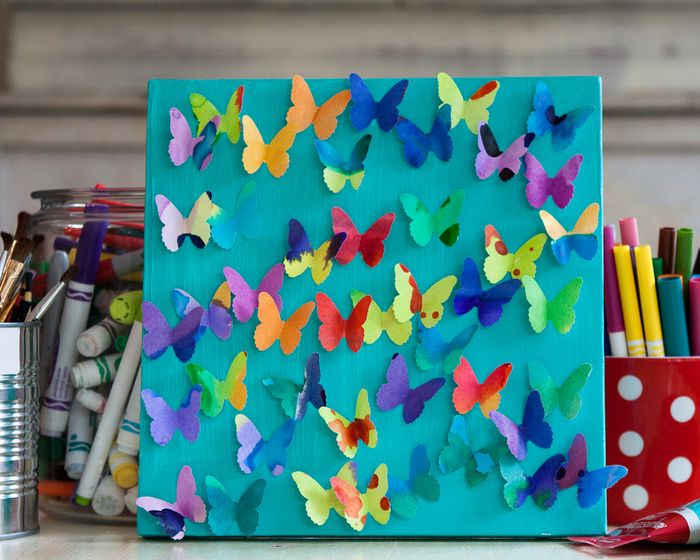 i couldn't love it more.
it's so pretty.
talby's was turquoise…..annie wanted turquoise….there were tears….sigh.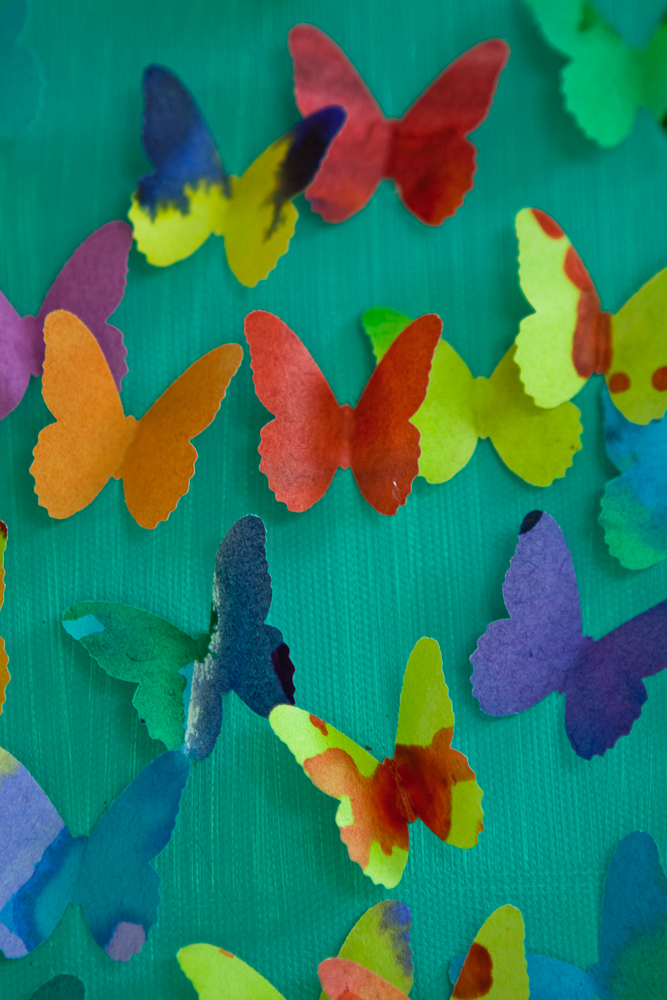 …………………..H-A-P-P-I-N-E-S-S……………………..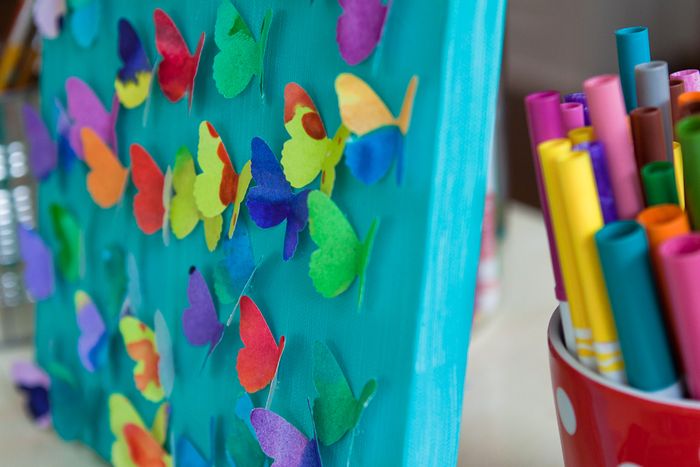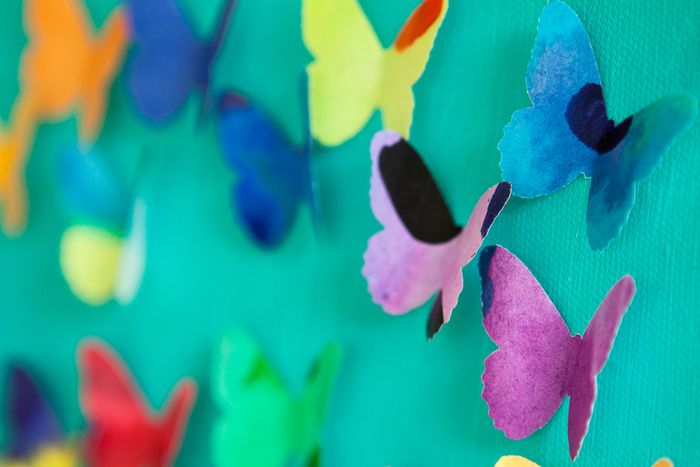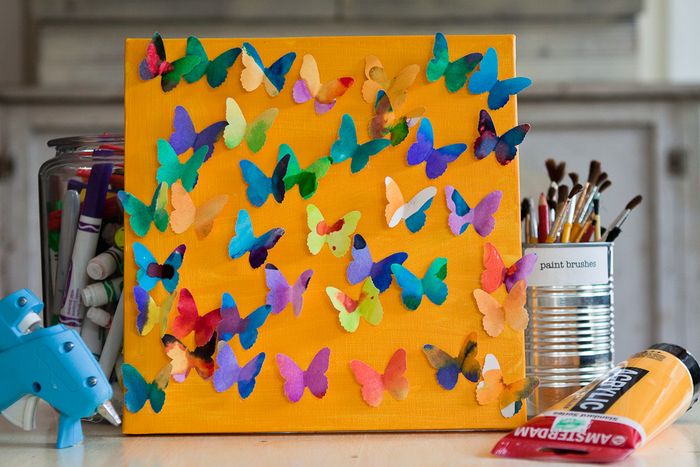 annie's was yellow.
much to her disappointment.
but still lovely and sunny.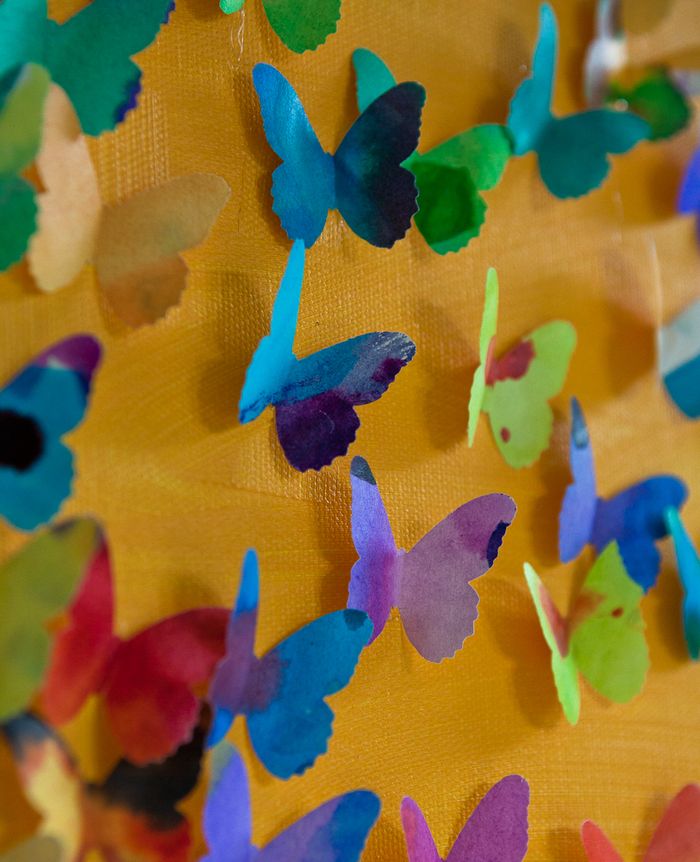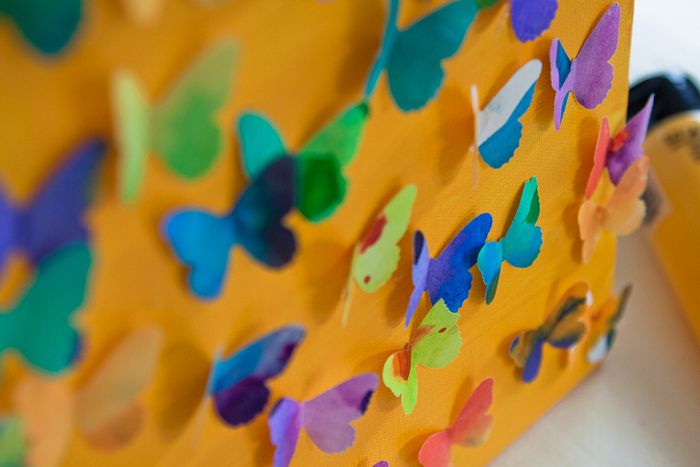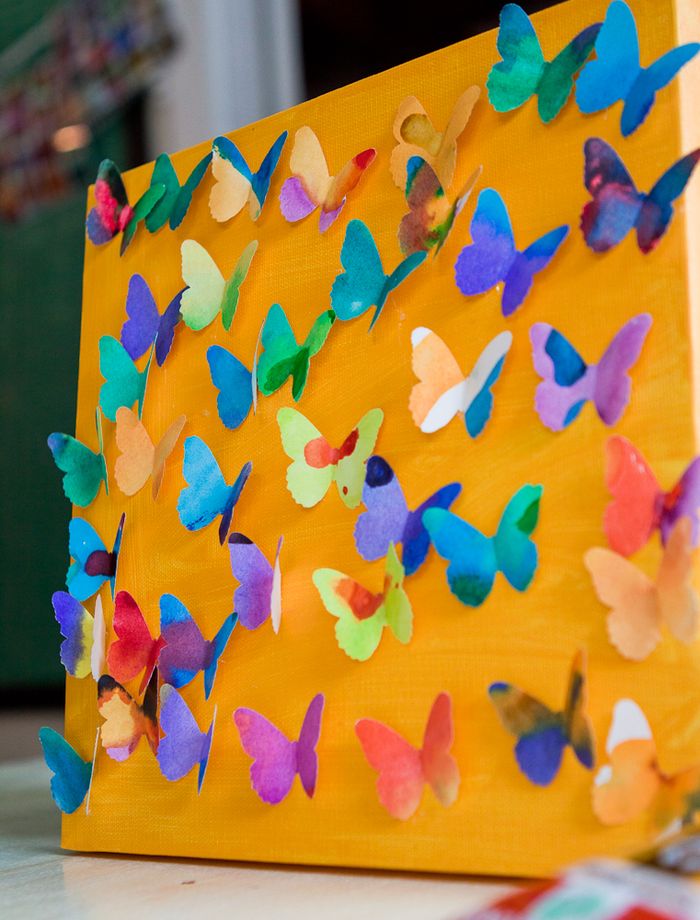 i wanted to make 10 of them.
for me.
i love this.
you should make one too.
your kids will be very proud of themselves for making REAL art for the walls.
………………………………………………………….
my kids get out of school today.
i am not ready for that.
<
/span>
i AM ready for….
sleeping in.
swimming.
sun tans.
lightning bugs.
watermelon.
iced coffee.
flip flops for 3 months.
popsicles.
bike rides.
sonic happy hour.
sunshine.
vacation.
but just hope that i can handle being a full time mommy again.
i have had all these quiet days since september…and now that is long gone.
adjustment to summer is hard.
but there is no going back.
just gotta jump in with both feet.
give myself a pep talk…..
YOU CAN DO IT…..BE STRONG…..it's only 3 MONTHS….MAKE IT FUN…..GO MEG!….
you're good enough you're smart enough…..
i hope that works.
we need to make our summer list 2011.
that always cheers me up.