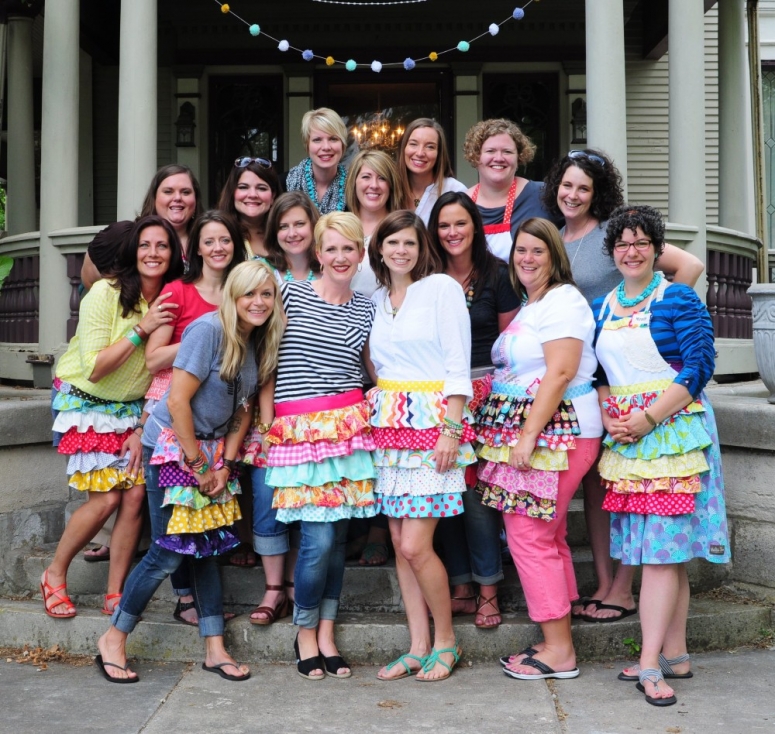 oh these girls.
such lovely women…. every single one.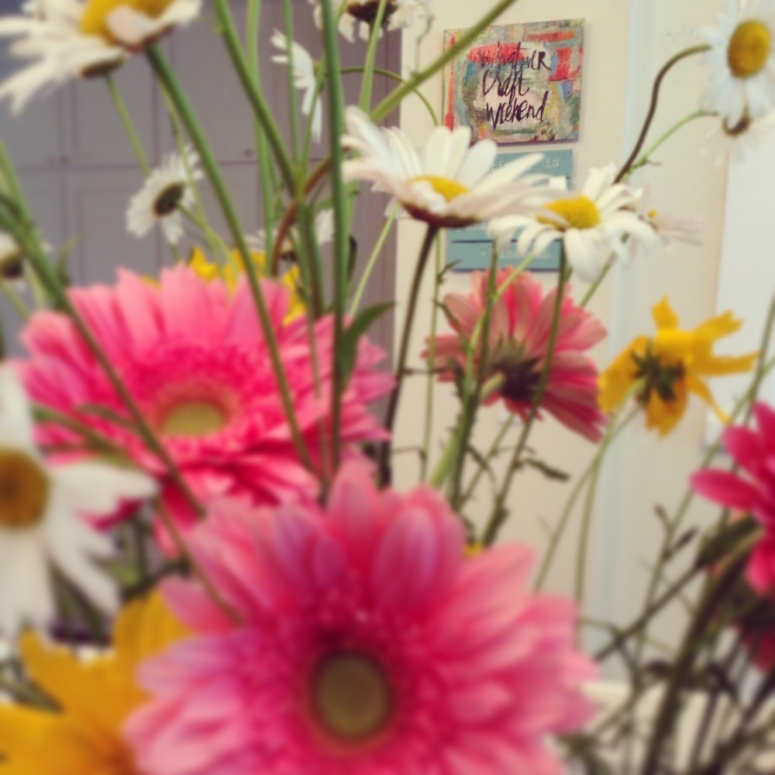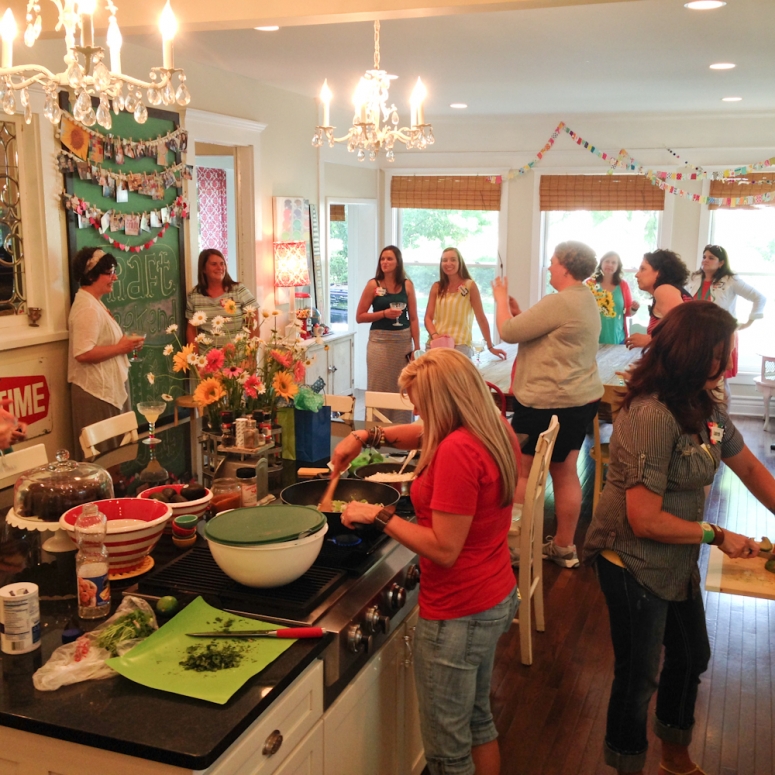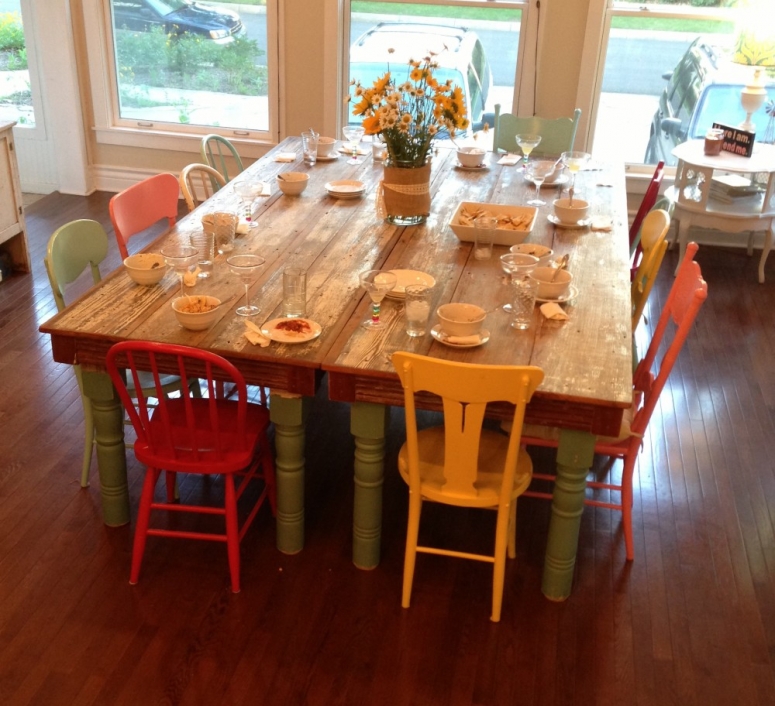 we don't allow our guests to clear their plates… they have a hard time at first.
but it doesn't take long to catch on.  🙂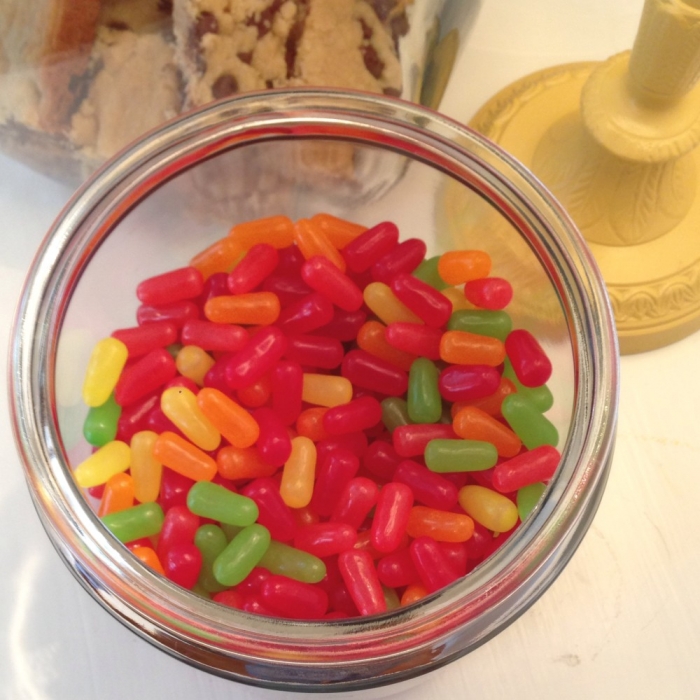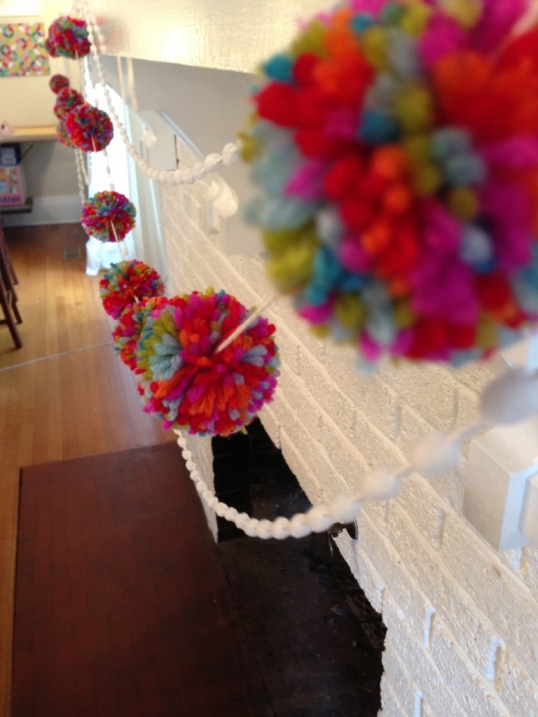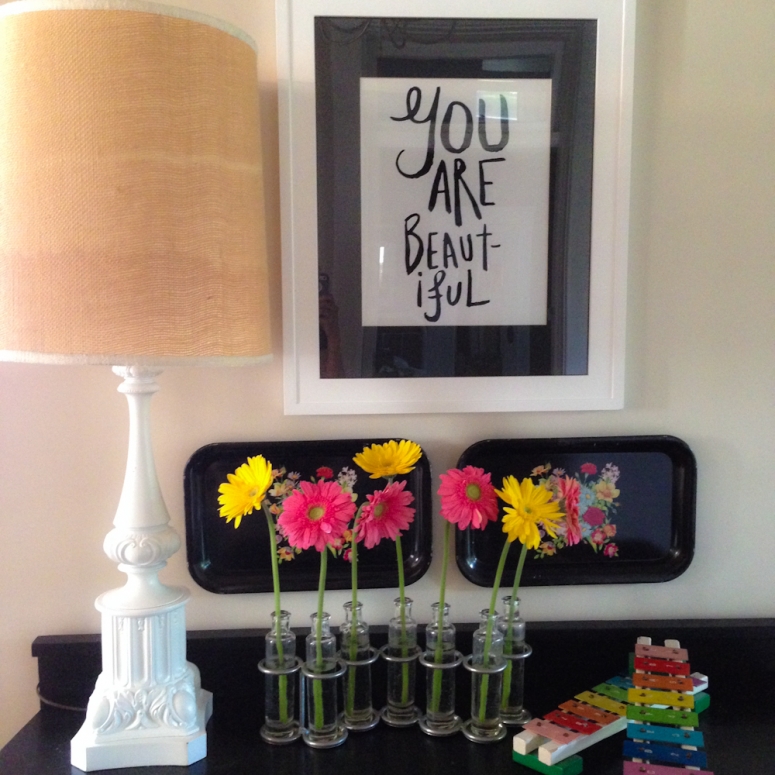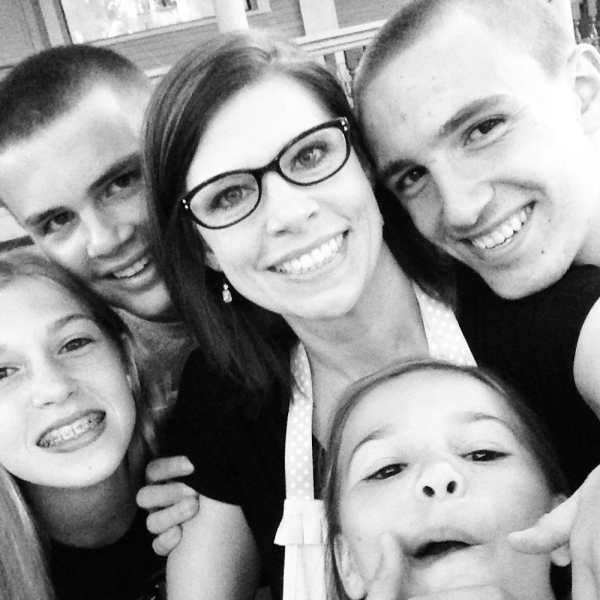 my kids popped in friday evening to bring me my computer that i forgot at home.
but really they were hoping to get some of kimberlee's cake.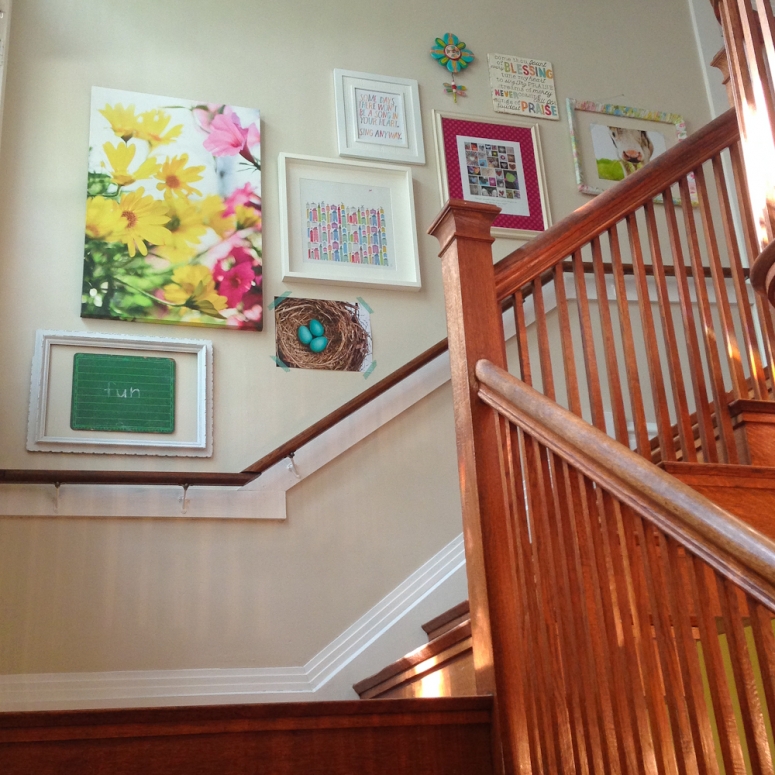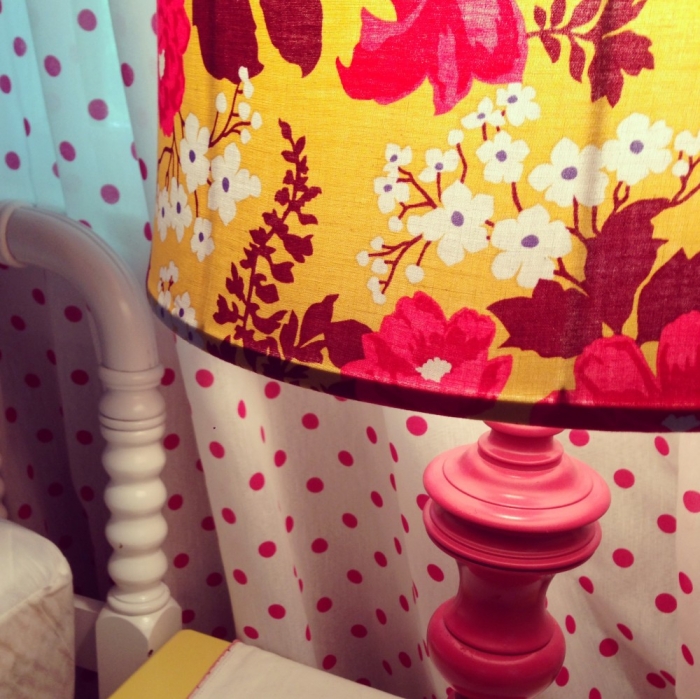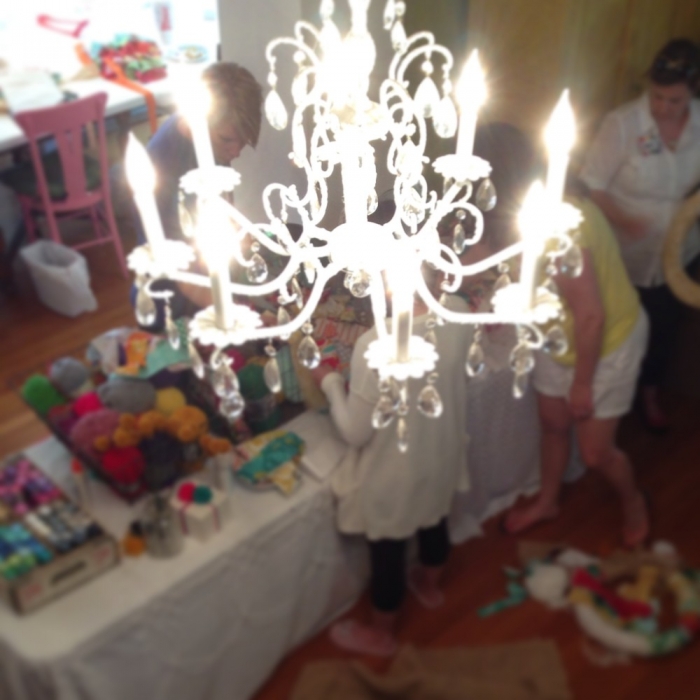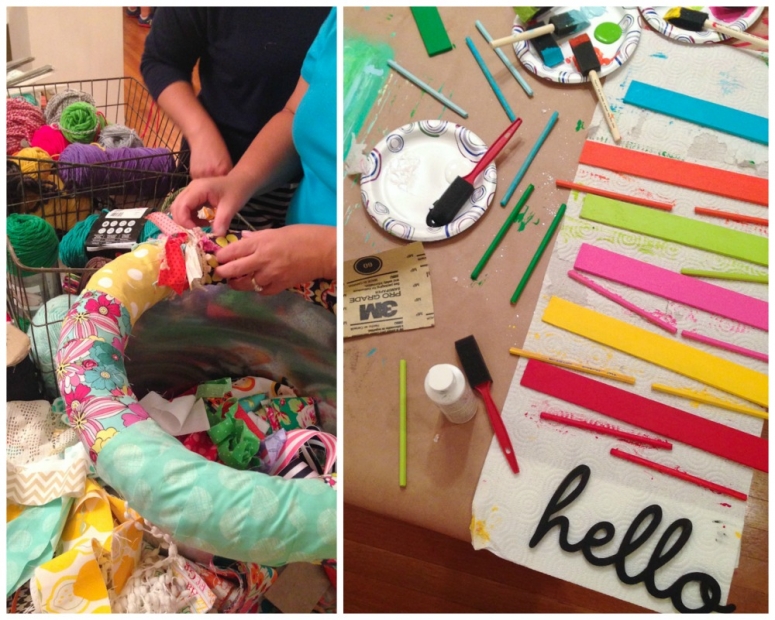 we worked on several projects that were colorful and happy.
everyone loved using the scroll saw and learning how to cut stamps from potatoes.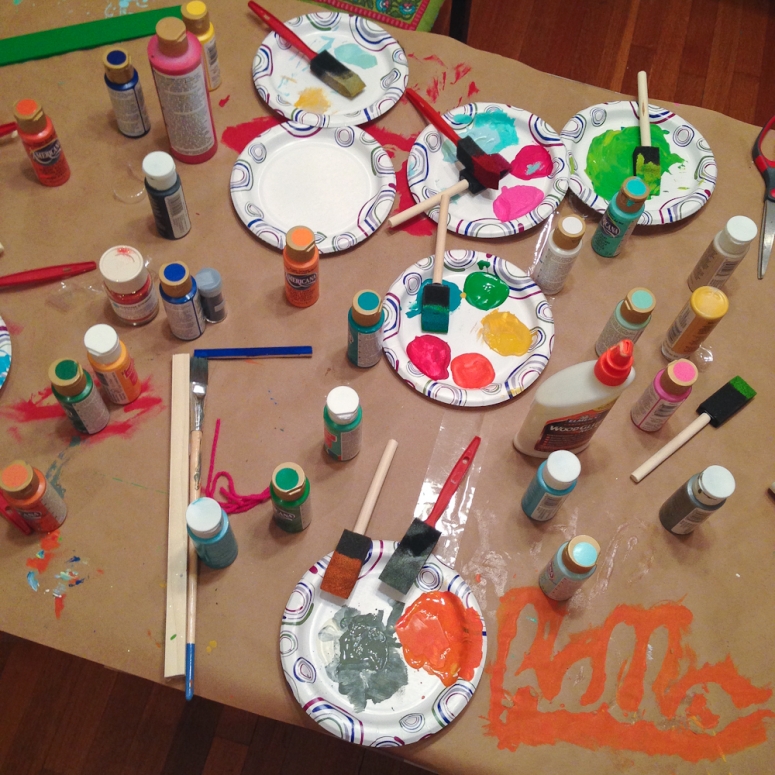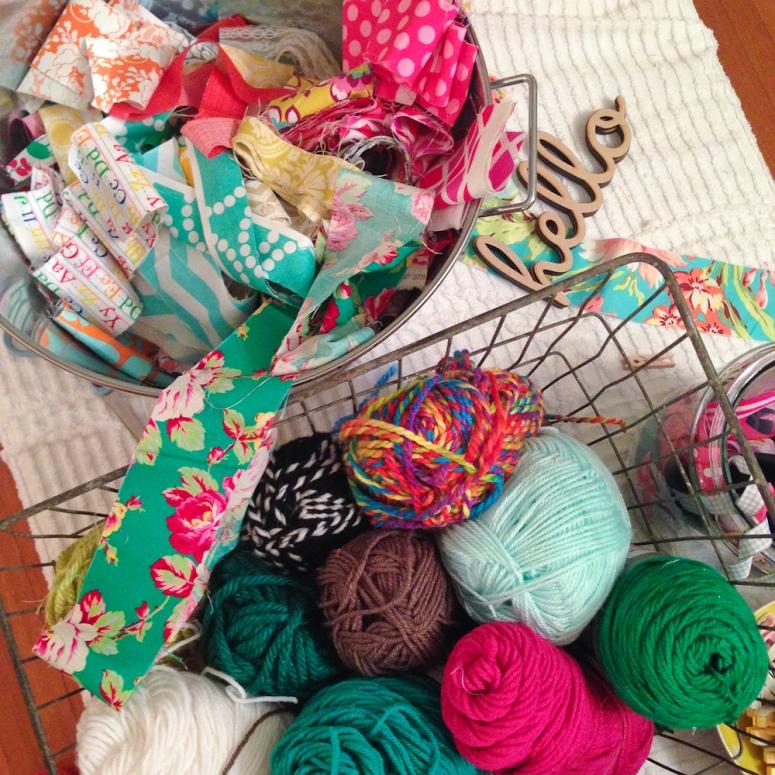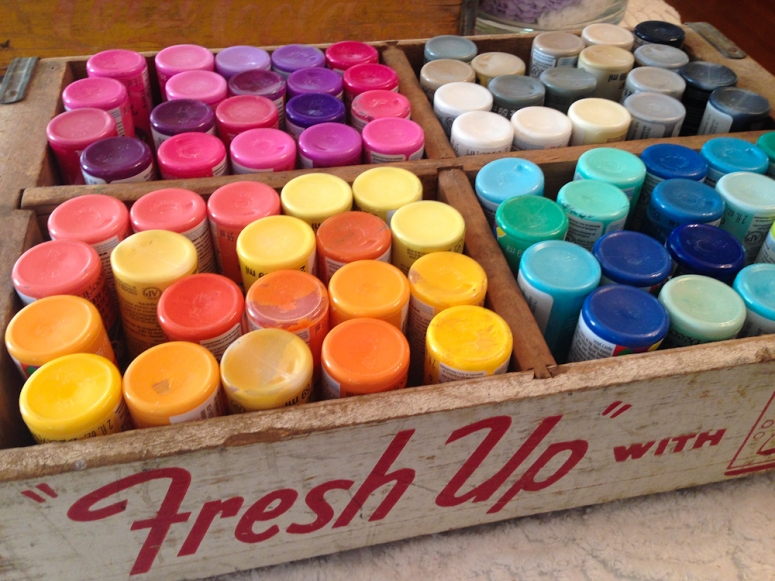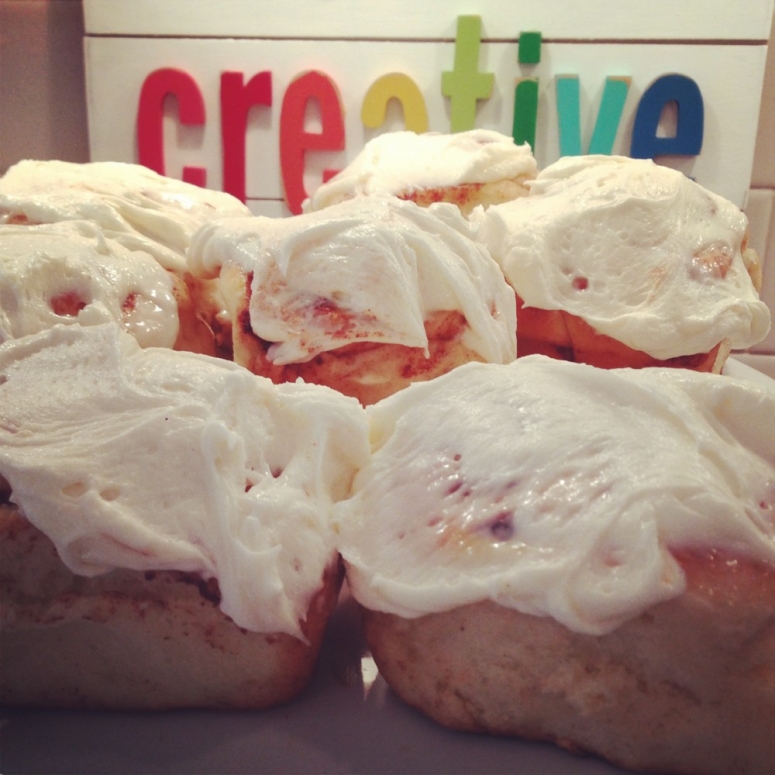 kimberlee's cinnamon rolls are everyone's favorite.
i am getting brave and may finally try to make them for my family this summer.
i've heard that her recipe is really user friendly… i need that!
🙂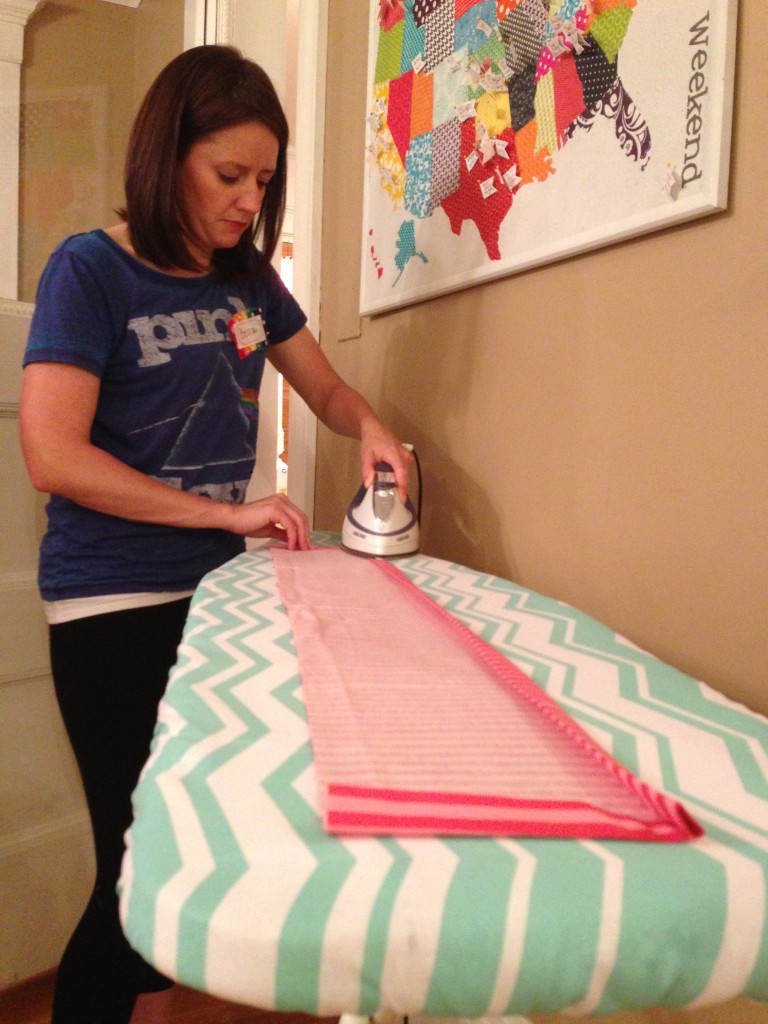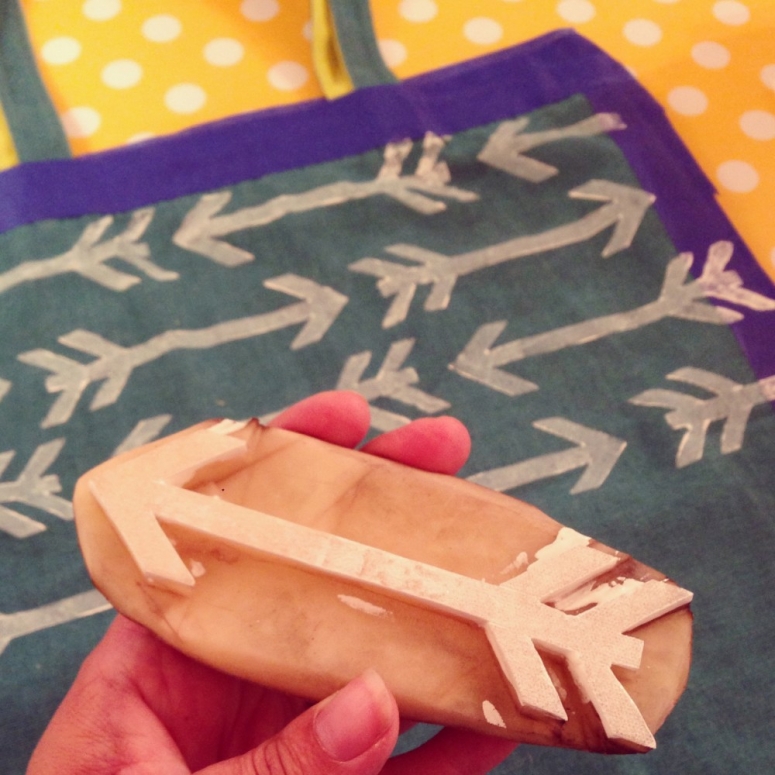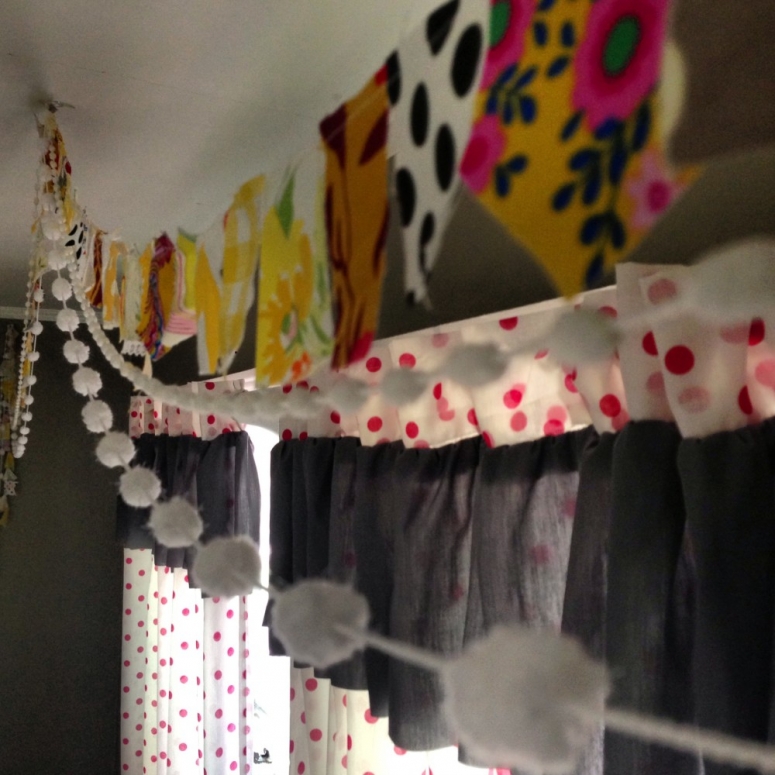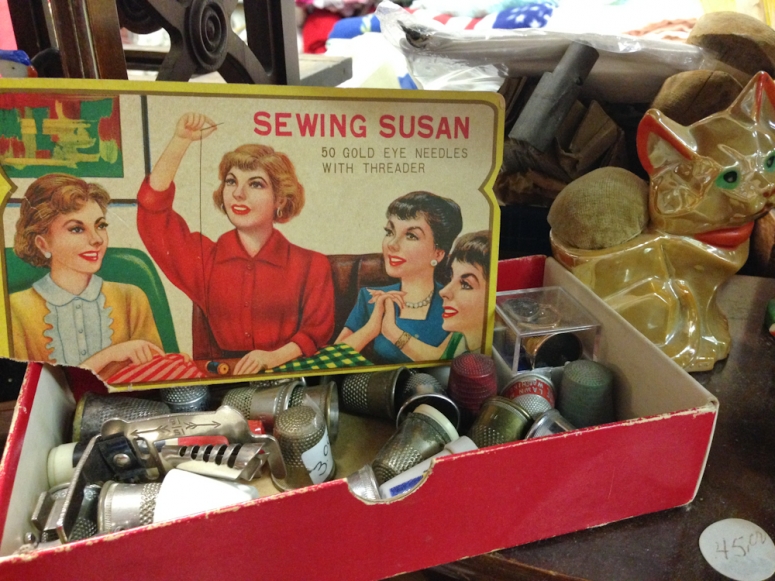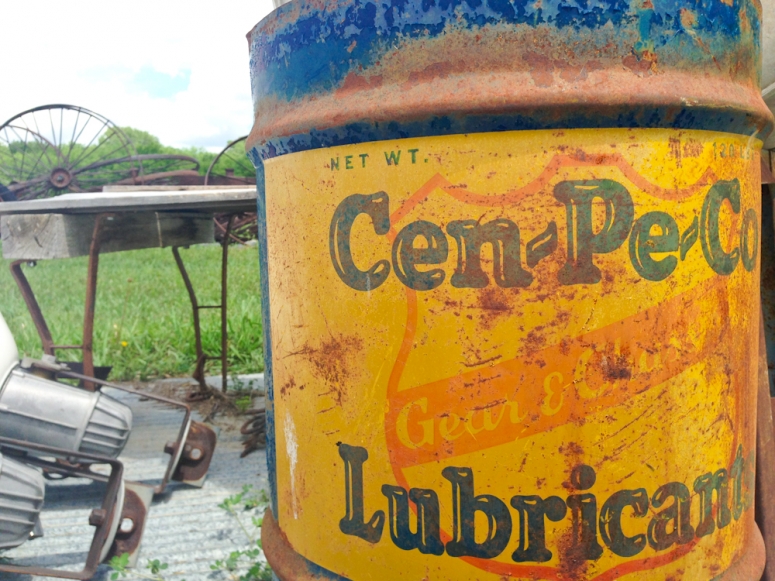 our field trip out to Bearly Makin' It and their barn of antiques was a success.
but really…. when isn't it?
everyone found treasures to remember kansas and craft weekend.
the weather was magnificent!!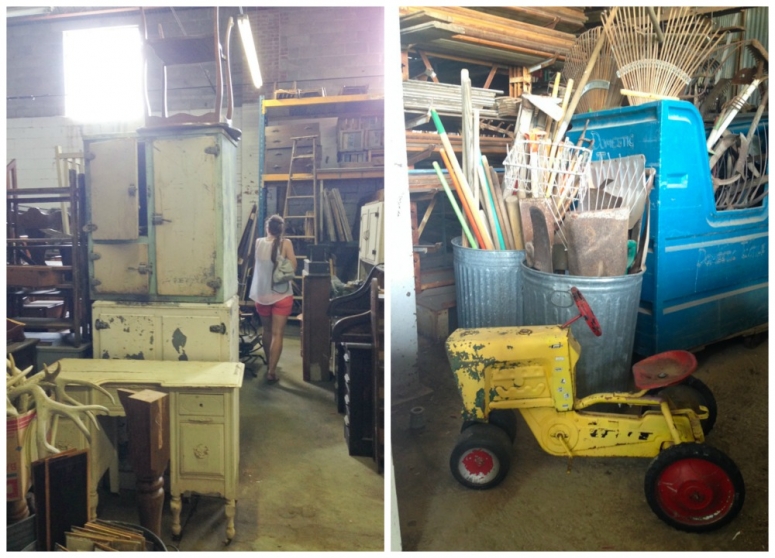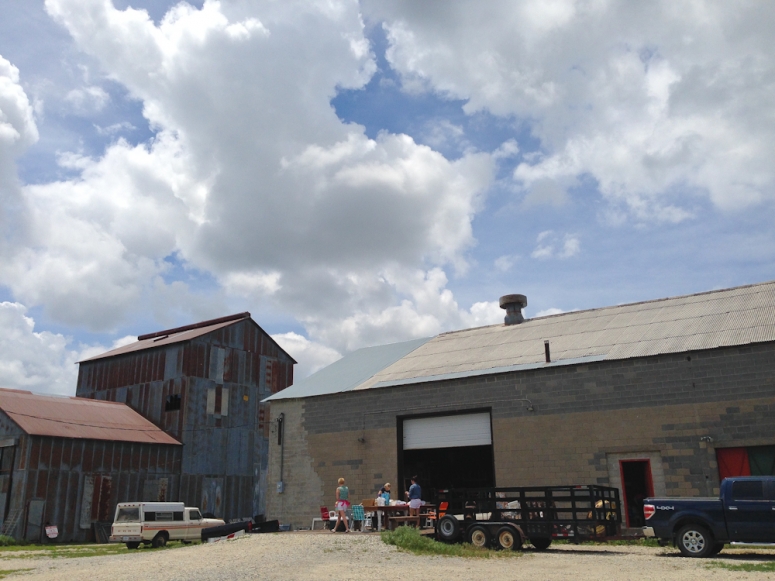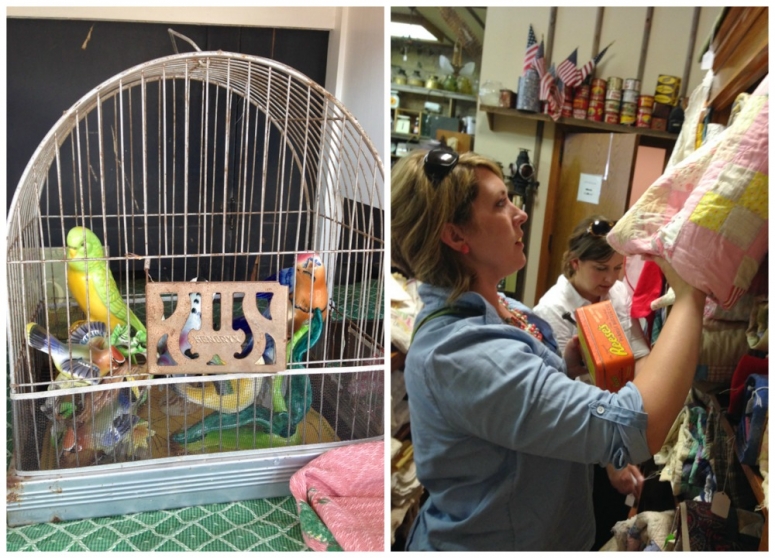 how cute is that birdcage filled with bird figurines?!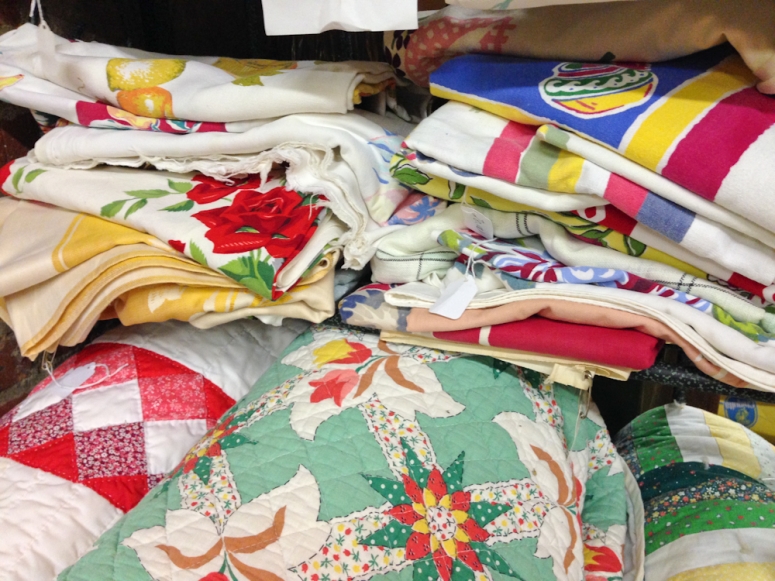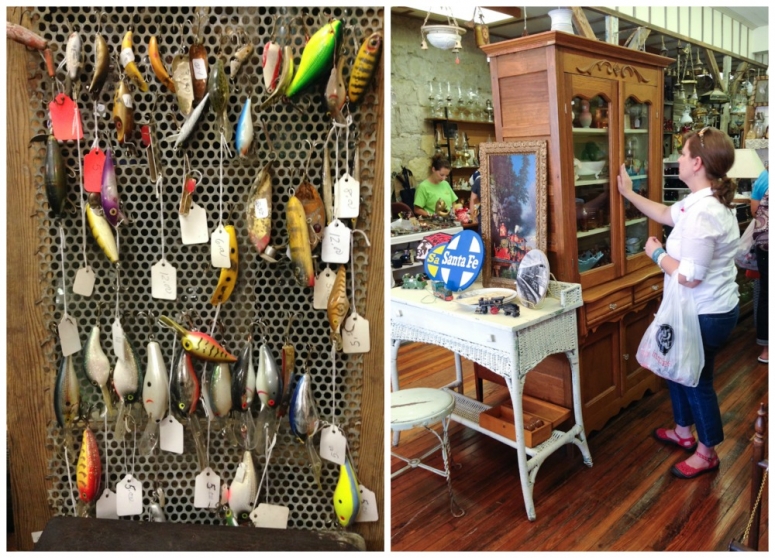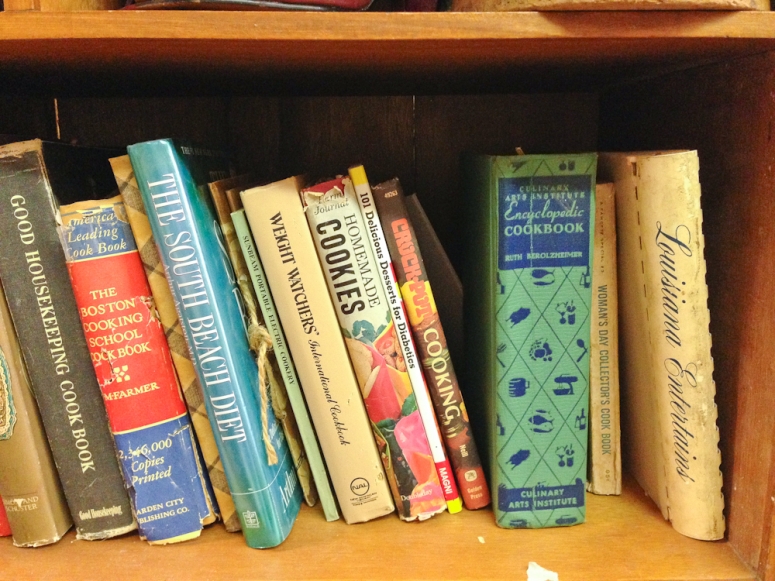 some old and not-so-old cookbooks.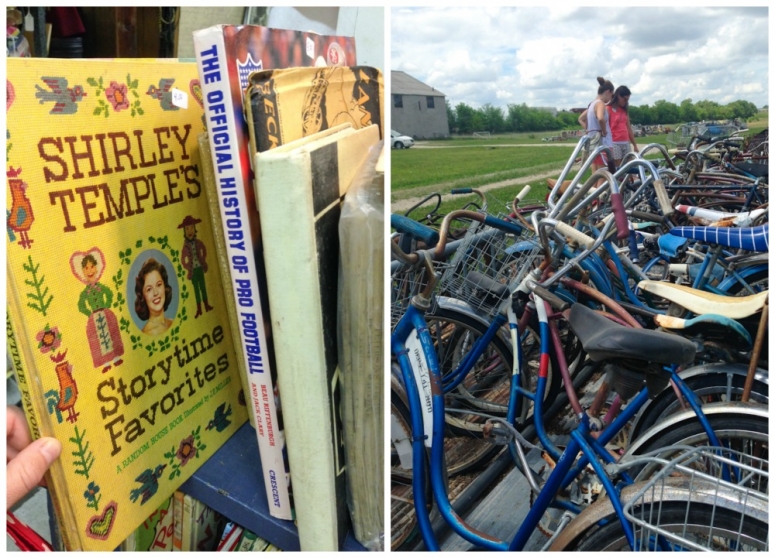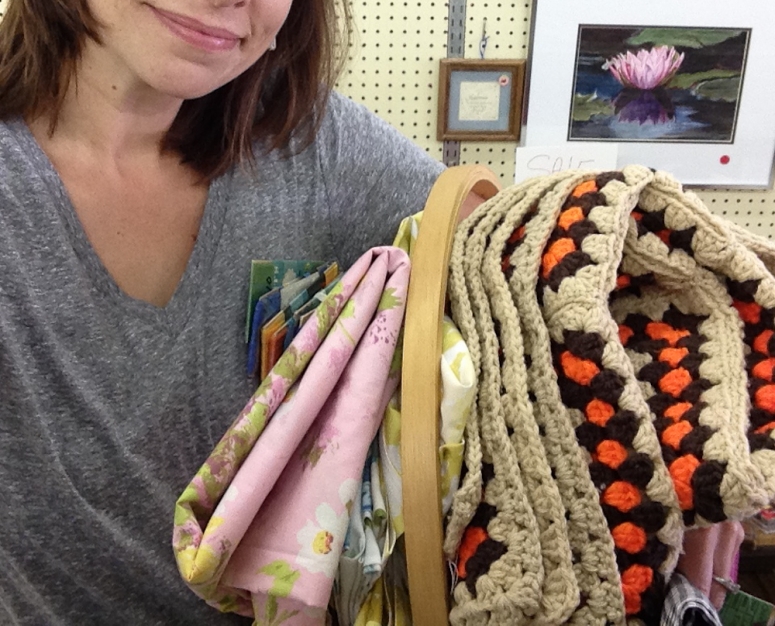 i scored loads of vintage sheets, an afgan for my oldest's dorm room and vintage notions at the thrift shop.
we had a weak moment and tried on the wigs.
they claimed they were "new" and they looked "new" so we put them on.
it was so funny… we looked like our moms from our childhood!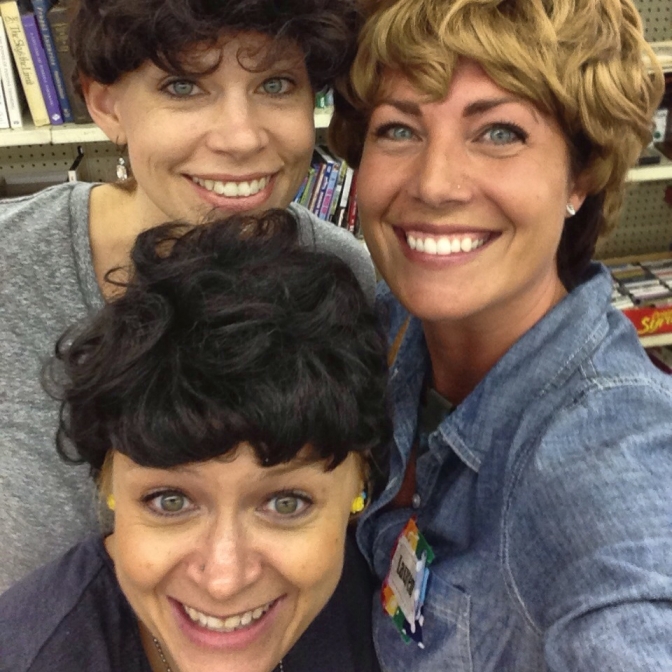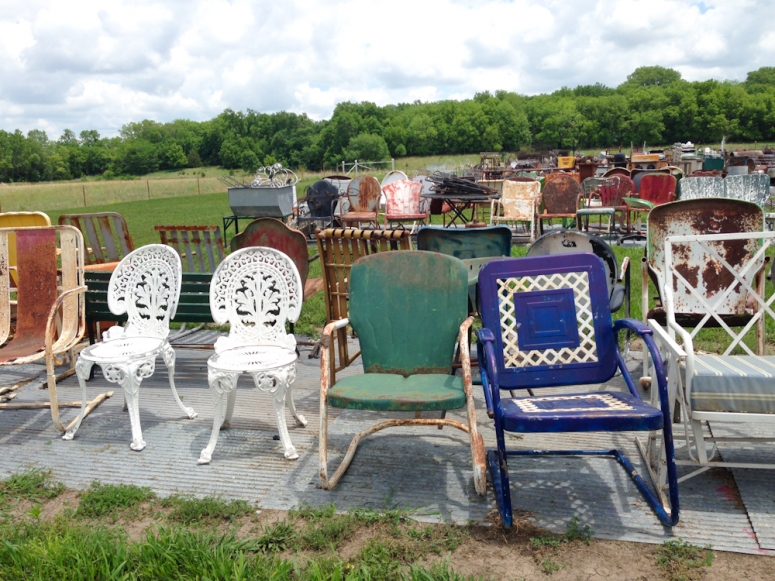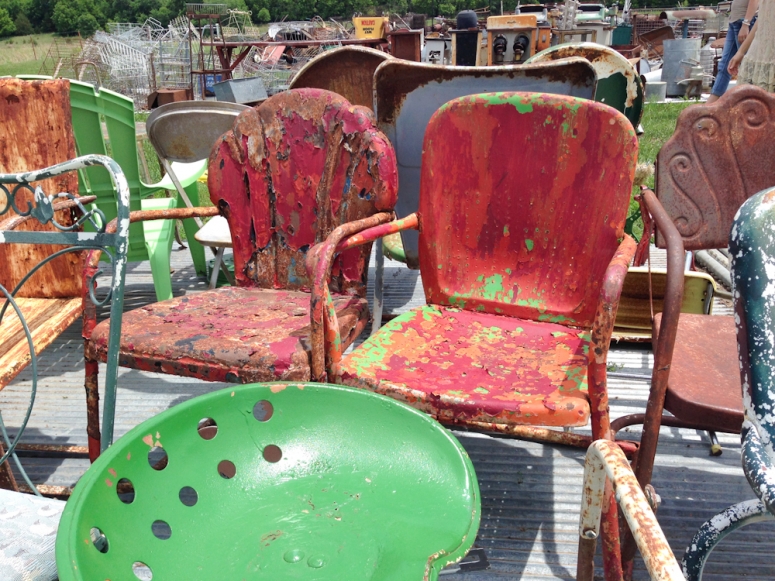 seriously so many beautiful junky finds!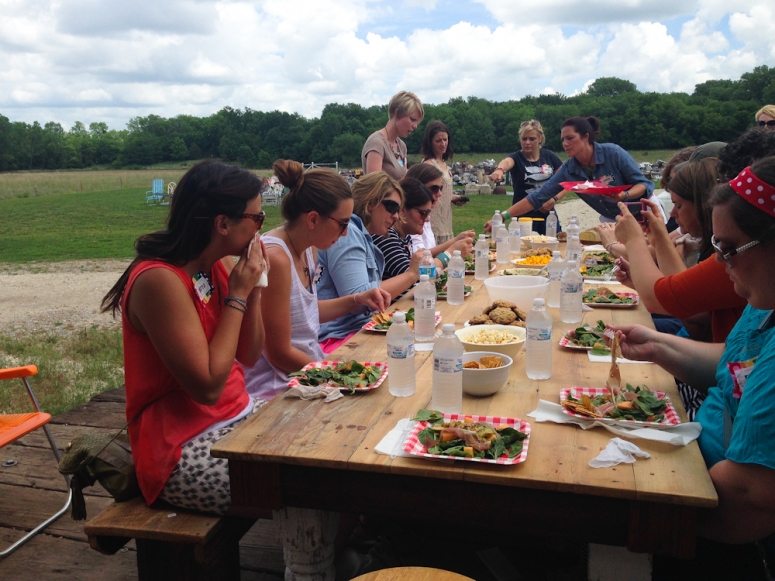 we ate on tables built by the guys at the barn.
they build them from found barn wood & porch posts… i love them!
they will make them in any size you want.
i have two BIG ones in the craft house too.
kimberlee's salad and snacks, outside on a gorgeous day, surrounded by my favorite things = AWESOME.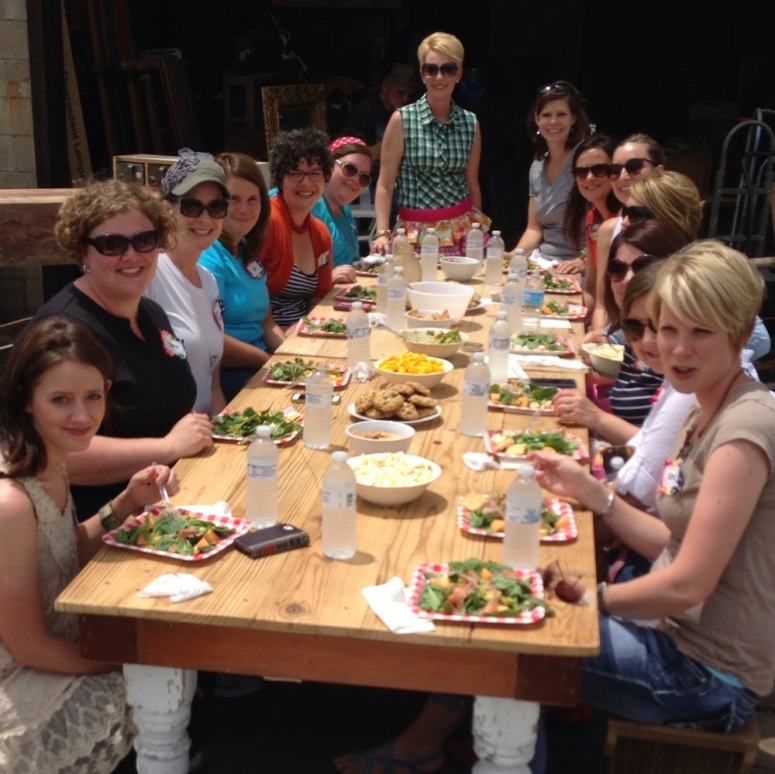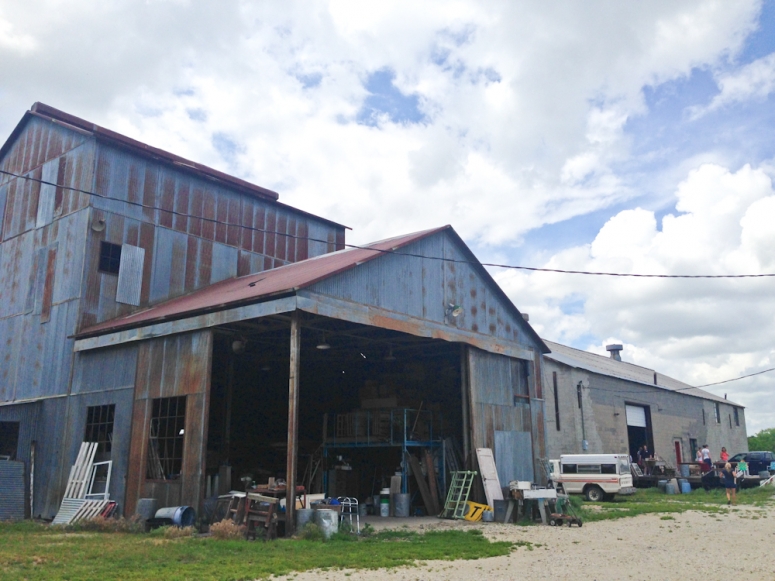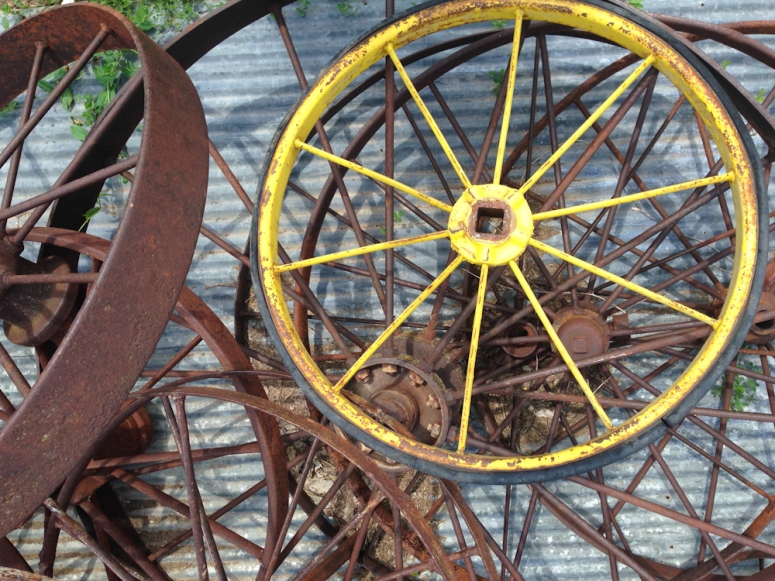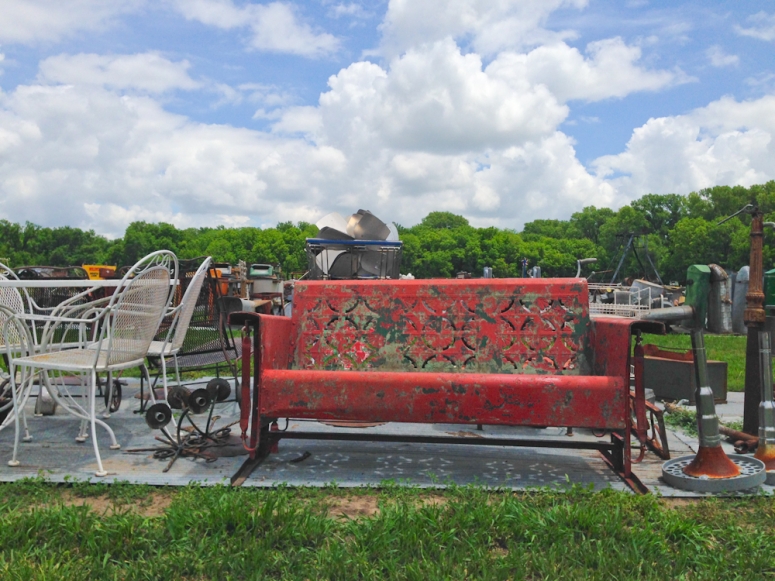 this green tool box made it's way to my kitchen too… i mean… DUH!
it had to!
i had no choice.  😉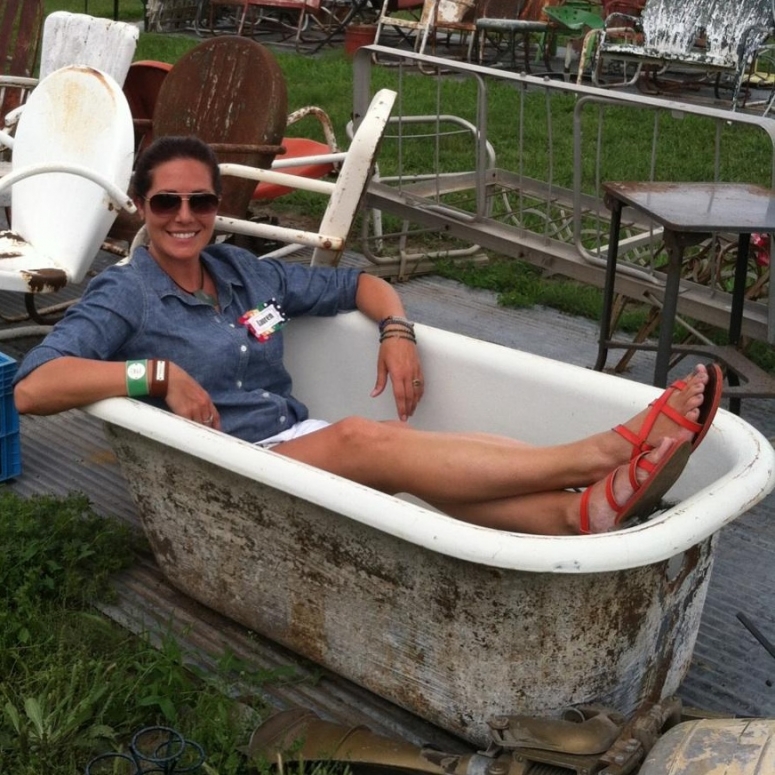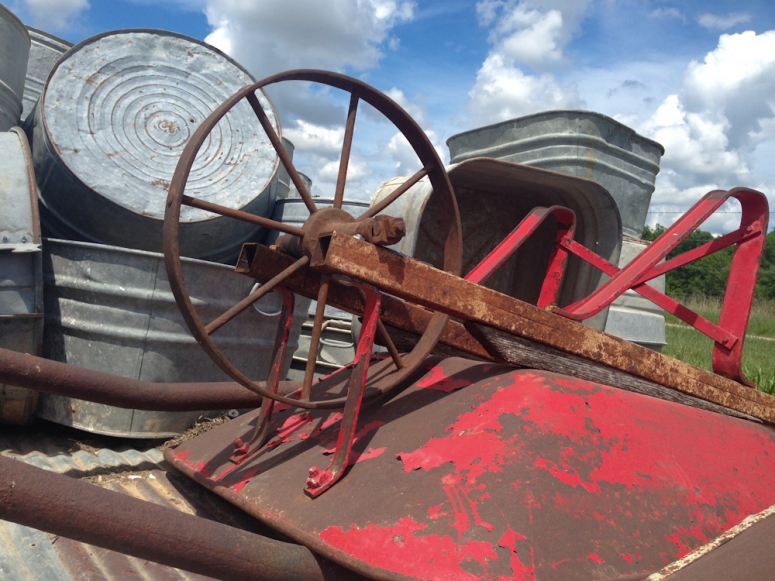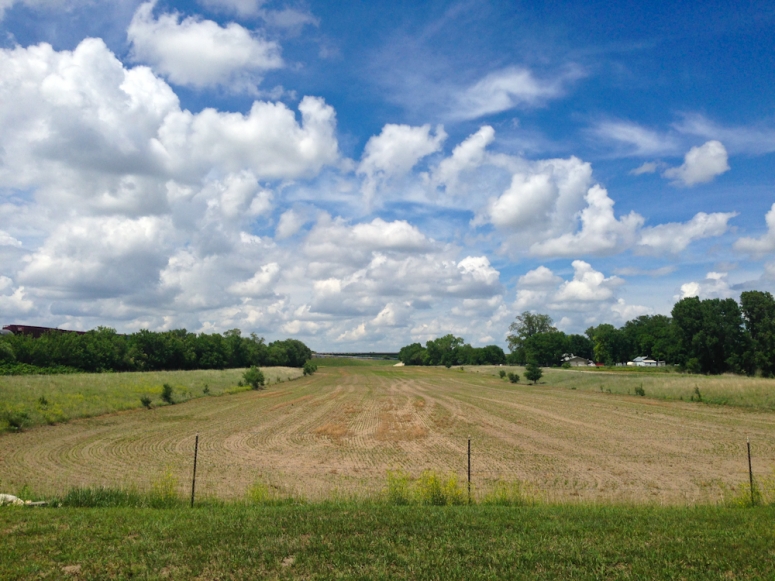 kansas was totally showing off last saturday.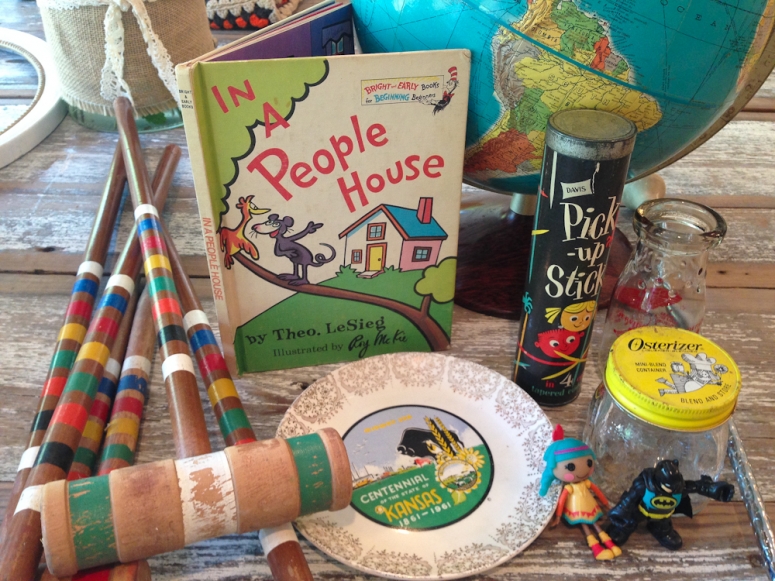 jessica's pile she brought back from shopping was really fabulous.
that globe is probably the coolest i have ever seen.
she is lucky she saw it before me.  HA!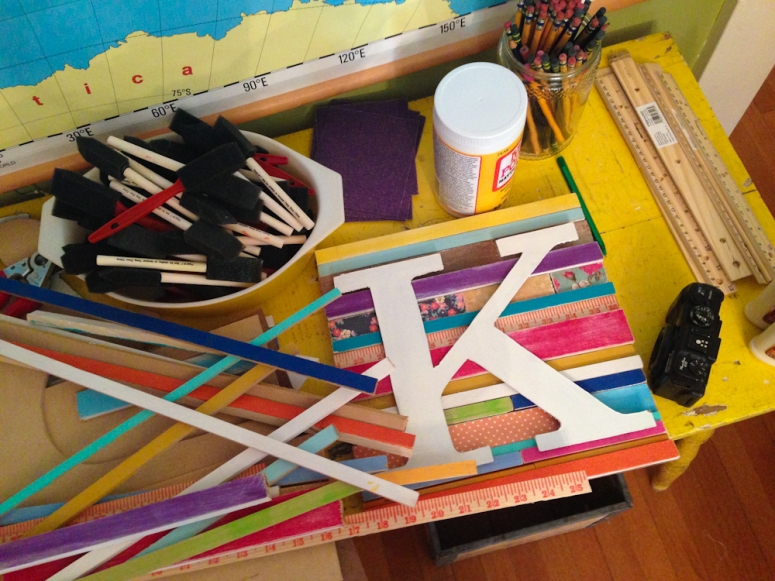 saturday night is always full of even more crafting!
laura created this AWESOME wood art project and taught our guests to make it too.
i loved her creativity and then how everyone interpreted it with their own style!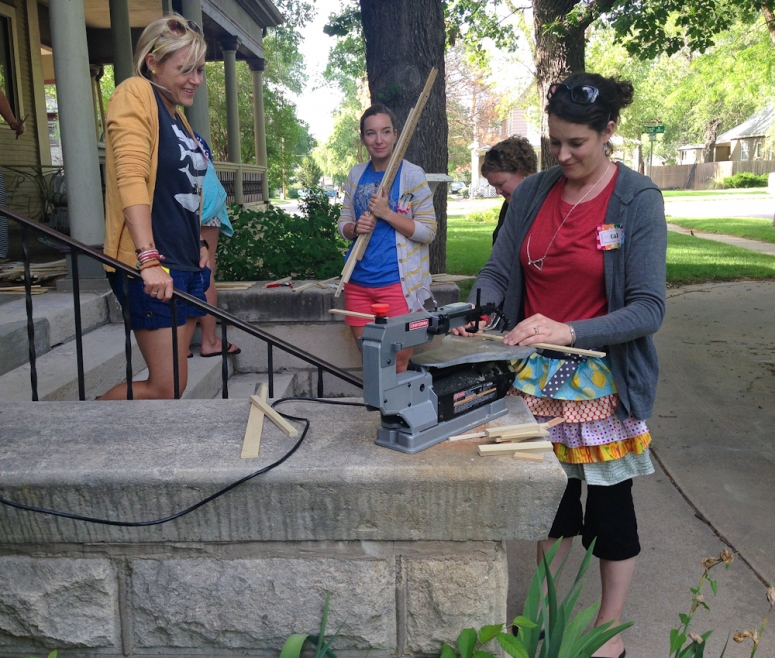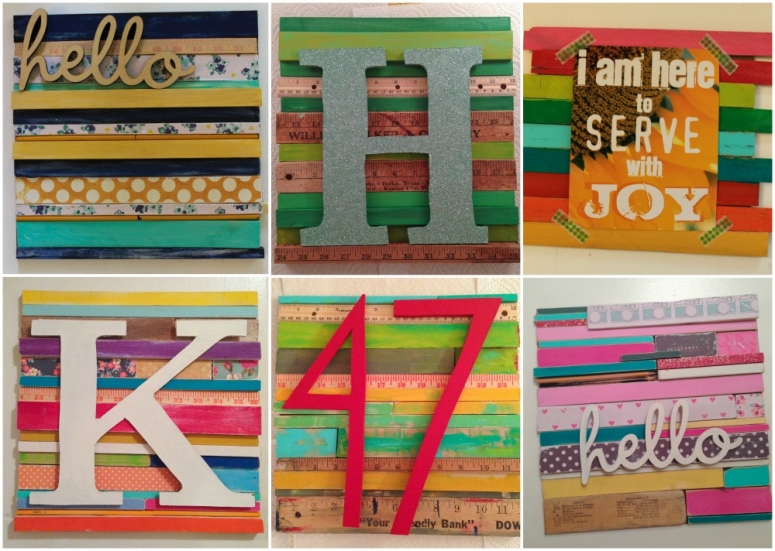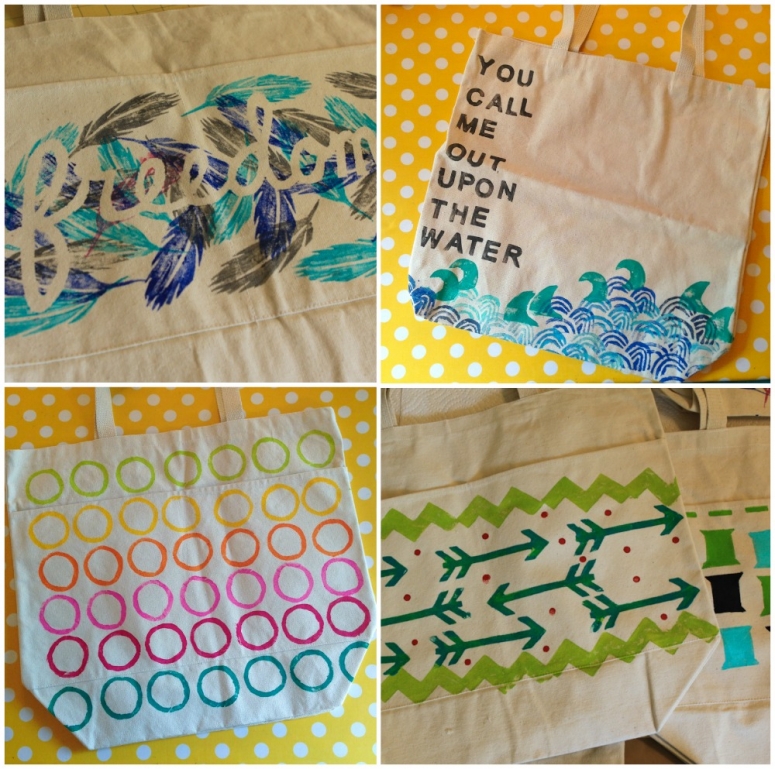 lauren showed us how to use potatoes to make stamps.
it's always cool to see everyone's different ideas!
once you start stamping it was hard to stop!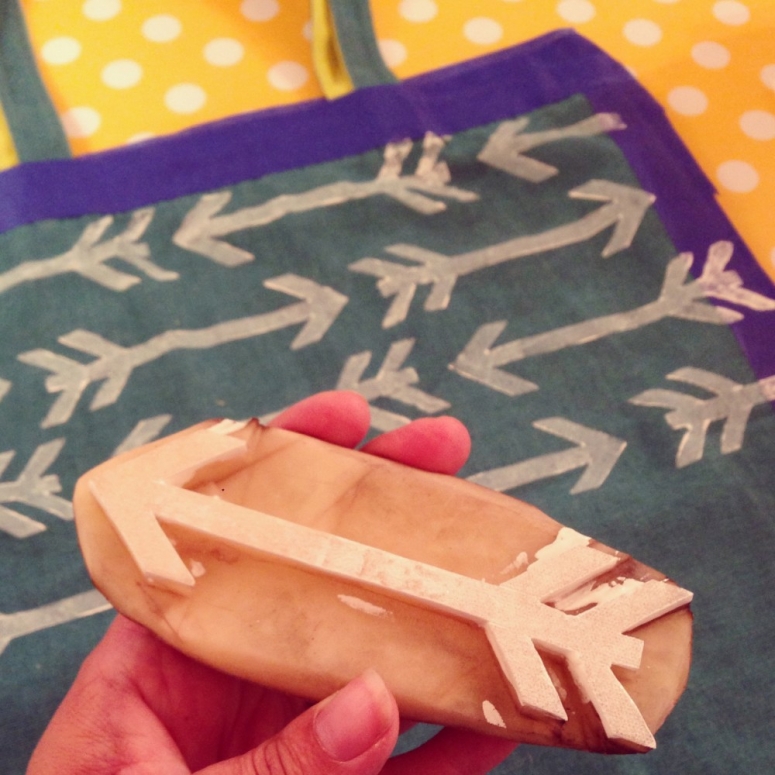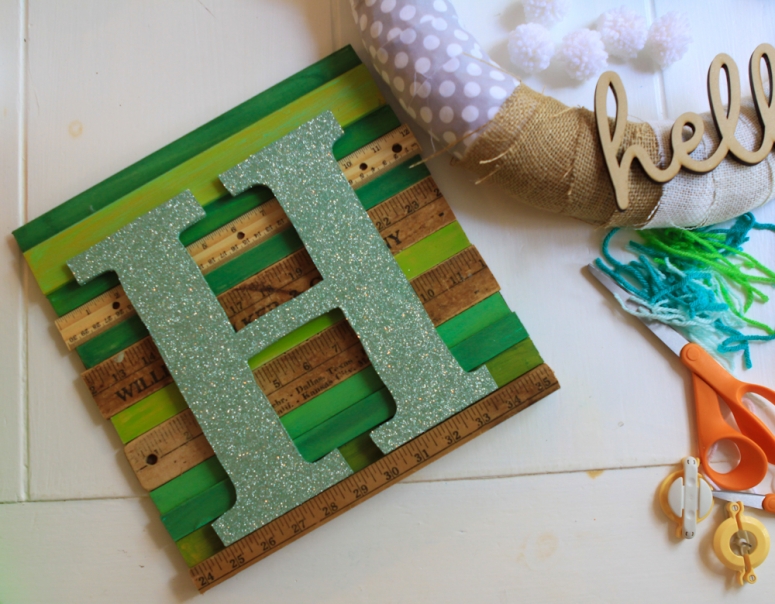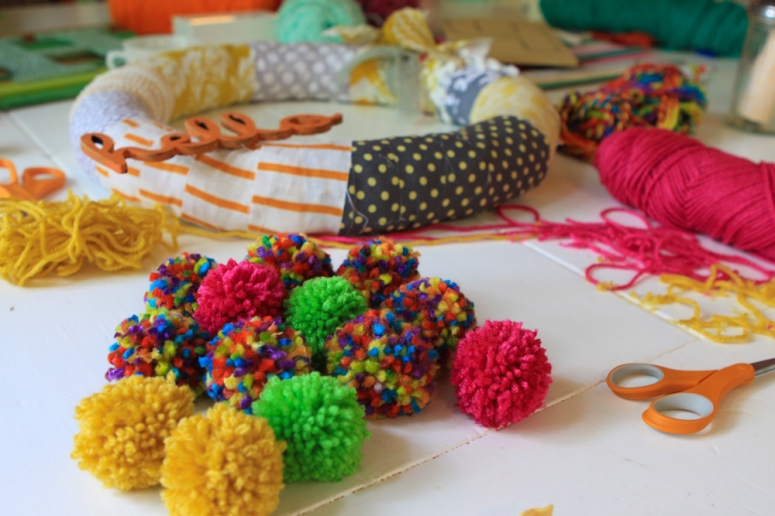 we made pom pom garland again.
it is just such a happy project that i think everyone should do it.
we used THESE POM POM MAKERS

 by Clover.
you should order them… you can thank me later.
you will LOVE it… your kids will LOVE it… and i am willing to bet you will have a hard time stopping!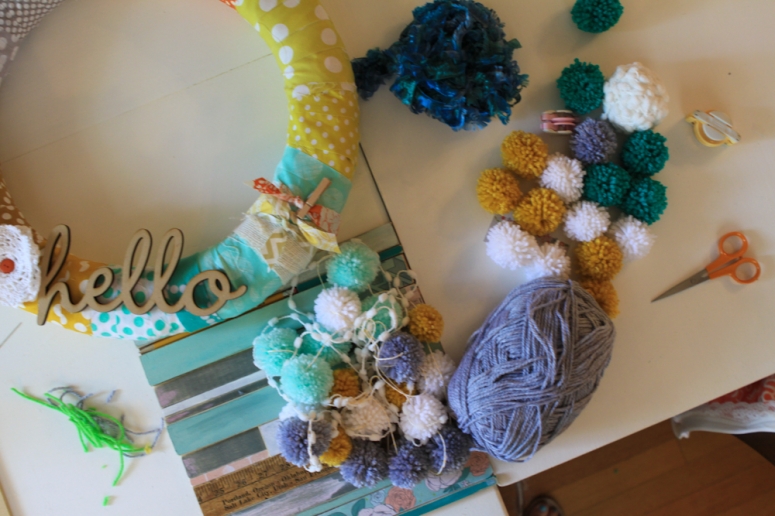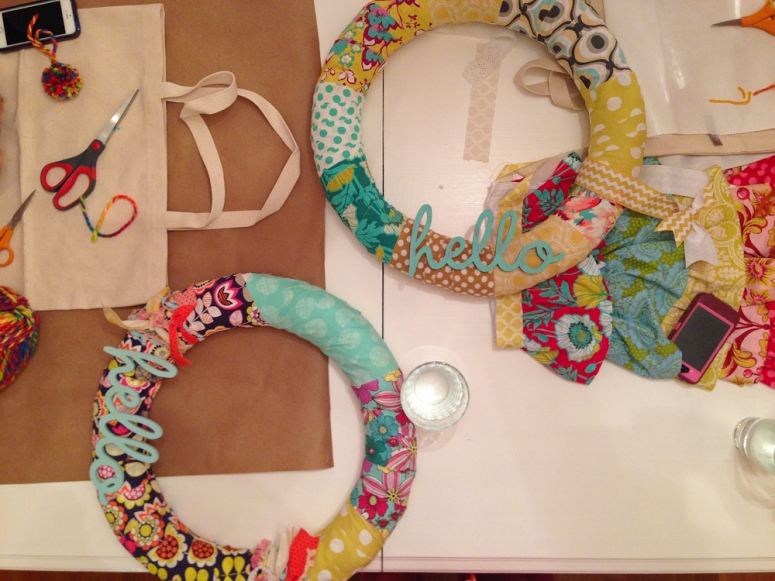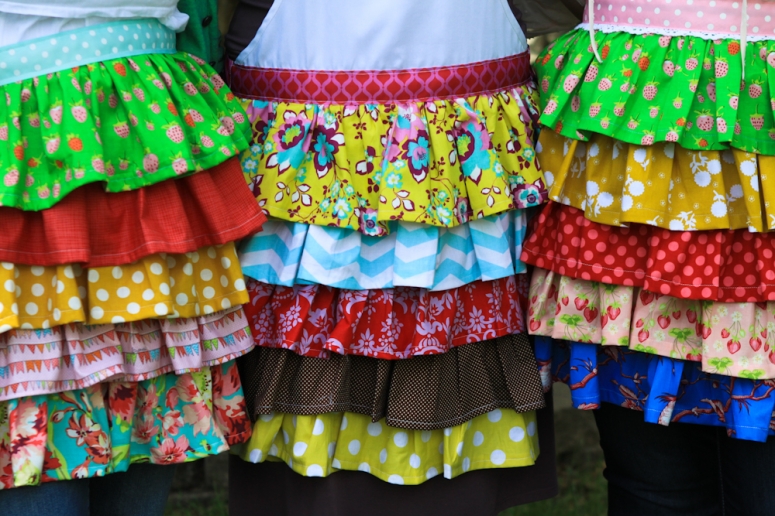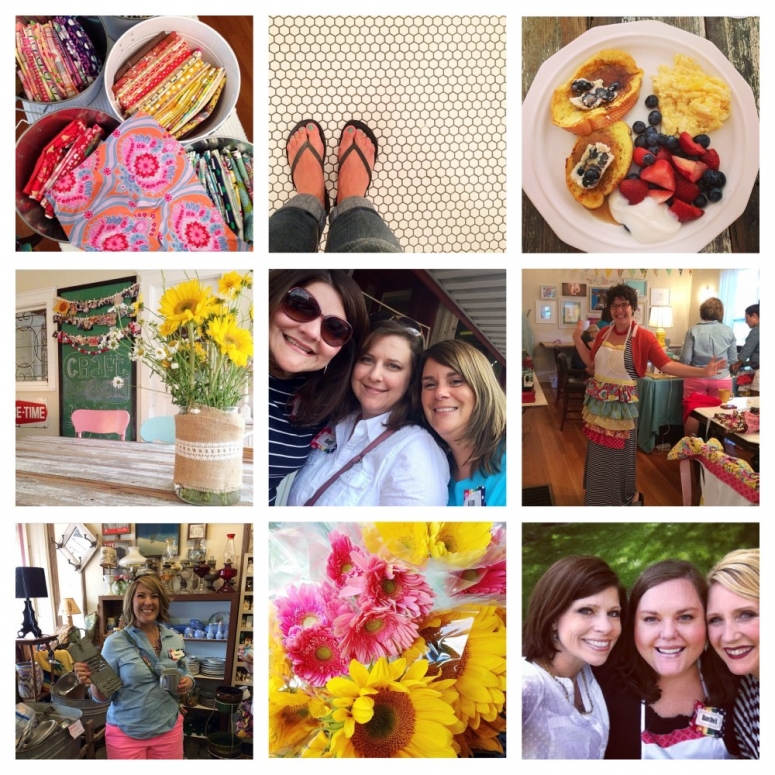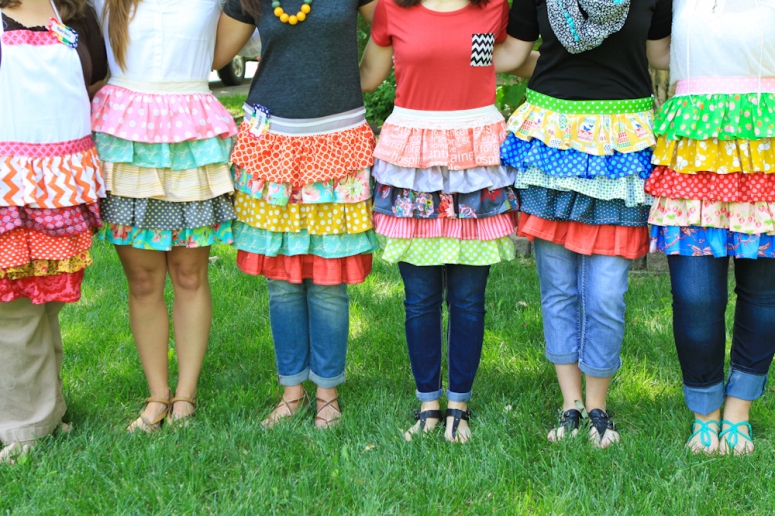 RUFFLE APRONS!!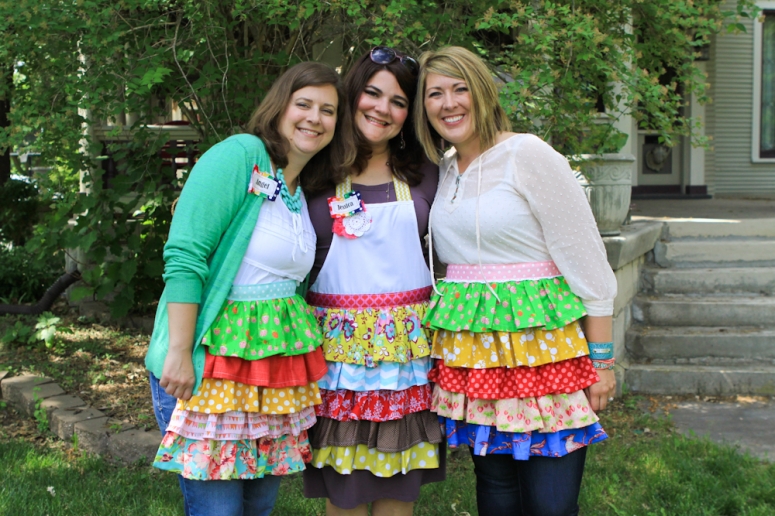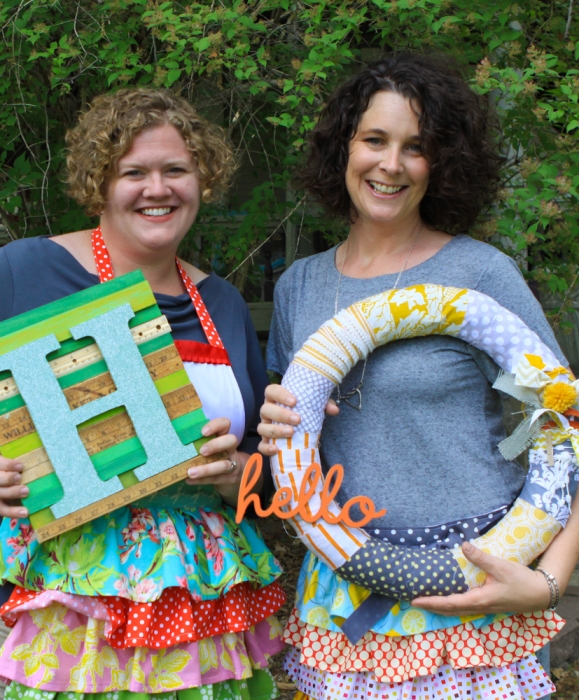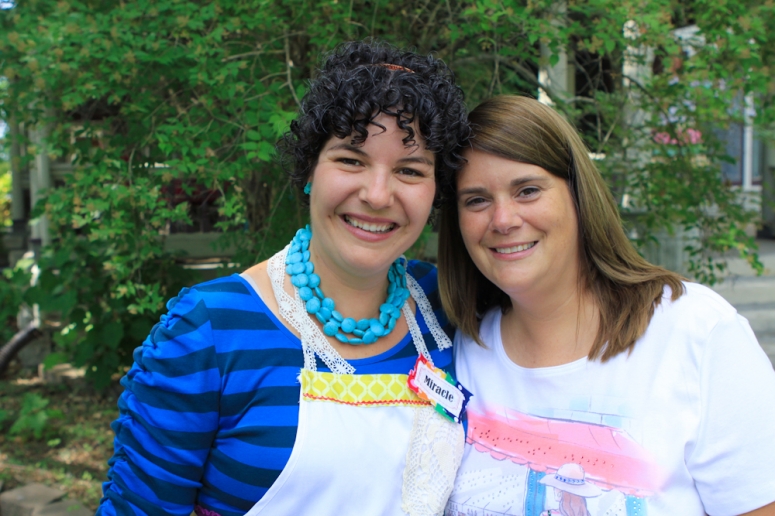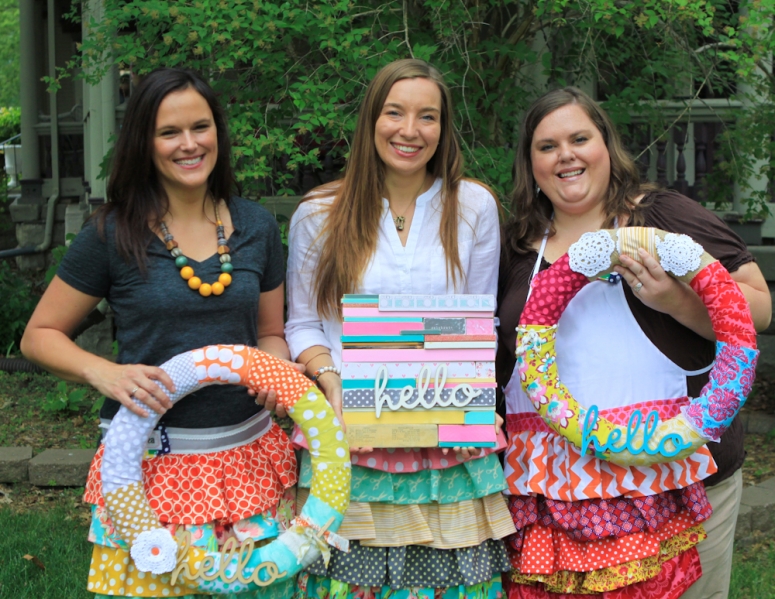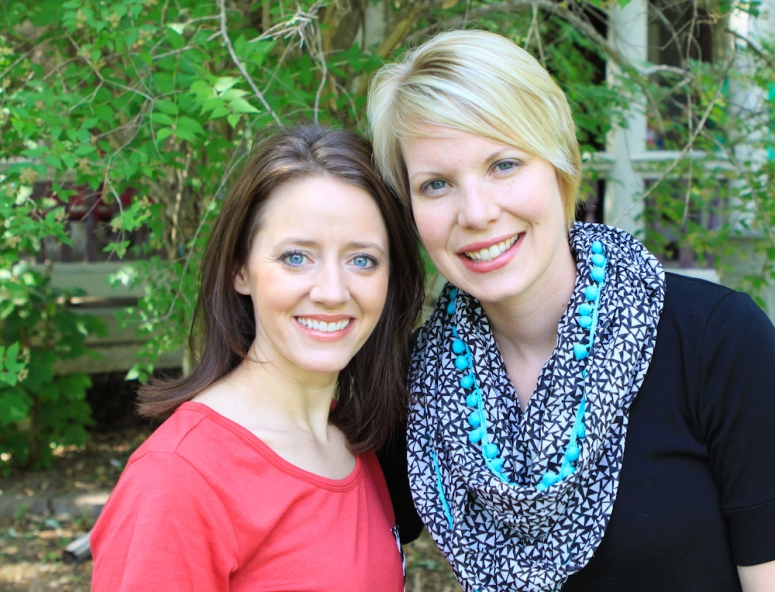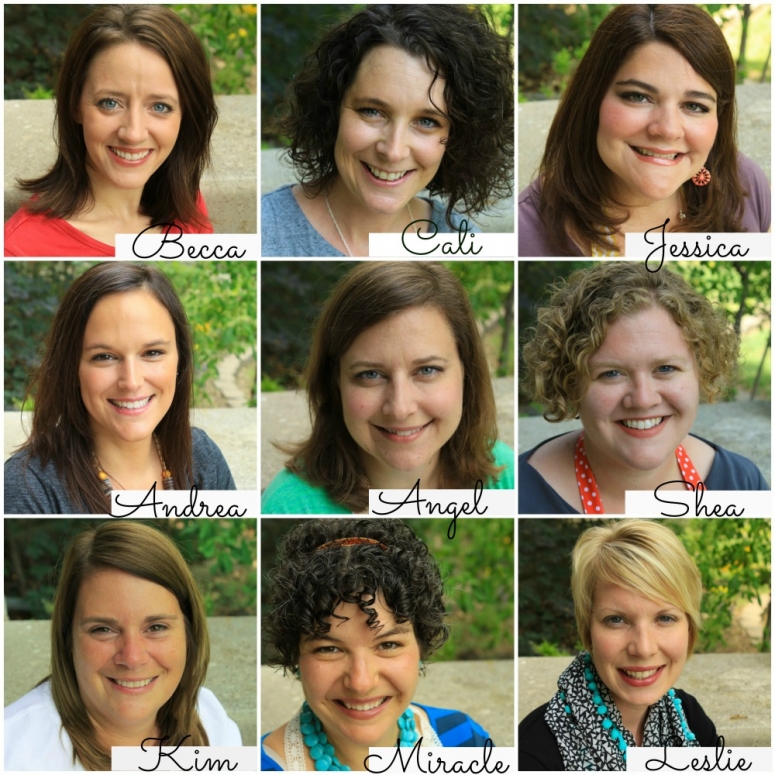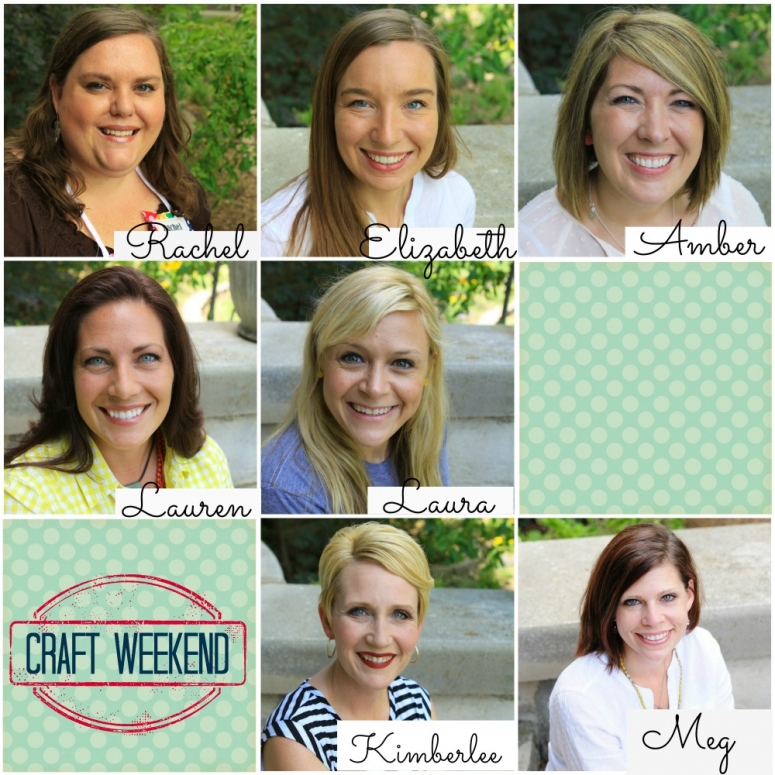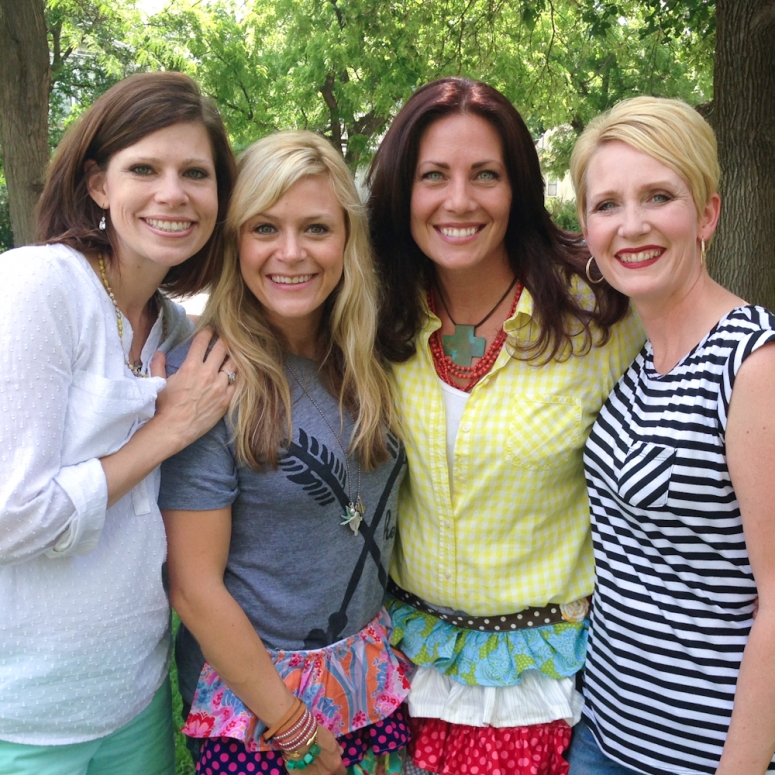 Laura and Lauren were our helpers this weekend…. SO great!!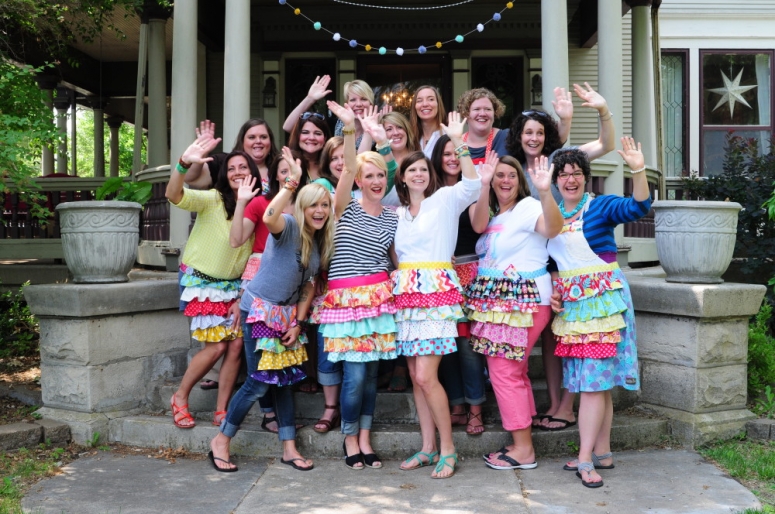 This job is so much fun.
the women are nervously excited when they arrive and they ohhh & ahhh over everything.
they love to create so we provide them with all the supplies to do so!
they love to eat delicious food (of course) so kimberlee spoils them rotten.
they love the friends they come with and they all make friends when they get here.
they share their stories… their tears… their laughter… their hearts with all of us.
i love Craft Weekend.
If you would like to come to Craft Weekend first READ THIS and then get on our Wait List by sending an email to whatevercraftweekend@yahoo.com.
I hope i get to meet you someday!
And now we are off for the ENTIRE SUMMER!!!
Wooo-hoooo!!!
bring on the swimsuits, popsicles, camp fires and sleeping in!
yay summer!