i am going to start with some of the easy questions… and let my thoughts swirl a little longer on the deeper issues.  🙂
Q:  HOW TALL ARE YOU?  HOW TALL IS YOUR HUSBAND? (because your kids seem so tall!)
A:  i am 5'7″ and Craig is 6'4″  and our kids are not short.
Q:  WHAT WAS THAT GREEN THING IN YOUR COFFEE PHOTO?
A:  it is a frother.  it is at World Market for $2.99.   (also at ikea or probably anywhere)
i use that coconut almond milk in my coffee but you can choose whatever "cream" you like.
pour it into a cup and then put the frother in the cream and turn it on.
it spins around and makes the cream into "whipped cream"
then you pour that into your coffee and you have a latte.
OR you can do that all in the same cup if your mug is big enough.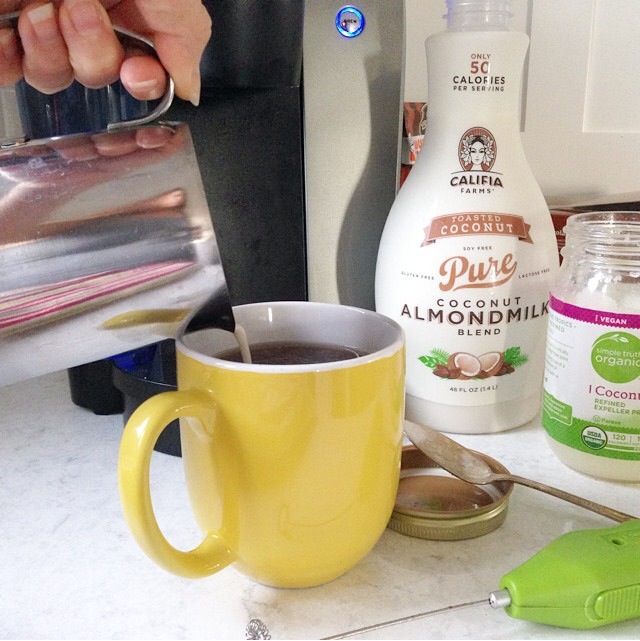 i usually buy two frothers at a time when i purchase them because my kids can't seem to resist trying to make the spinning stop when it's on… and they break them.
they are also AWESOME for hot chocolate (which is also why it gets broken…)
but worth it for $2.99 every month or so.
Q: DO YOU NEED A LOT OF SLEEP?
A: well i am sure that i do.
BUT i have a terrible habit of staying up really late.
every night.
even when i have to be up early with the kids or things to do… my brain just doesn't shut down.
so i just go with it… push through the sleepiness the next day.
but when i get to sleep late… i do it.
since we got stanley at christmas there is rarely a day to sleep in anymore.
that nerd is awake at dawn and whines little annoying fake cries to get out of his kennel until you go.
it's A W F U L.
and i say all kinds of unpleasant things in my half sleep in the dark at him.
it is one of my least favorite things ever.  not kidding.
🙂
Q: WHERE DID YOU GET THAT CAT MUG ON INSTAGRAM?
A: It's from Allen Designs!  It's so dang cute!  You need one.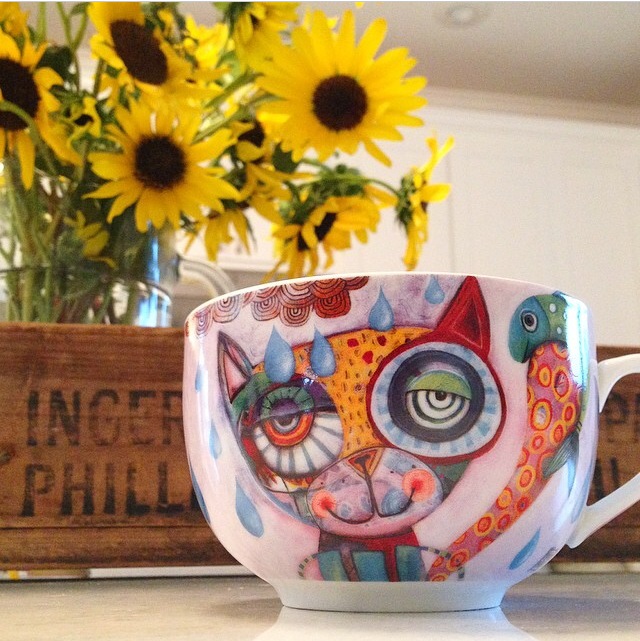 and the shopper bags she sells…. MY FAVORITE!
i use them now for all my groceries and they hold a ton and they are strong & sturdy.
and everyone says "those bags are so cool?! where did you get these?!"
every single time.
Q: WHAT IS YOUR FULL NAME?
A: Megan  🙂

Q: HAVE YOU EVER WATCHED GILMORE GIRLS?
A: I actually have never seen one minute of that show?!
that's probably weird right?
i barely watch tv at all anymore though so i most likely won't start it either.
i watch Parenthood, Grey's Anatomy, Madmen, Saturday Night Live and Jimmy Fallon a few times a week maybe.
the first four i ONLY watch on dvr.
jimmy is usually live while getting ready for bed.
and i haven't even watched any of the new shoes yet that started 2 weeks ago!
im not against tv… there just isn't time?!
Q: CAN YOU TELL US ABOUT YOUR KIDS IN THE YOUNGER YEARS?
A: actually… i have been blogging since annie was tiny.
so you can go back into the archives (bottom right sidebar) and read the blog backwards kind of like a book.
i get caught up doing that sometimes.
and usually start to cry.
ha ha ha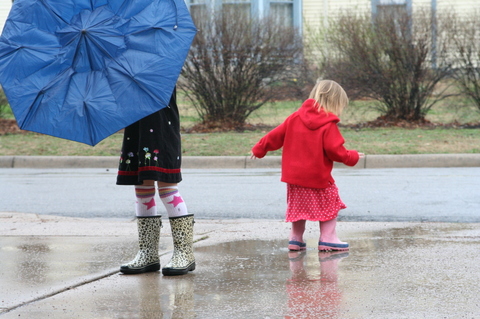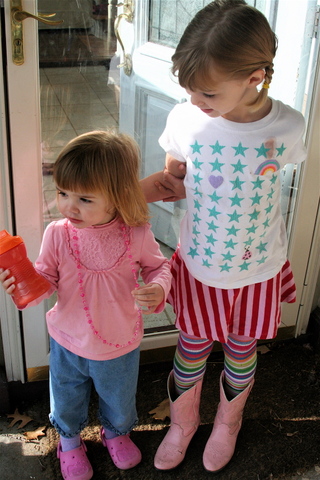 so that is my answer… i did write about what they were like in the younger years.
and it's fun to go back and read it.
(and man i miss those rainbow crazy days…)
Q: DO YOUR KIDS PLAY ANY INSTRUMENTS?
A: right now talby is playing percussion in band class.
in the past they have all taken piano.
lauren took guitar lessons in high school & sean played the saxophone for a school year.
i do not have the discipline to make them practice.  i am not that mom.
but we have provided the opportunity to play anything they wanted.
and i figured if we had one of them LOVE something then we would know how much effort to put back into it too.
none of them loved any of those things.
i could've made them continue but really… if they don't love it in the beginning i don't think they are going to love it a few years down the road after a million hours of practice?  i don't know… maybe they would?  it's hard to keep up on it!
i just want them to find THEIR thing… not what i want to be their thing.
Q: HAVE YOU ALWAYS BEEN ARTISTIC?
A:  Yes.  🙂
i was always encouraged to draw or create by my parents.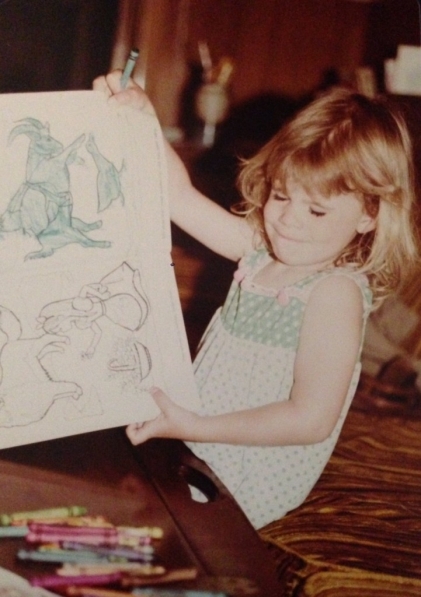 and late at night (again with that habit) i would draw and draw.
my favorite subject in every grade every year was art.
i took it every elective all year round.
i was a… high energy… loud mouthed… rowdy…some might even say "difficult" student.
but not in art class.
never in art class.
art was MINE.
and the teachers were nice.
i would have suffocated without art class all those years.
Q: WHAT DOES CRAIG DO FOR A LIVING?
A: He a commercial banker.
my kids ask him all the time "did you crunch the numbers dad?"
he loves people, numbers and business-y stuff.
we are complete opposites.
but that is working for us so far.
he has a huge glass marker board in his office and all i want to do when i am there is draw a giant mural on it.
i can promise you 100% he has never thought that one time in 9 years.
ha ha ha
Q: HOW DO YOU STORE THAT BUNTING YOU MAKE?
A:  I don't.  i make it and hang it  or make it and sell it.  🙂
but if i were going to store it…. i would wrap it around a piece of cardboard.
that is how we sell it in the shop.
Q:  DO YOU EVER WISHED  YOU HAD HOMESCHOOLED?  (or felt guilty about not?)
A:  never.
it is not my area of gifting.
i love school for my kids.  i love that they get to see their friends there.
i love that they can learn from so many different people.
i love that they have to learn how to deal with teachers they may not particularly like.
but that they also get to experience teachers that change their lives in a great way too.
my kids LOVE sports and being on a team.
they are so active and competitive and athletic.
it makes for a LOT of activities for us to go to but to watch them excel and push themselves and have fun is worth it.
AND we enjoy the games.  we truly do.
and ME?  i love being alone a few hours a day.
i wasn't sure at first when my youngest went to kindergarten but i quickly got used to the beautiful silence.
i adore being with them and would choose that over anything but i also like getting groceries by myself so i can focus… trying on clothes in a dressing room alone… eating lunch with my friends… basically doing whatever i want from 7:30 – 3:30!
not to say that you can't do those things as a homeschool mom.
or that homeschooling is wrong in ANY way.
but i know me.  i know my limits.  i know what i need personally to be a decent mom to my kids.
i WISH i had the desire to homeschool.
but it's just not there… so i recognize that as a clear answer.
public school is the best fit for my family.
again: there is nothing wrong with homeschooling.  it's just not my desire or gift.  🙂
and i am not looking for anyone to convince me as to how i could do it.
it's not happening.