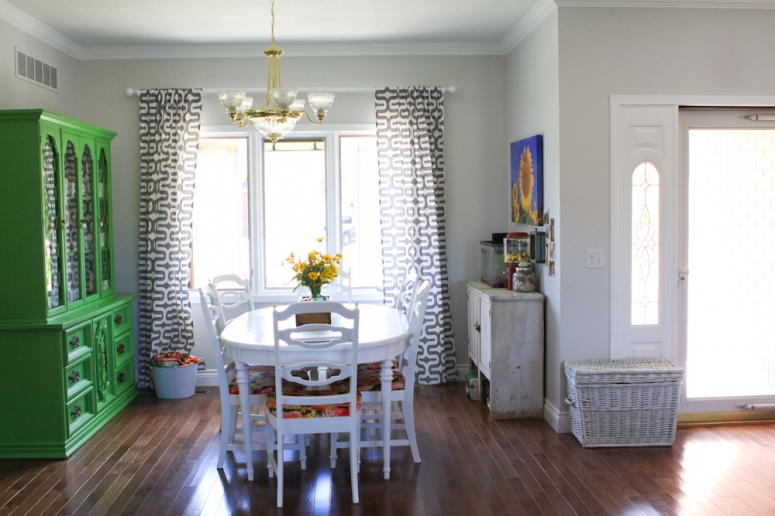 i took on a big project this weekend.
i was finally ready to organize the art supplies, clean up all the piles of junk that i had piled up here and make this "room" look nice.
there were a lot of art supplies and a lot of junk.
please ignore the gold light fixture… i haven't found what i want for here quite yet.
AND a rug would look great under the table.
but that is liking begging my kids to spill things?!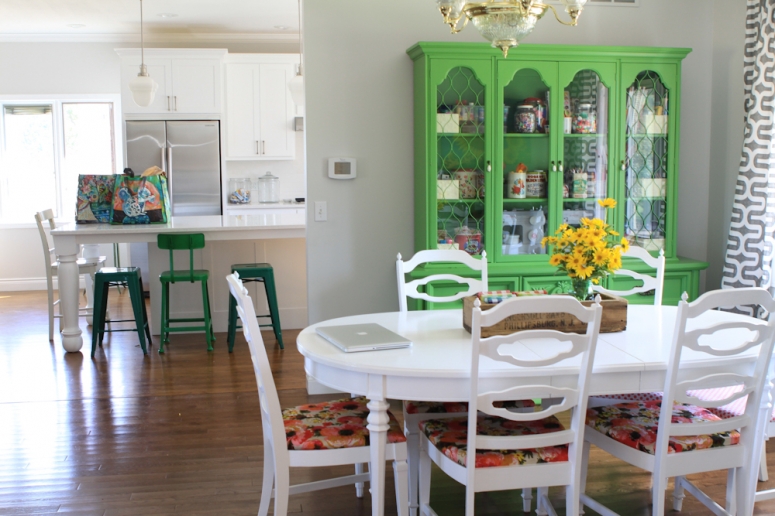 we found this furniture on craigslist for a steal on memorial day and worked all summer on it.
it was so much priming & painting.
oh so very much.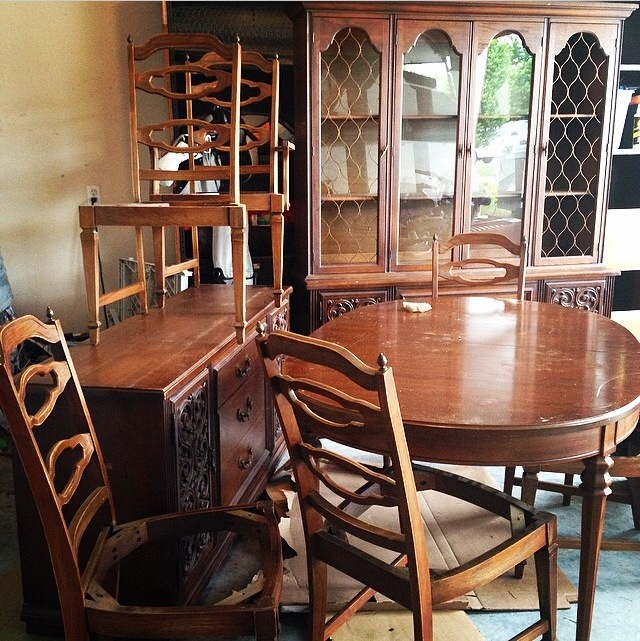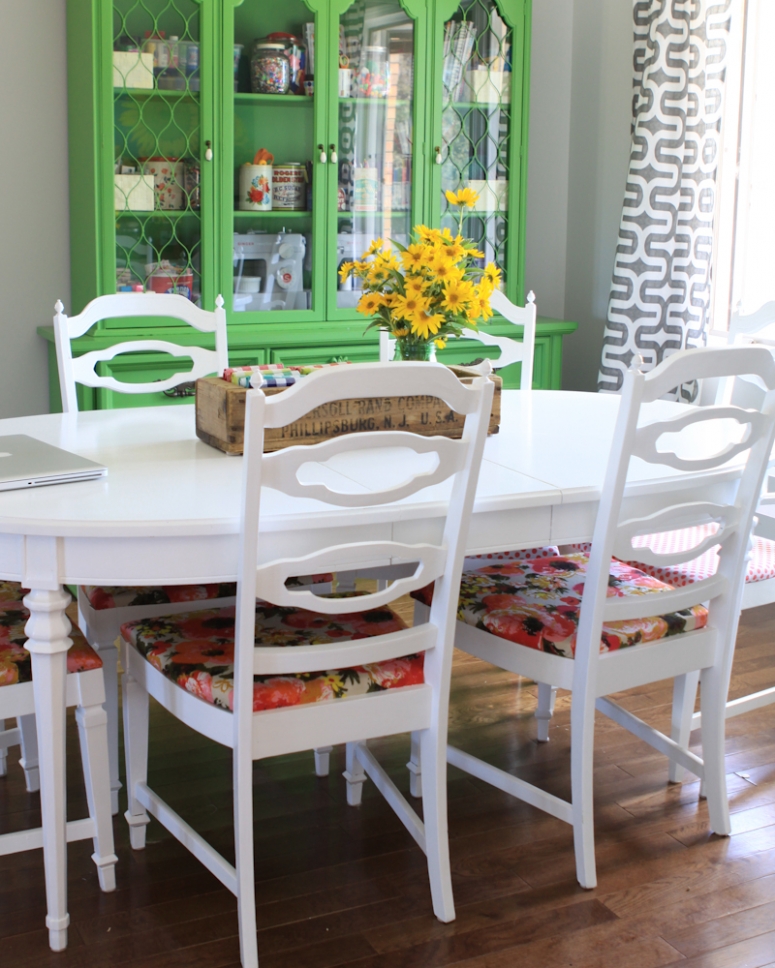 but it was totally worth it!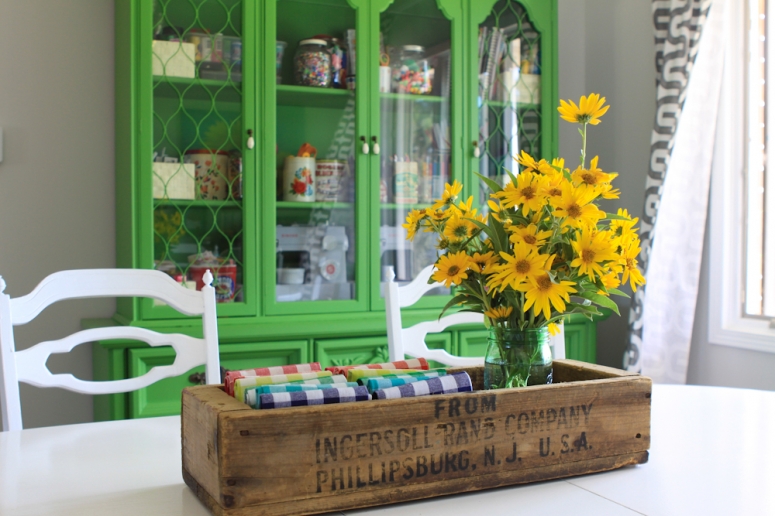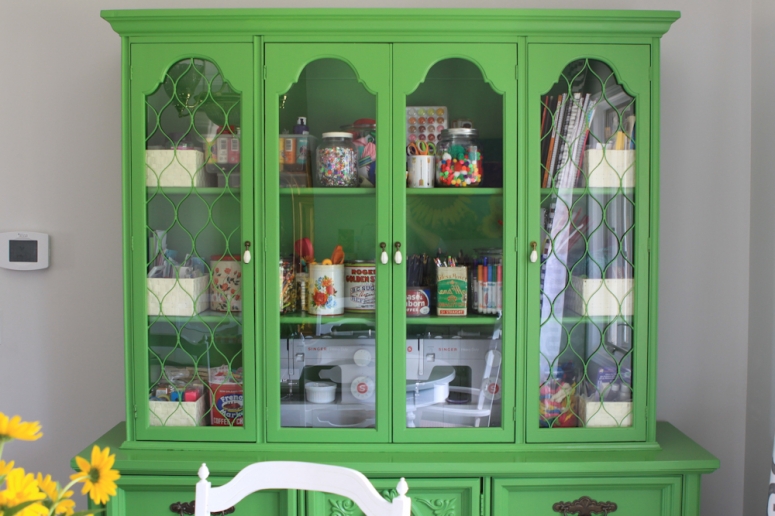 we don't own any china to put in the china hutch.
we don't even own a set of regular dishes.
for real.
i have lots of mismatched random dishes.
but not in a cute way…. it's just mismatched.
but someday when i won't have to worry about plates breaking often i will get cool plates.
and a rug under the table.
anyway… i knew this cabinet would be the perfect place for all of our arts & crafts supplies.
easy to access and pretty too!
so this is what i started with….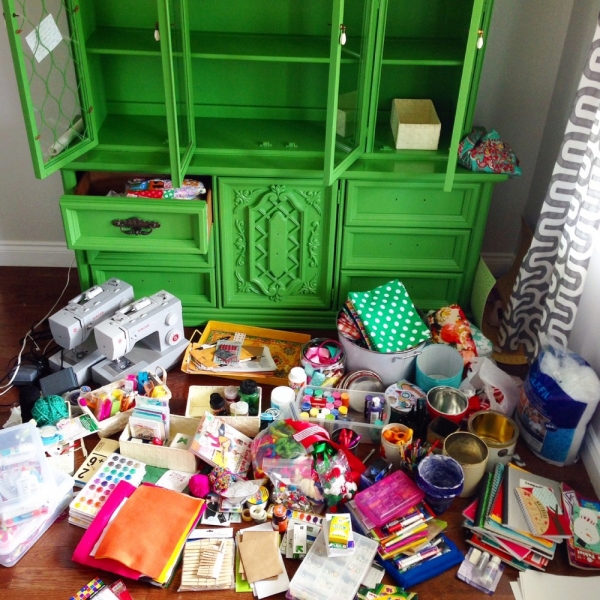 and this is when i finished.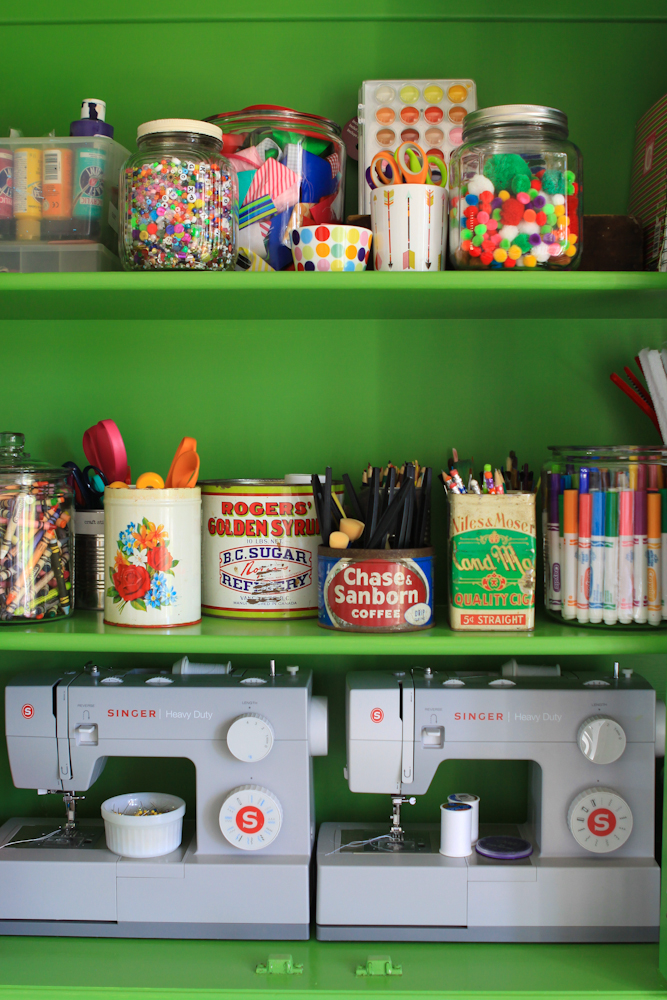 the watercolor paints are from Michaels – $4.99!!
we use SINGER Heavy Duty Sewing Machine.
we love it so much that we have two.   🙂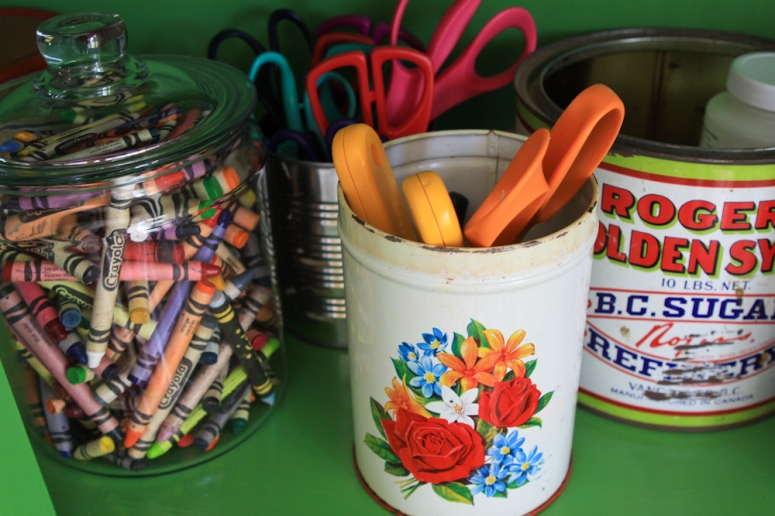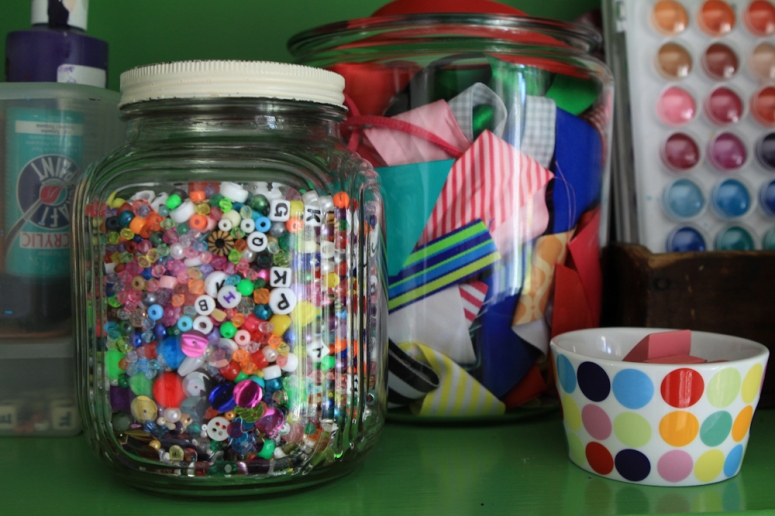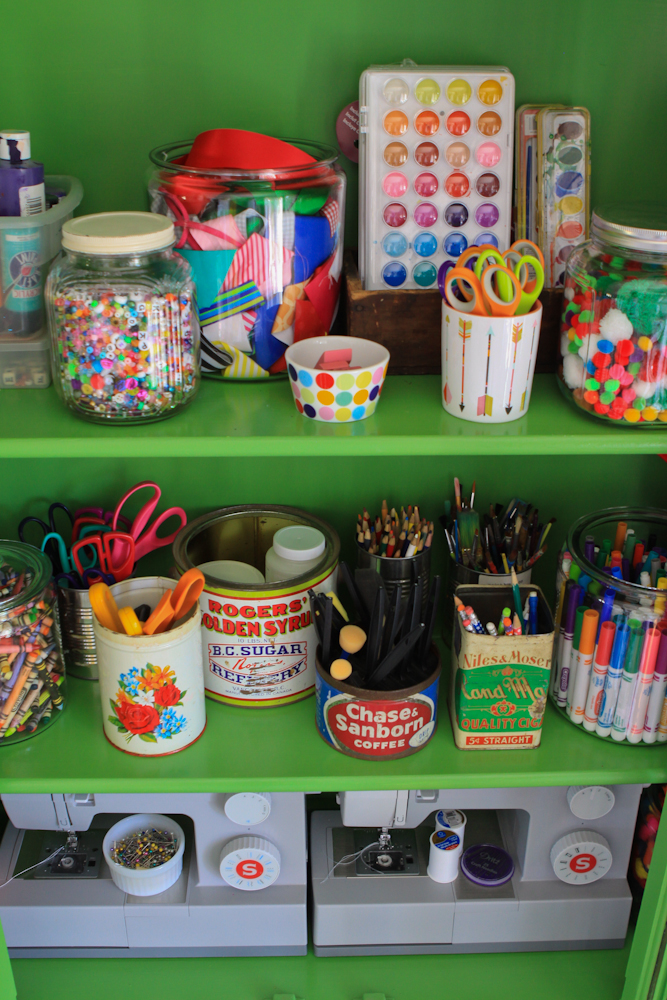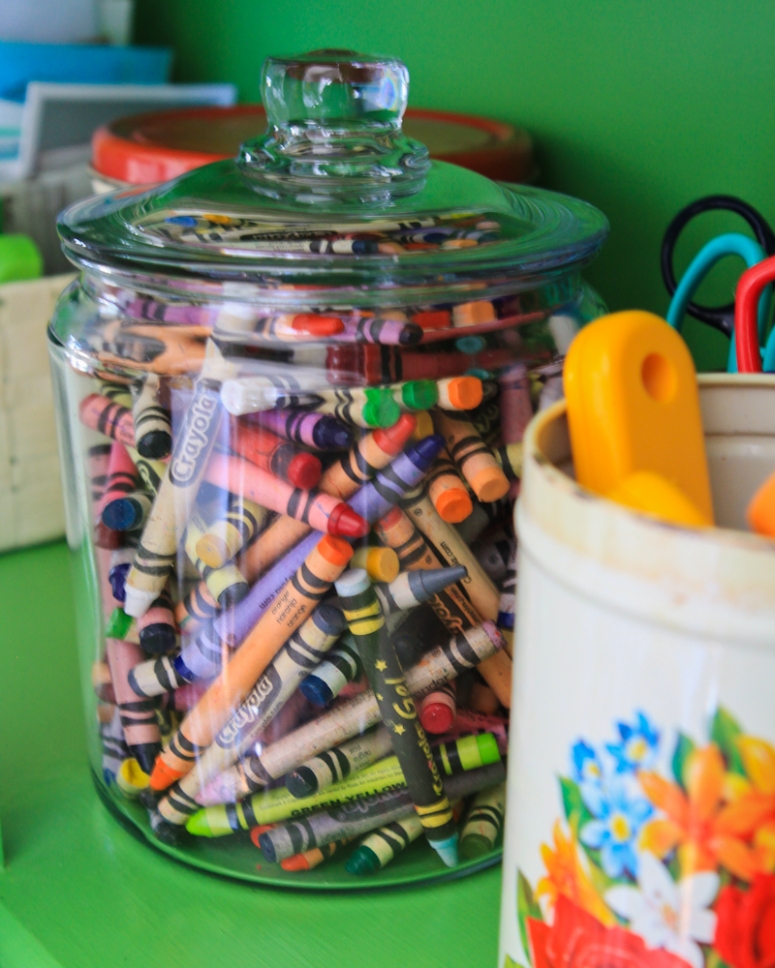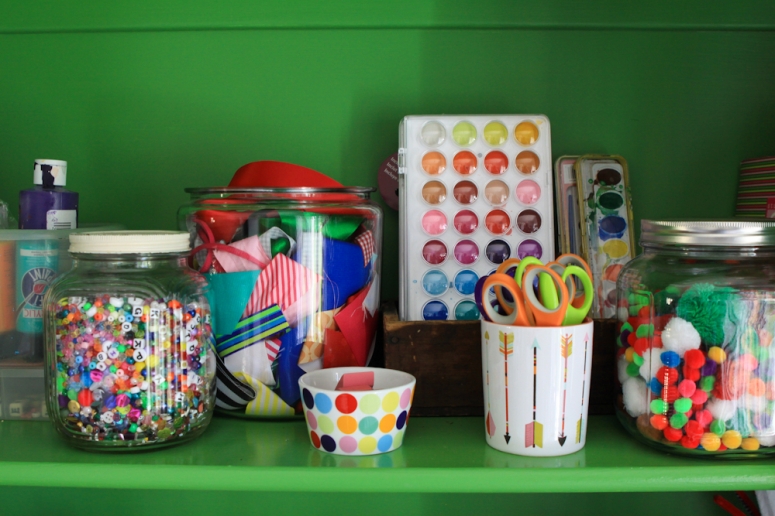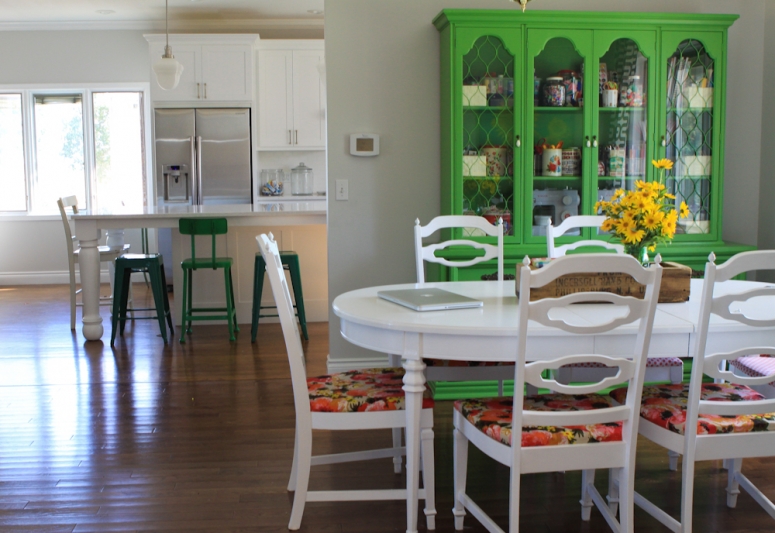 it feels so good to have it DONE!
and now i know where everything is and where it goes.
i would like to paint the back wall of the hutch white.
but let's be realistic… ain't nobody got time fo' dat!
it's staying green.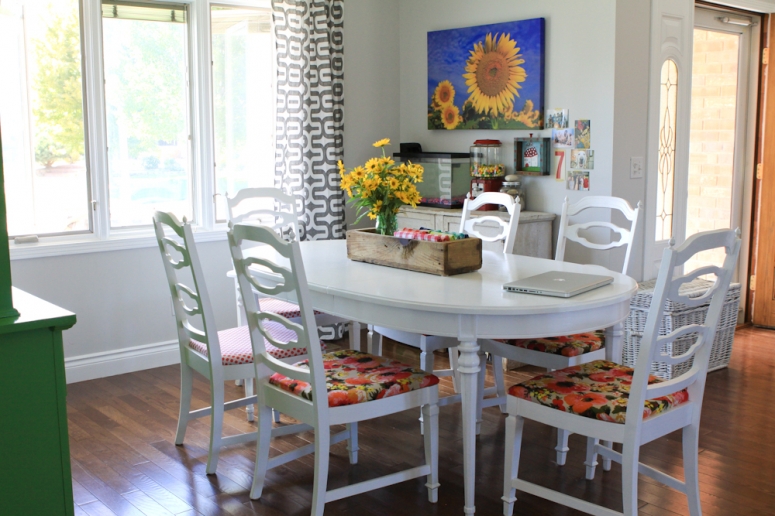 remember my trip to the sunflower field a few weeks ago?
i had my favorite photo from that morning made into a canvas through mpix.com.
it is kind of amazeballs?!!
it looks like i am standing in that field all over again.
it is slightly bigger than actual size… but not much!
the colors are so bright!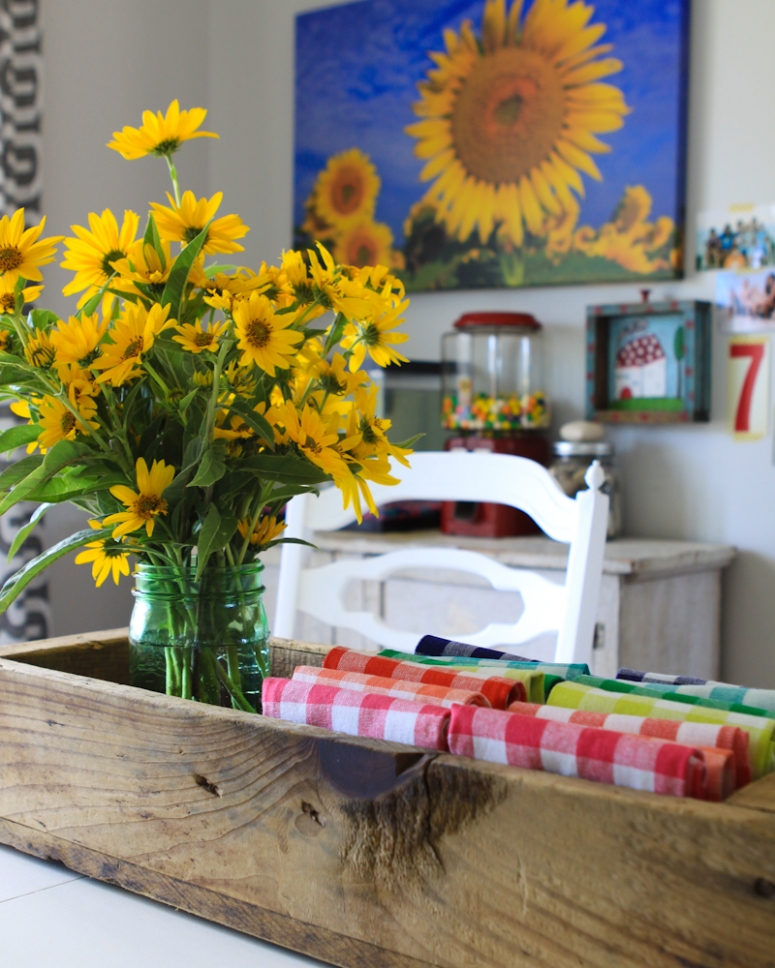 i decided that this canvas was worthy of the first nail hole in the wall at this house.
the little house painting is by noodle and lou.
it pretty much completely adorable in every way.  it's a drawer.  she painted the inside of a drawer?!
and the roof has polka dots?!  seriously.
she usually lets her fans know in her instagram feed when she puts some goodies in her shop.
and they are gone in an instant.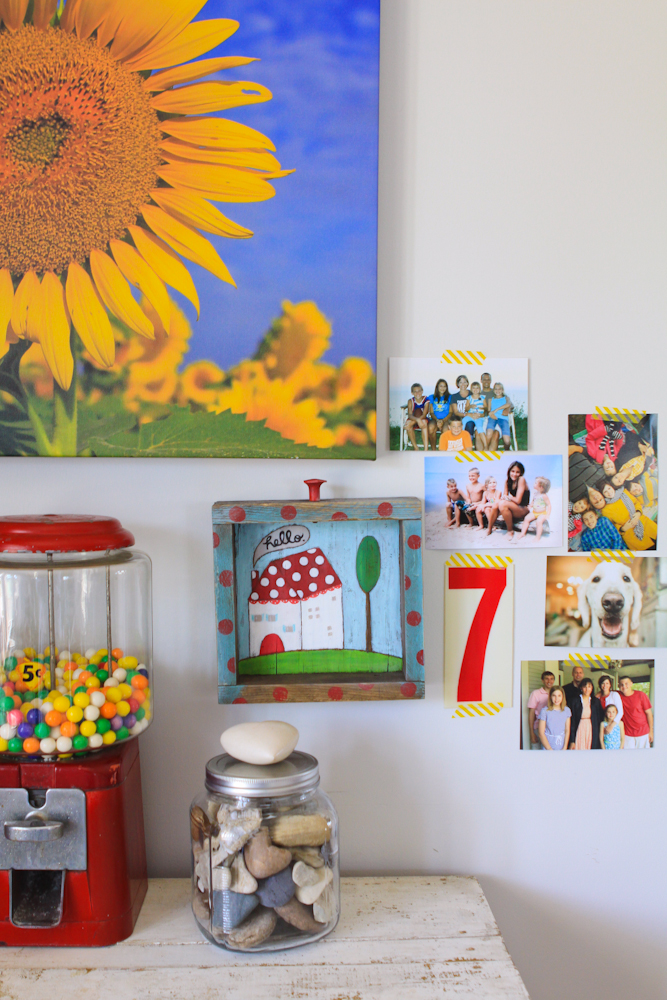 i brought my gumball machine home from the Craft House.
i loved looking at it there but thought how sad i would be if anything happened to it there accidentally.
and all my heart rocks are in that jar.
sigh.
i love those rocks.
it's weird to love a rock.
but i do.
cause i am weird.  🙂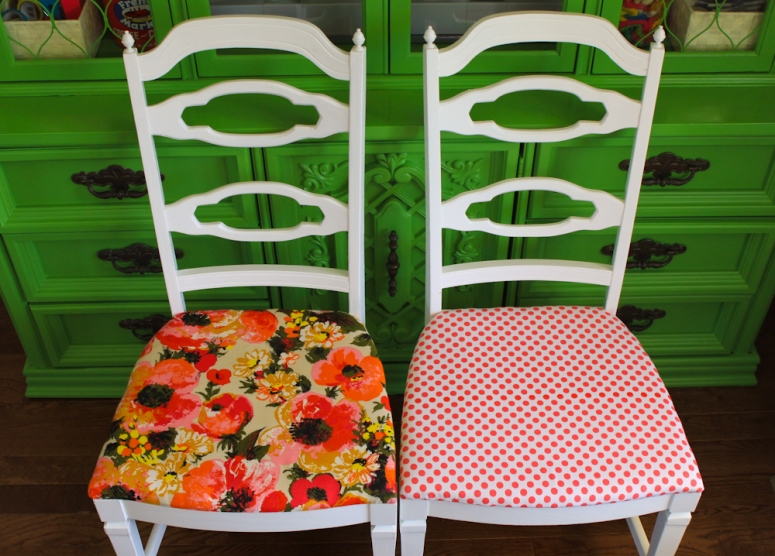 we painted the chairs and we also recovered them.
i found the floral fabric curtain panel at our local thrift shop and broke into a sweat immediately.
it was like finding treasure!
i still walk by these chairs all the time and say out loud to my empty house "gorgeous!"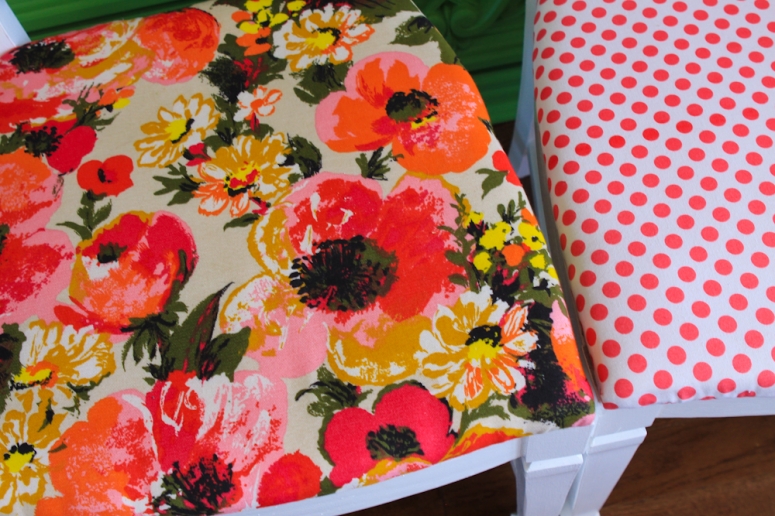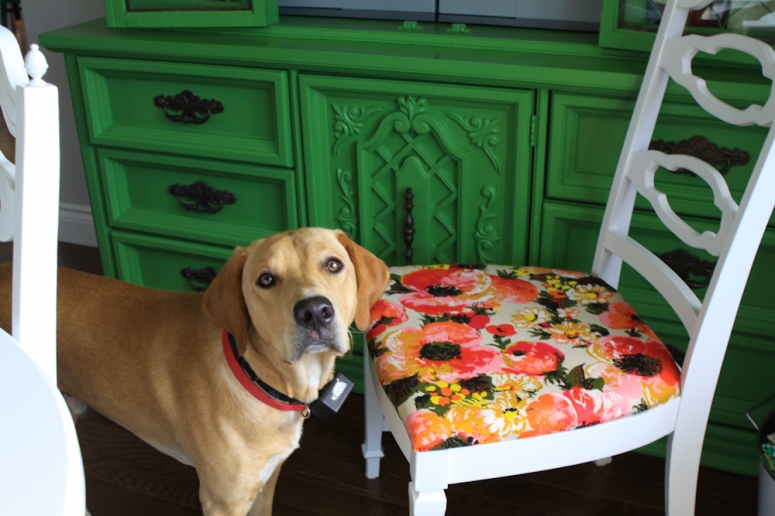 hi stan.
please move now.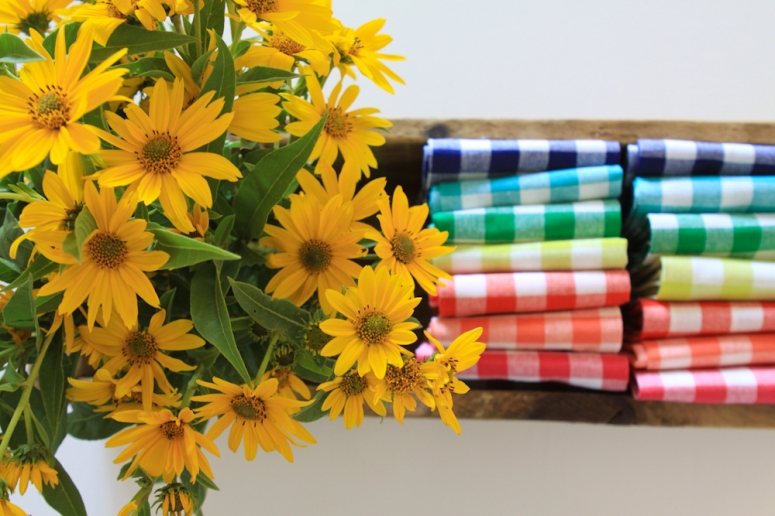 the wood box was a find last month out at my favorite antiques shop – Bearly Makin' It.
the gingham napkins are a target clearance purchase.
the flowers are from the back yard… they are actually weeds!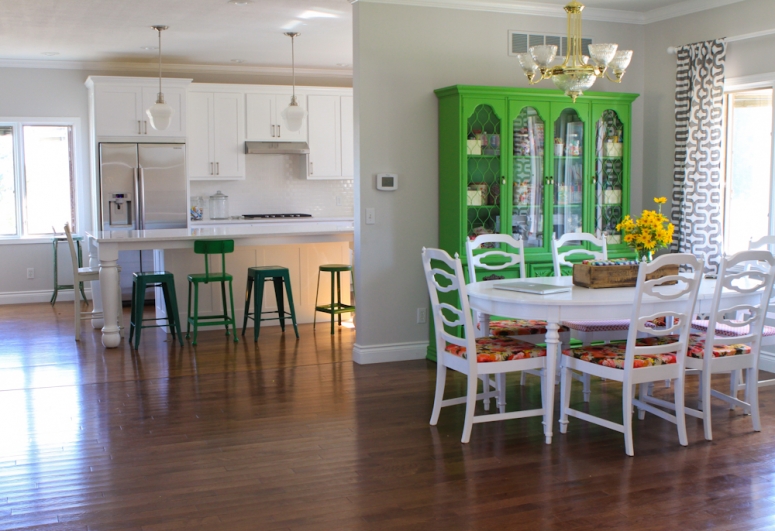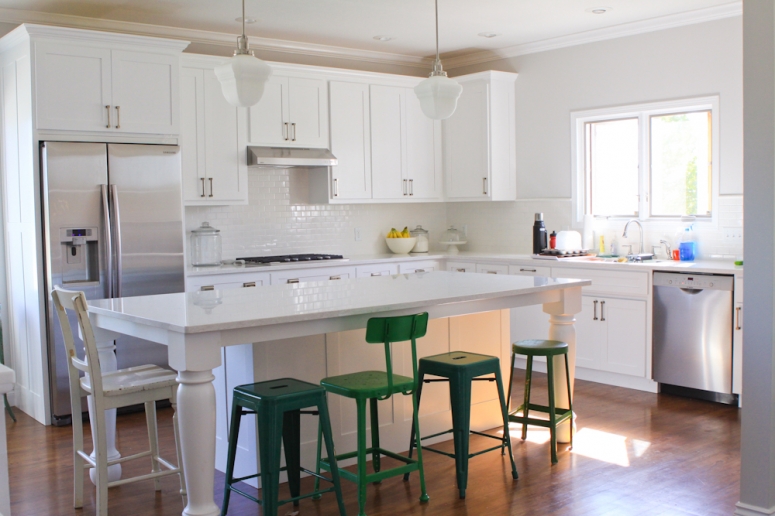 just for fun… a peek into the kitchen.
dirty dishes and all.
everyone asks where the lights are from… Menards.
and the paint color is Sea Shell Gray by Valspar.
i will post more about the kitchen later.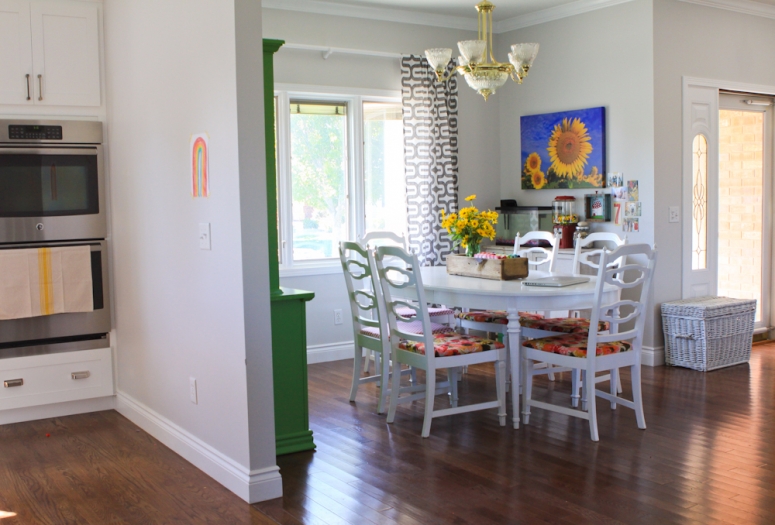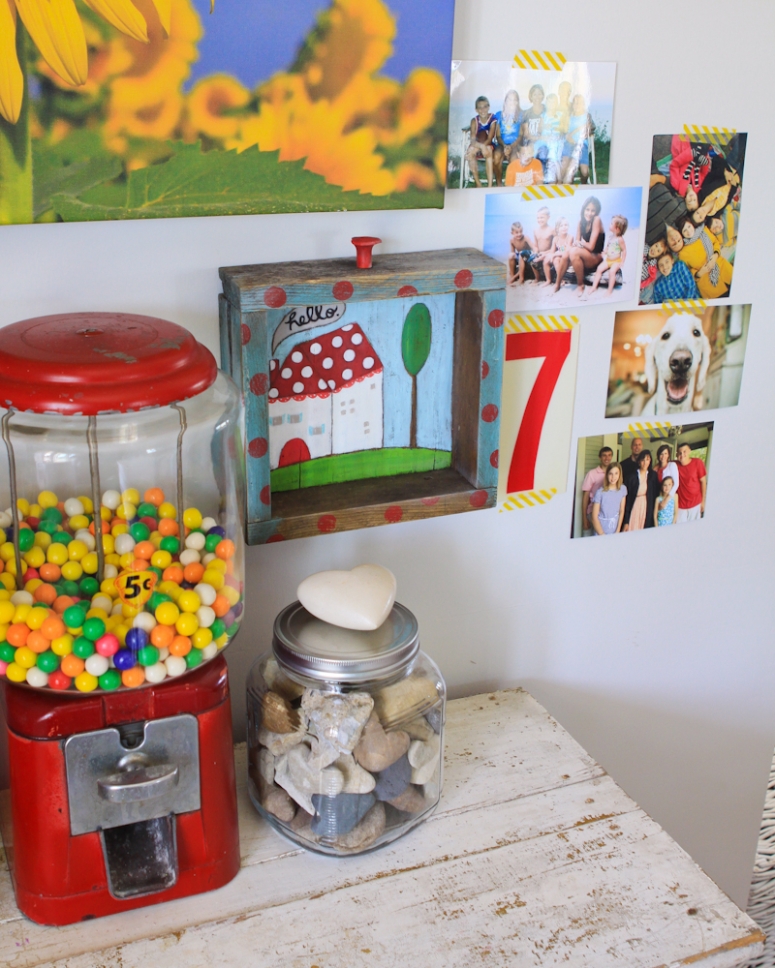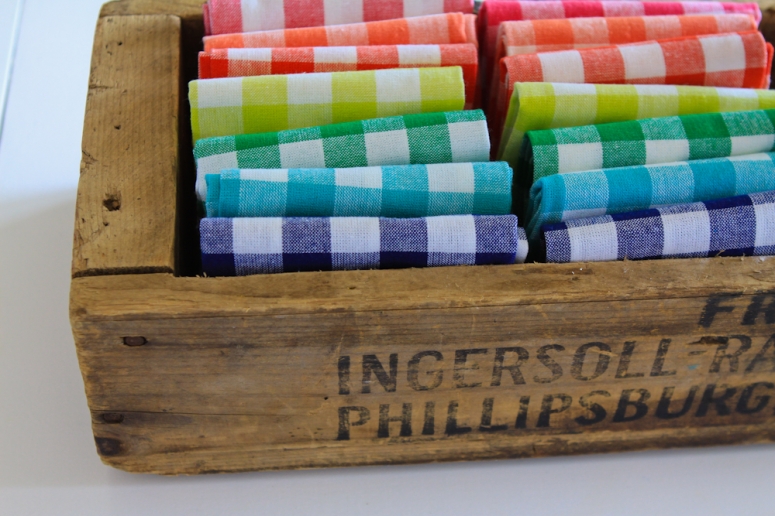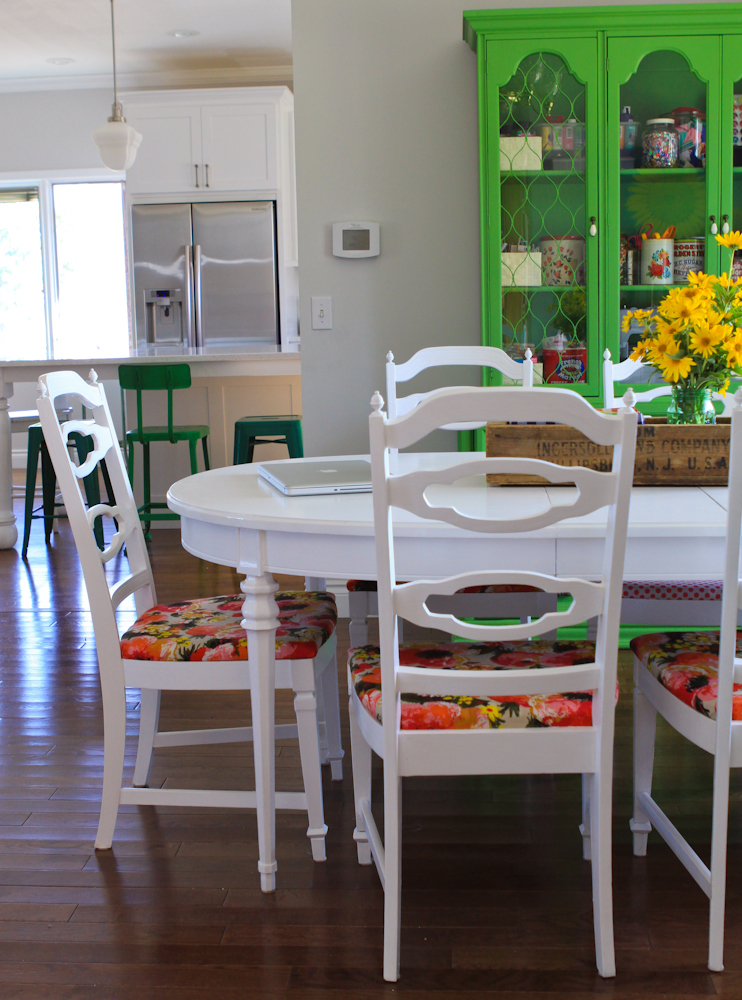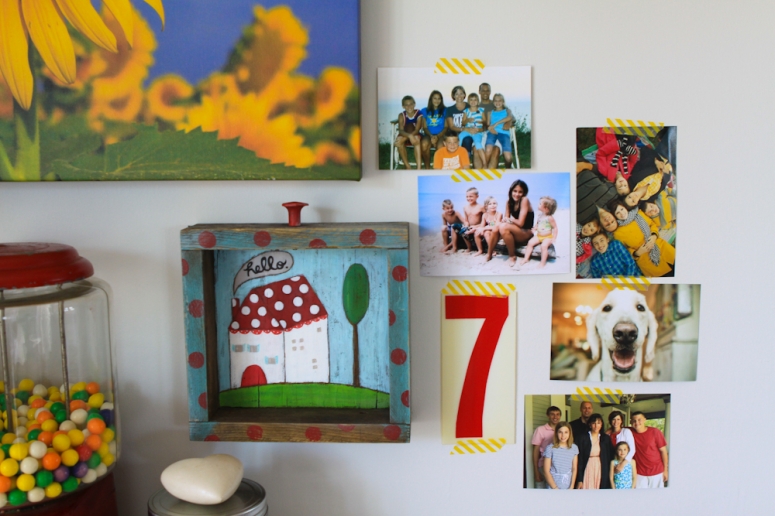 we have two tiny goldfish in that tank filled with neon pink rocks.
i think my girls are ready for something a little bigger in there to keep them company.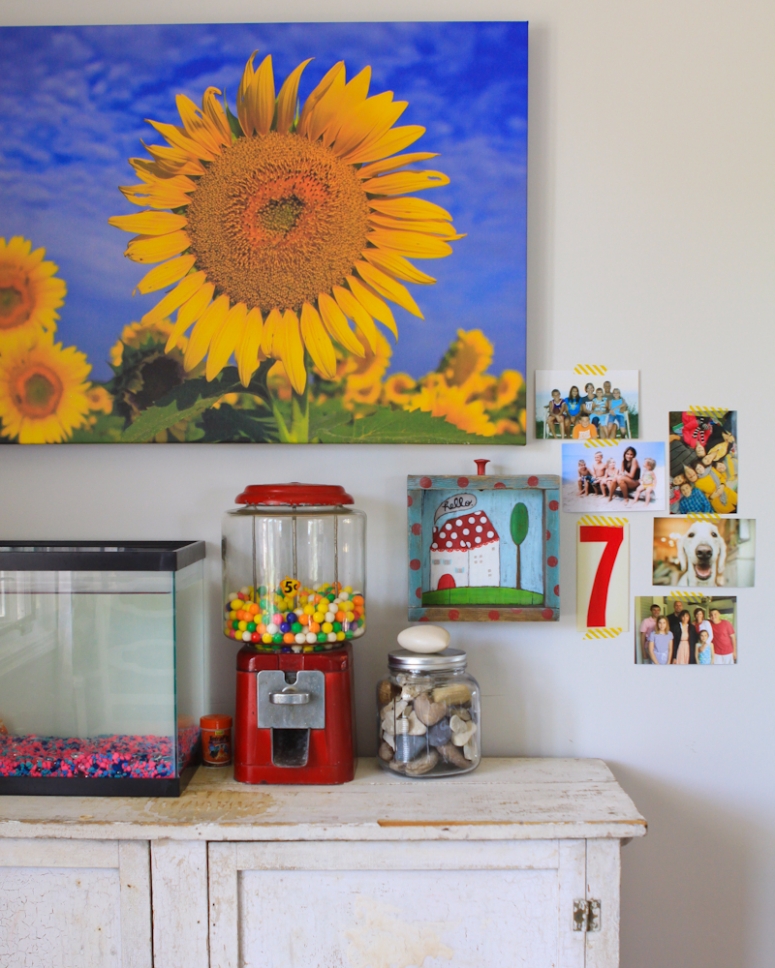 that canvas just makes me  happy!
all of  MPIX's products are always high quality and professional.
i order all my prints from mpix – the ones i sell in my shop and for our home too.
i just ordered a bunch of pictures from 2011 and 2012 last week when they had their print sale.
annie immediately started filling her photo album.  🙂
in this digital age of taking more photos than ever but rarely printing them… getting a box of photos in the mail is so much fun!
MPIX is awesome and i want YOU to know it.
they said i could giveaway THREE of their gallary wrapped canvases!!
woo – hoo!
this is a giveaway for a canvas made with YOUR photo.  So it can be perfect for YOUR house!
So… to enter the contest for a chance to win a canvas up to 24×36 leave a comment below telling me your favorite arts & craft supply – the one you would never want to be with out!
my answer is watercolor paints.
WINNER PICKED on Monday October 13!