i have been hesitant to write this post…it's taken me an entire month!
camp was SO GOOD and everything i had hoped it would be.
i don't think my words can describe our time at Camp CREATE well enough.
i don't want to miss anything.
and during camp i barely took any photos because i was having such a great time i forgot!
so this post is made up of pictures taken by me and the whole group.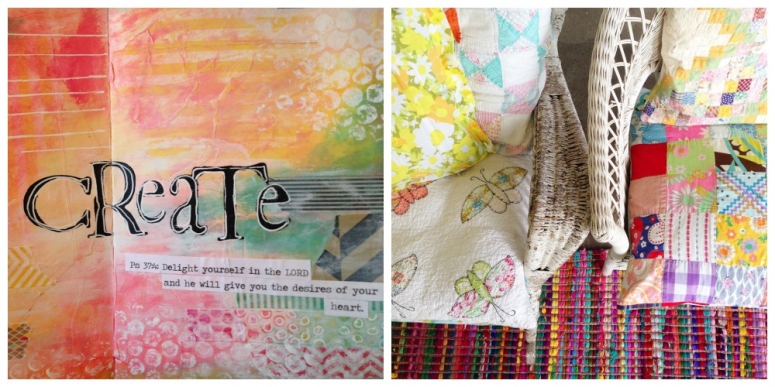 it was an awesome group of women.
i kept smiling when i would remember that this was the group God picked to be here.
He put us together.  That meant something.
God is in all the details.
when you bring a group of strangers together who know they are coming to focus on dreams and God's plans & desires… amazing things happen.
none of the guests knew anyone before coming.
none of them were able to come with a friend because it sold out so quickly.
AND I LOVED THAT!
these girls were vulnerable and strong.
they were asking God "what do you want me to do next?  what is your plan for my life… right now?"
and that is B I G!!!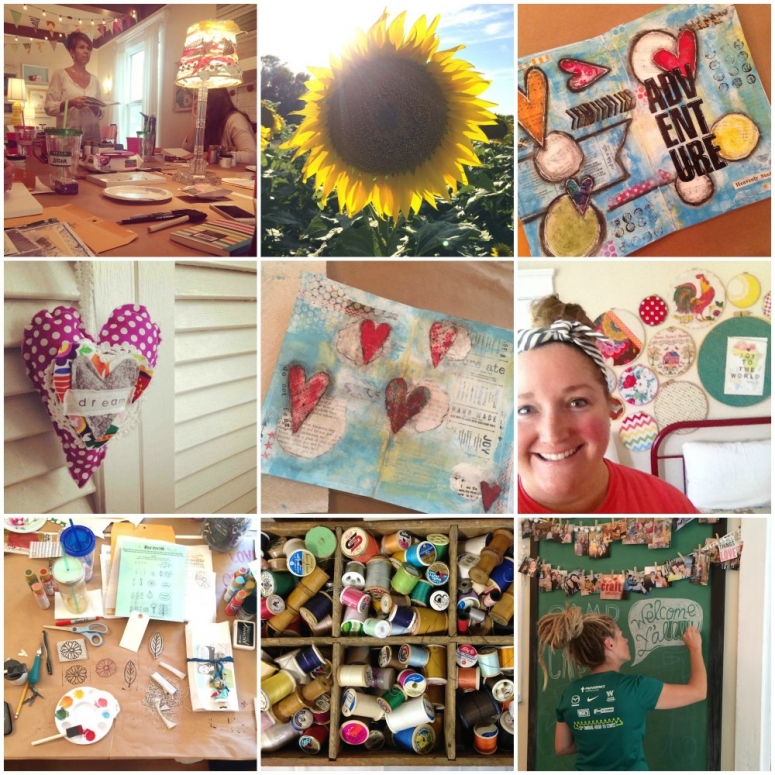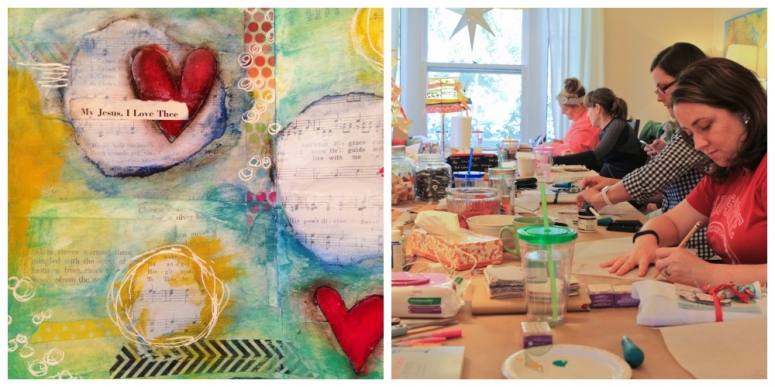 Each evening and morning our speaker, Holley, talked with us about dreams and God's purpose for us.
Holley Gerth is the author of "You're Made for a God-Sized Dream".
(she has written lots of books and you probably need them all)
she taught us that a "God-sized Dream" means a dream that perfectly fits your heart.  it's not about how big or small it is, it is about saying YES to the dream God has for you.
she shared with us about "pursuing life with passion and purpose and going with God where he leads."
those are her exact words.
🙂
i wanted to write down every. single. thing.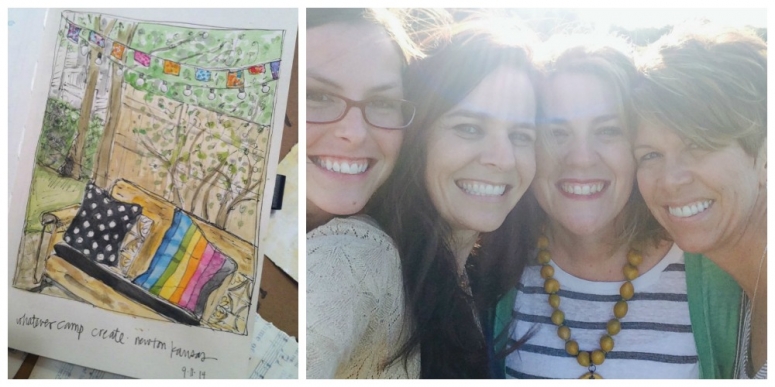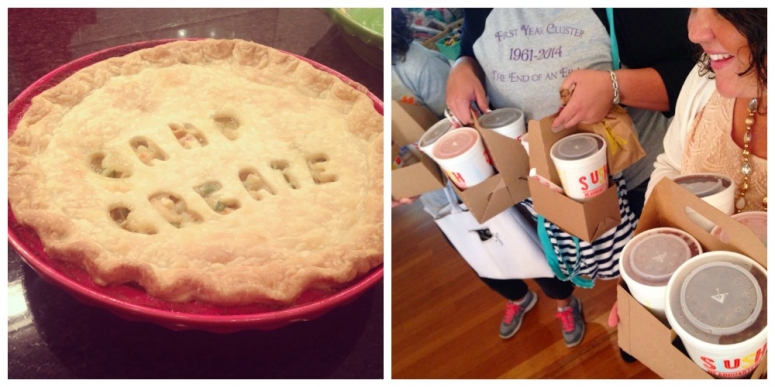 we talked about our strengths and our skills.
we discussed how are we using those to serve others?
and where do our dreams fit into that picture?
we talked about fear – the fear of failing… fear of it not working out…. fear of rejection… fear of success.
Holley's words were just what my own heart needed to hear.
and i'm pretty sure every one in the room was thinking the same thing.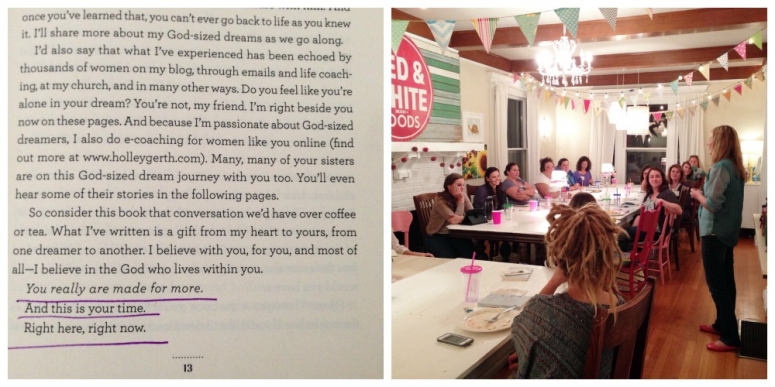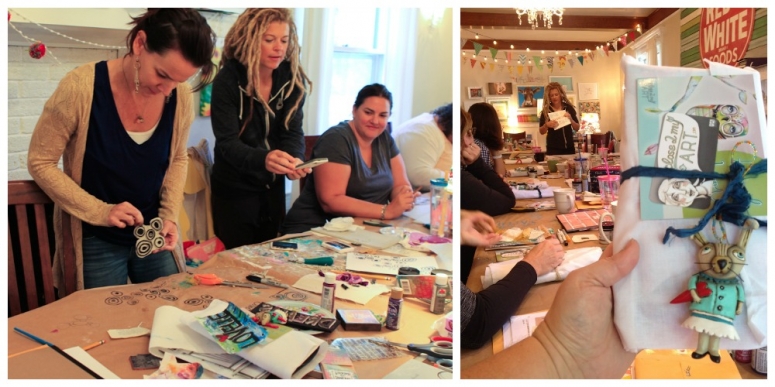 Stephanie Ackerman & Michelle Allen lead our creative workshops.
we created art journals, encouragement cards, carved our own rubber stamps and made ornament pillows from our stamps.
it was relaxing… refreshing… and oh so fun!!
they were both fabulous teachers.
i enjoyed how their style was totally different and i learned so much them both!
i am now a huge fan of art journaling AND i want to carve a million more stamps.
we were spoiled with such wonderful teachers.
it felt great to create projects with endless possibilities for hours at a time.
and then go to bed and be able to leave it all out!!
no kids to come & get into our mess or family needing to eat breakfast on the same table   🙂
getting freedom in the time and mess is so nice.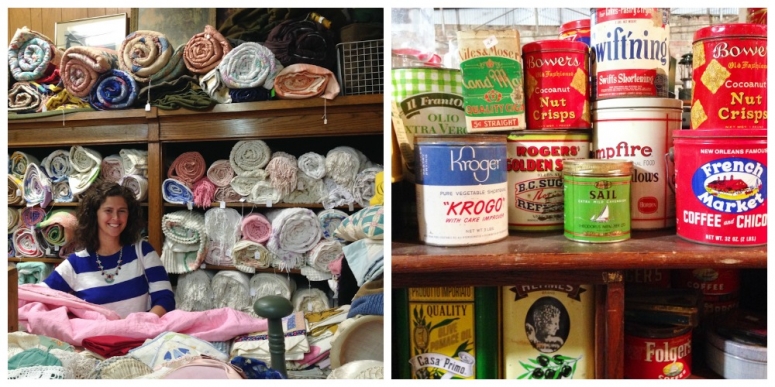 we shopped at our very favorite barn and antique shop.
some went to other local shops in newton and sonic for happy hour drinks!
some went for a run in the mornings… some went out for evening walks.
we brought in massage therapists for those who wanted massage… oh yeah… ahhhhh-mazing!!!
there was a big focus on RELAXING at camp.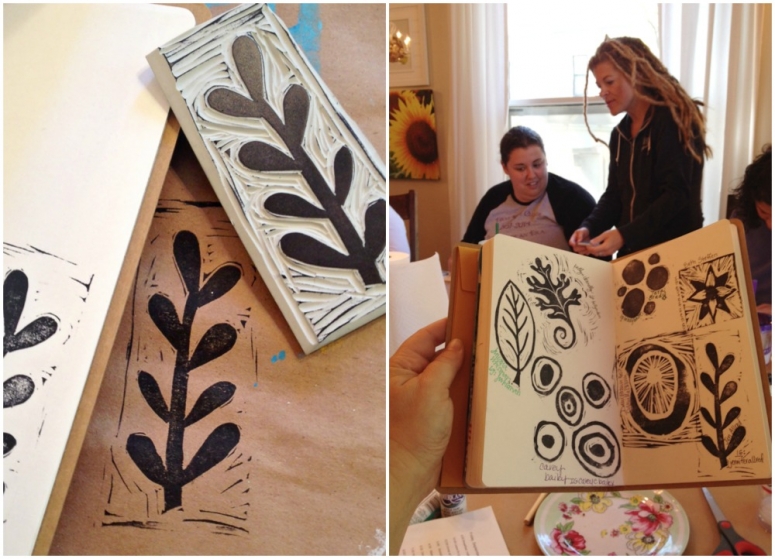 having shannan as our "official helper" for the week made everything EVEN MORE EPIC!
she is as wonderful as she seems on her blog.
she is the real deal.
i like her so dang much.
she's a writer so i am positive she really liked that last sentence… it's very professional, intelligent and well written.
shannan… i am so thankful for you.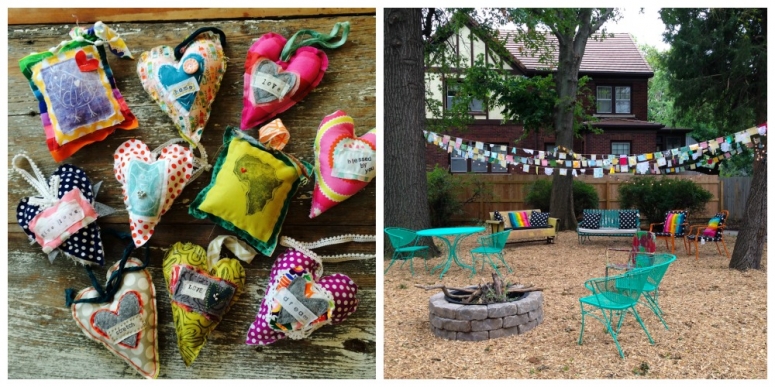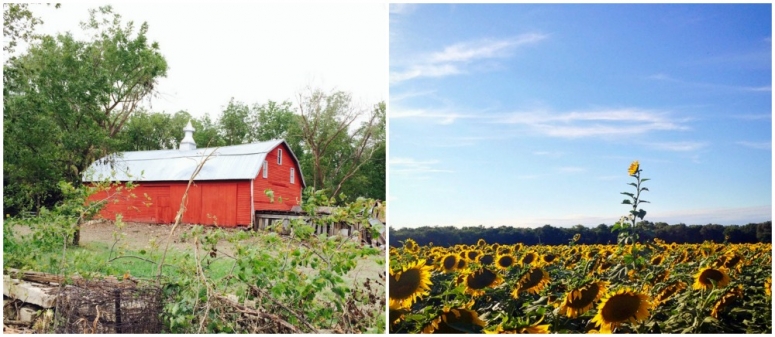 the week before camp we pushed hard and finished out the backyard area.
we gave away our swing set and cleared out the weeds…
my strong sons and husband did most of the hard stuff.
i hung lights and bunting and made it pretty.
it was perfect for a fire and s'mores for dessert!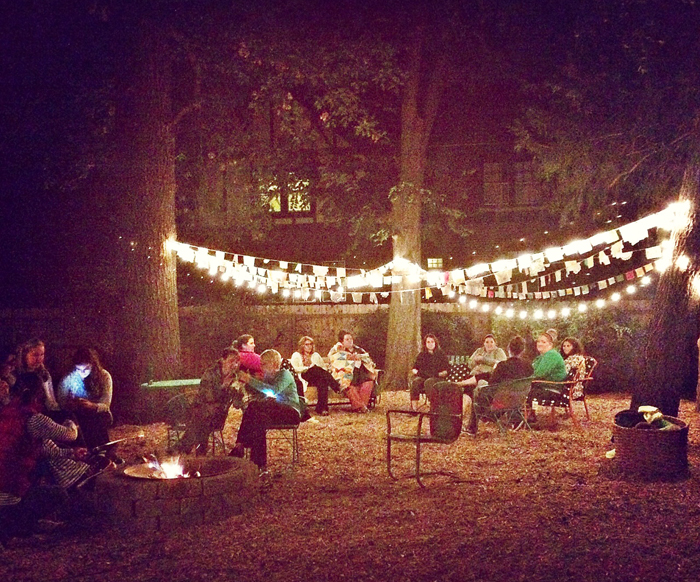 kimberlee's food was possibly the best it's ever been.
the way she plans a menu is a creative gift!
we ate like queens.
and in case you didn't know… kimberlee is the organization behind our events.
she thinks of details in the details.
things i never could come up with and she has ideas and answers.
i love her brain and her giant heart for hospitality.
i am so thrilled we get to work together AND be friends.
she's rad.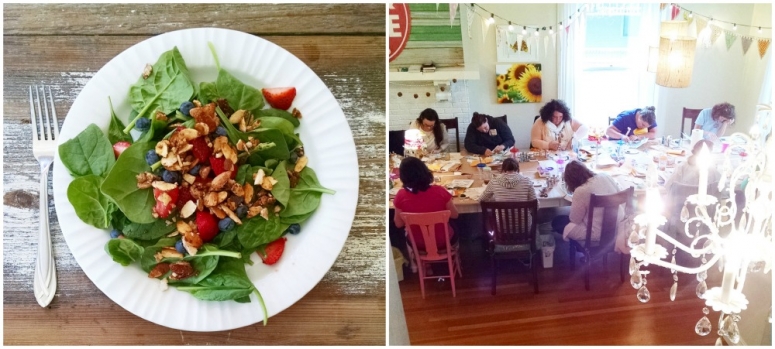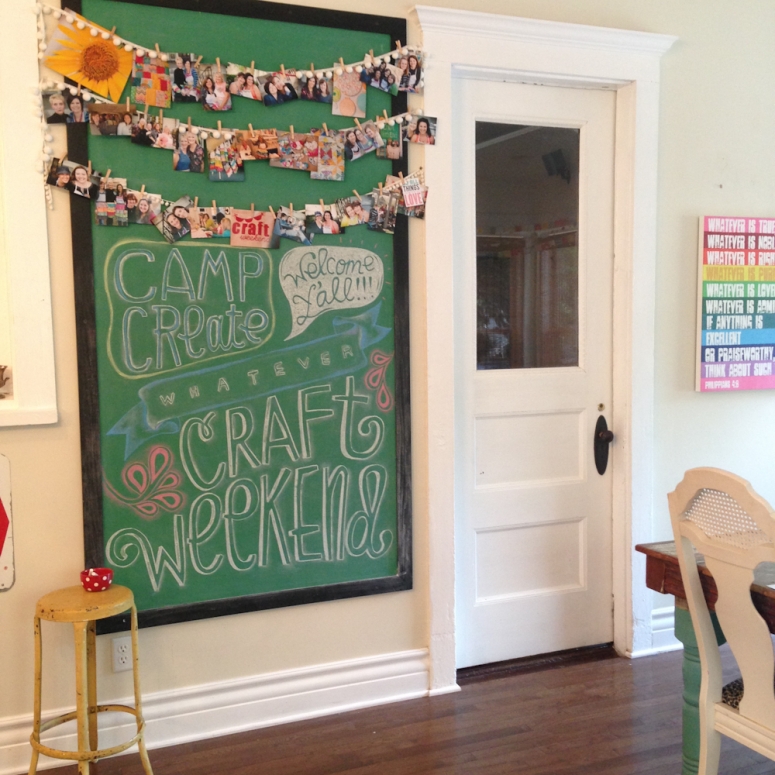 michelle graciously gave us a new sign for the Craft House kitchen!
definitely time well spent.
it was really cool to watch it come together!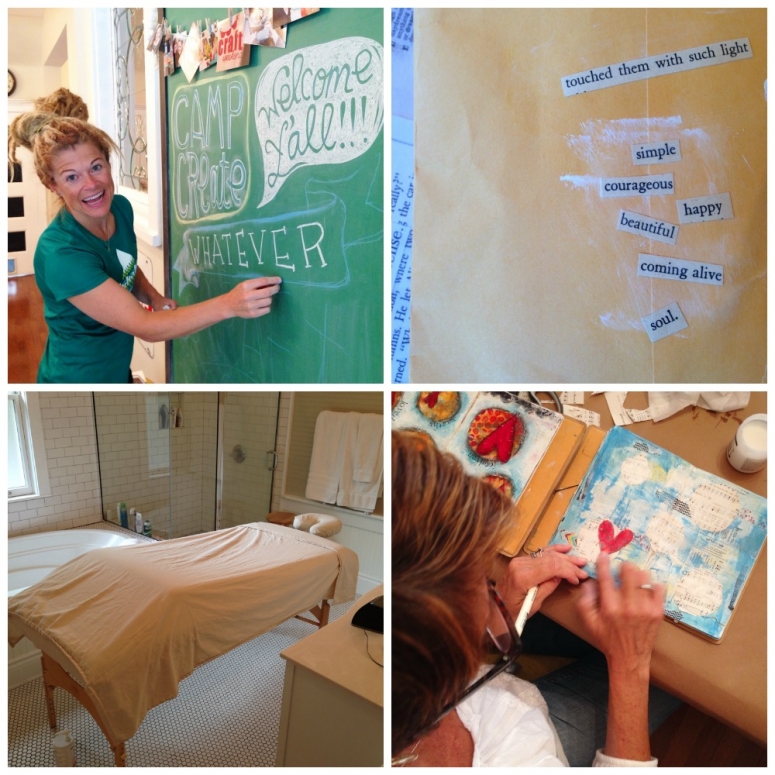 for part of the art journaling, stephanie had us cut words from old book pages.
any words that caught our eye… those above were some of my words i cut out.
and i also got caught up  in reading my pages.
mine was about a president that was ill and the wife having to hold it together for everyone… i looked up during our workshop and said "my page is making me cry!"
i was supposed to be looking for words not reading!
Holley found the phrase "Great Jumping Mullets Grandpa!"
what??
it stuck.
we said it all week.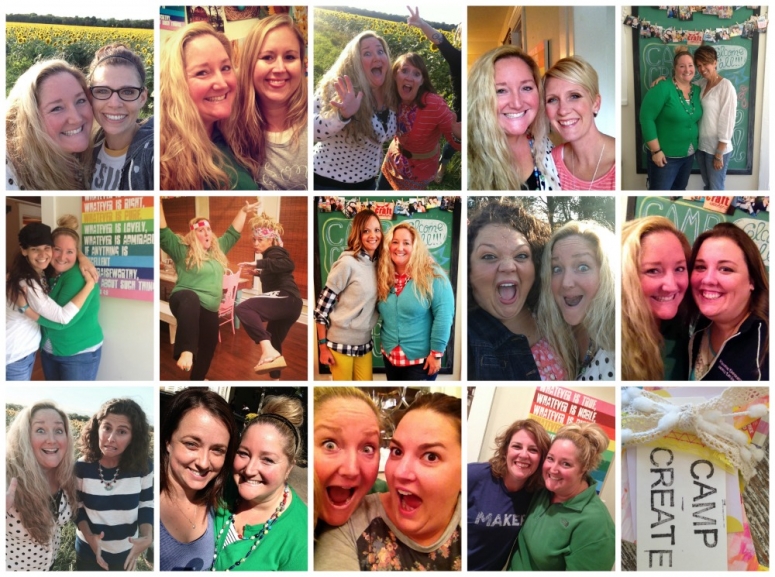 tara took a selfie with everyone at camp.
and i thought it was so adorable to see it all in one collage!
we had some lovely sponsors who sent gifts for our guests………………………………………………..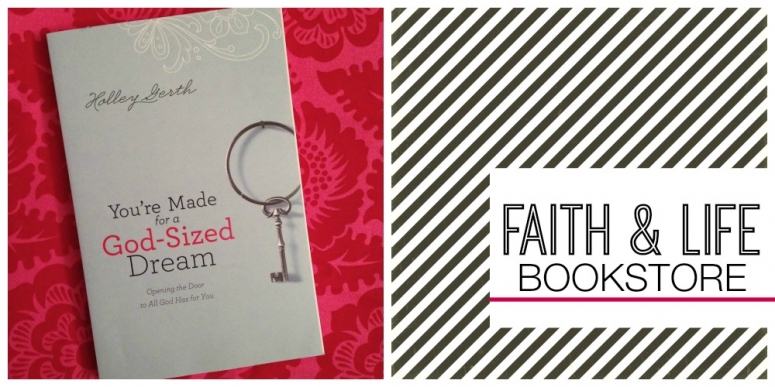 Faith & Life Bookstore is my local book shop.
they are in Newton, Kansas.
they wanted to give our guests a gift!  It was so kind of them to do!
everyone at camp was able to go home with Holley's book!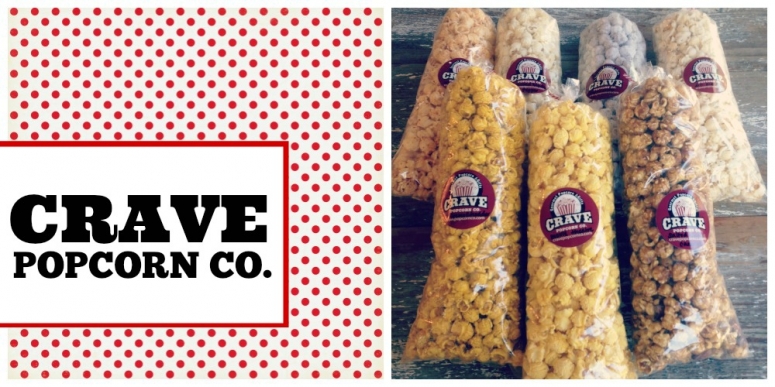 CRAVE Popcorn Company.
they sent their popcorn for our girls to snack on.
oh my goodness i love this stuff!
you can order online and have it shipped right to your door!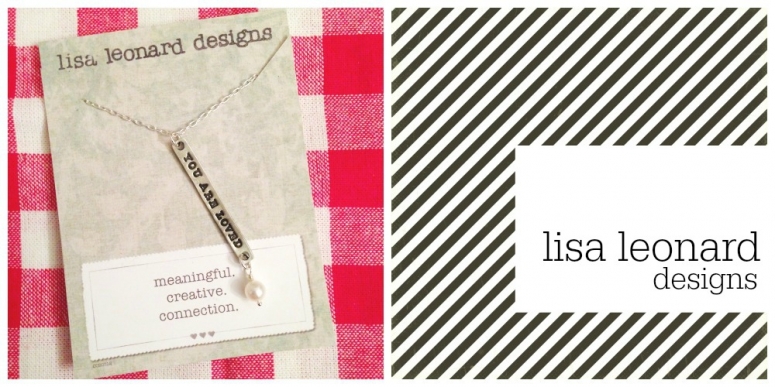 Lisa Leonard Designs
Lisa sent this necklace to our guests.
i love that they can wear it and remember their week at Camp and how they ARE loved!
You can order this necklace for yourself too and wear it anytime you need a reminder!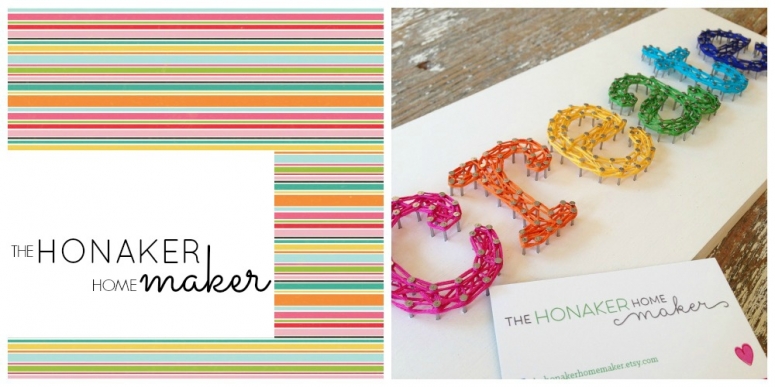 The Honaker HomeMaker
Lauren made a few of these creative signs for Camp Create.
one gets to live at the Craft House forever and two went home with two of our guests!
We love your shop Lauren!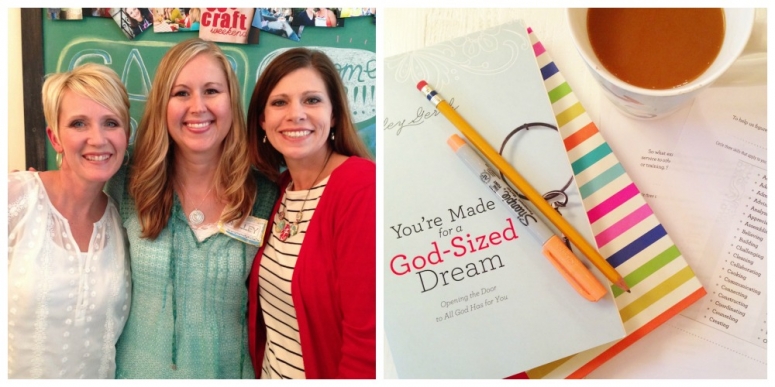 i even got to take them to the sunflower field that i love so much!
i don't think there could be a better backdrop for pictures.
nothing can compare.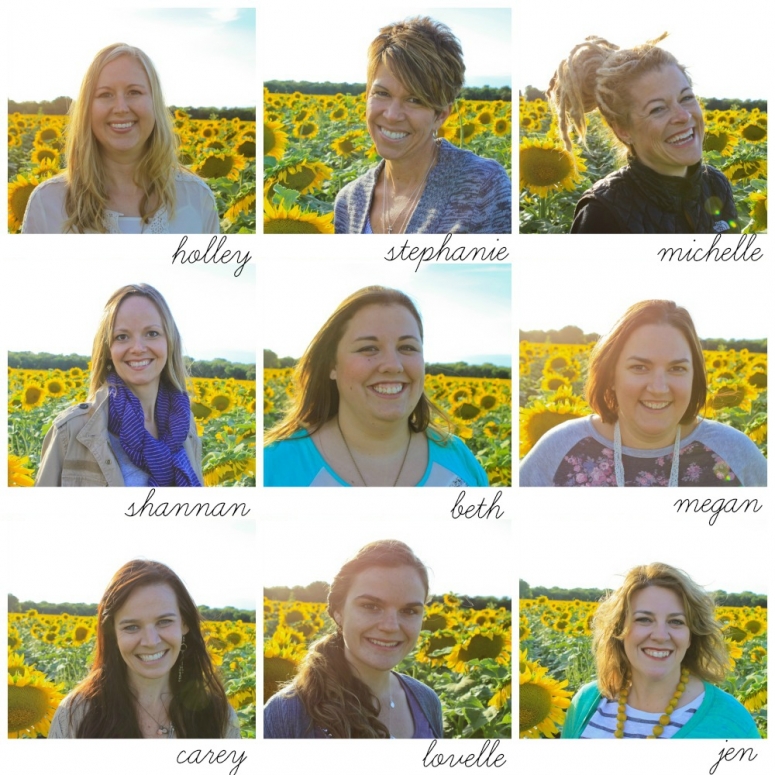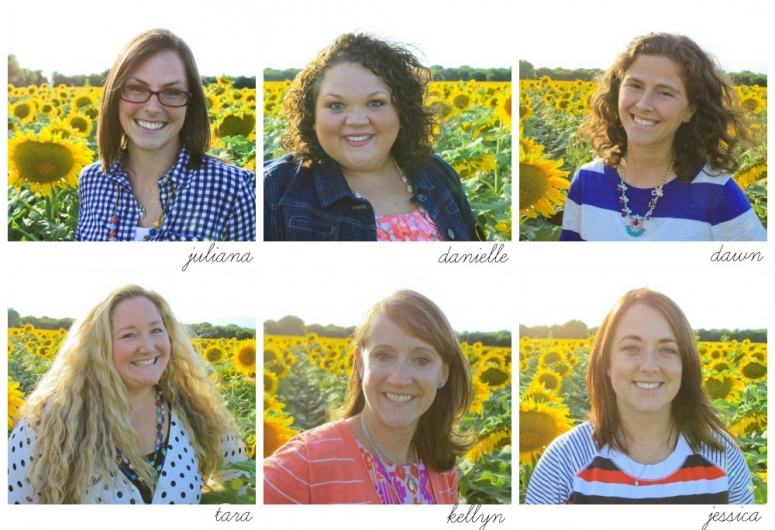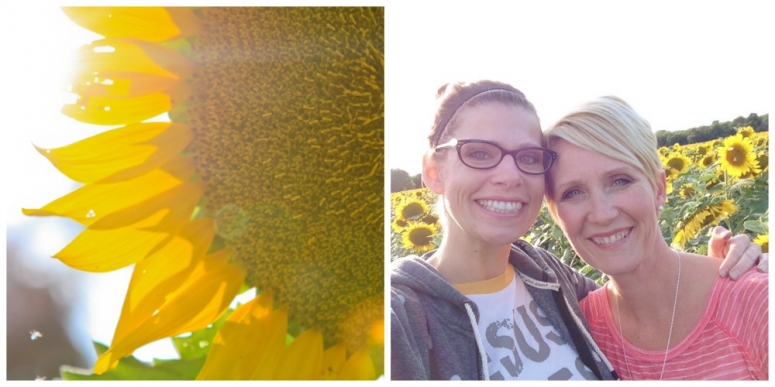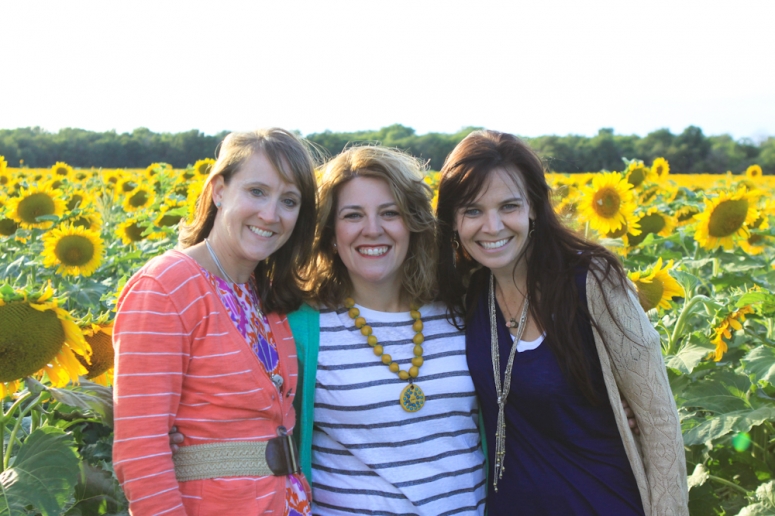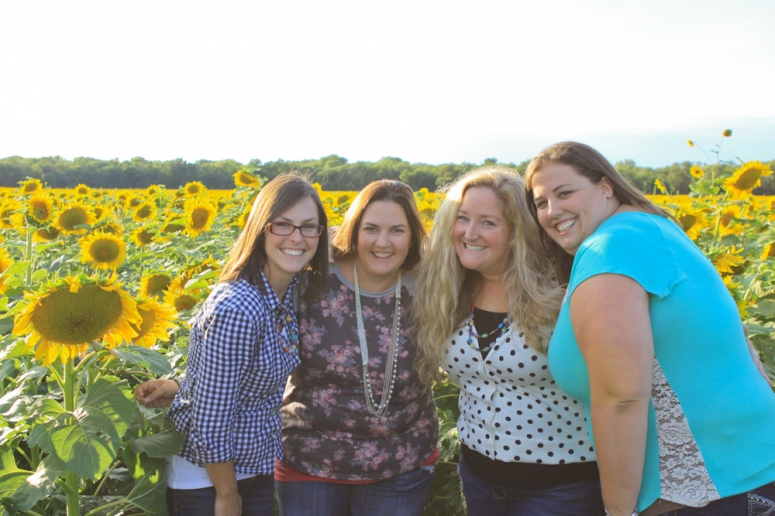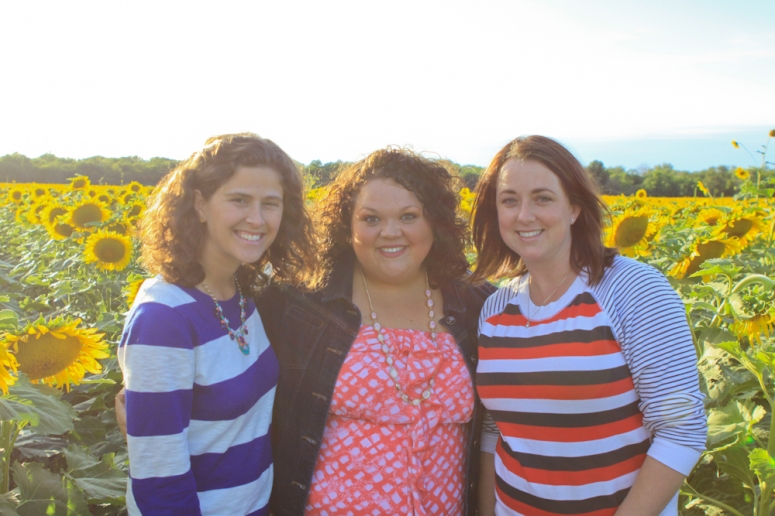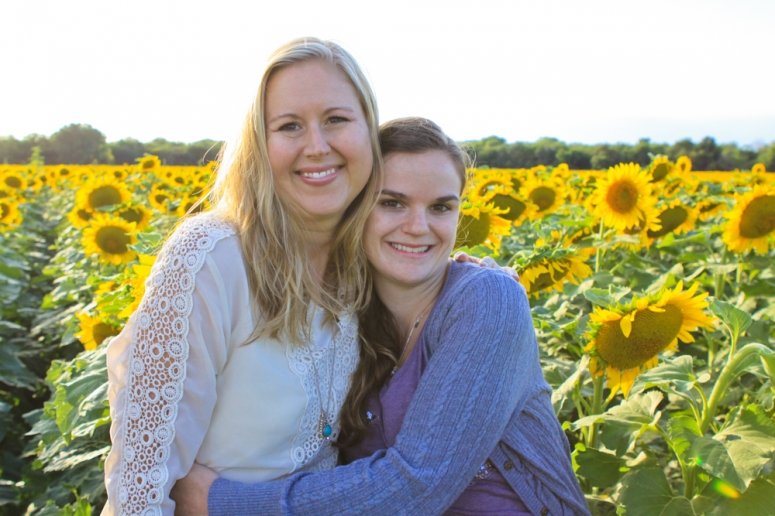 Holley told us that "the Dream itself (whatever it may be for you) is not the point.  The adventure in the relationship with God is what matters. "
Being together with Him, ready for whatever He asks and brings to you next.
Remembering that we are His, we are loved and we can dream BIG.
Saying your dreams out loud can be a scary thing.
But He has given us what we need to be all that we need to be.
(you should go read Holley's story about her daughter Lovelle… God is so good!)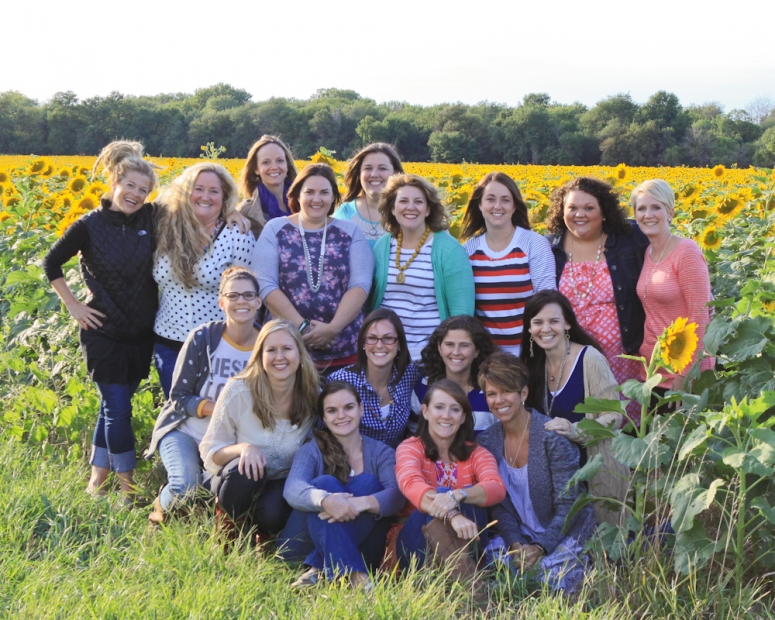 this week for me was about giving these women a time and a place for their creative gifts.
time to rest… dig deeper… make friends…. and to be heard.
we shared together what our dreams were and what the next step was.
everyone encouraged each other in so many ways.
having this camp was my God-Sized Dream.
i was scared… scared it was a dumb idea…. that no one would want to come… that i was crazy…
while reading Holley's book it was made clear to me that this was not something i came up with but that it was God 's idea and HE wanted me to do it.
and then at that point… what choice did i have?
to run away scared or say YES to his plans!
it was humbling to see this group of women come together and hear them share so intently.
it was a w e s o m e.
and i am so happy that they could have time to focus on their dreams.
and this may seem silly to some but i felt like that sunflower field was a treat from God for me.
it was breathtaking.
like God was saying "you did what i asked.  you gave me your fears.  you trusted me.  Look Megan, your favorite flower…. a MILLION of them."
sometimes God choses to practically knock us out with his goodness.
this camp… was one of those times.


if you are interested… here are other camp create recaps.  🙂
michelle –  part one and part two
stephanie  – part one and part two
holley
shannan  
carey
beth