the entryway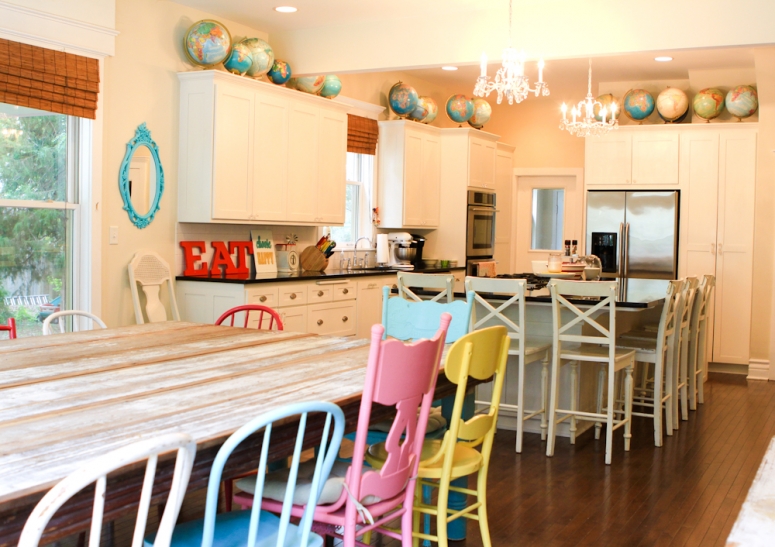 large fully stocked kitchen with seating for 16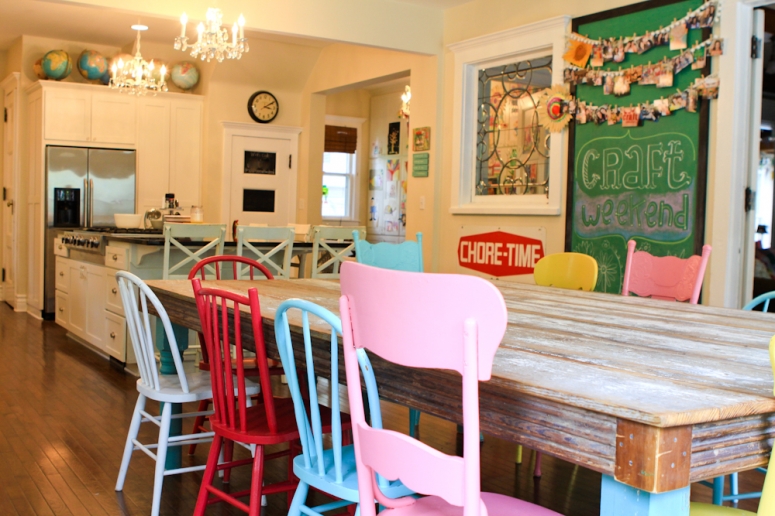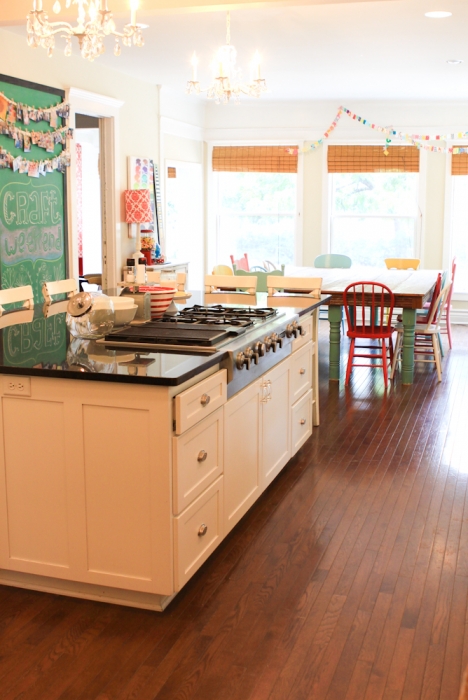 two walls of windows in this sunny kitchen!


cozy living room with TV, DVD & WIFI




the work room


large tables eclectically mixed together with more space on the end at our cutting table


the foyer allows for setting up more tables to give your group even more space to work.


bedroom #1 sleeps 2




bedroom #2 sleeps 3




bedroom #3 sleeps 4




bedroom #4 sleep 4


bedroom #5 sleeps 3


Welcome!
The Craft House was home to my family for 7 years.  We moved in with five little ones… our youngest was just 2 weeks old when we got here!
My husband and I changed almost everything in the house in that 7 years.  We peeled wallpaper from every room, we painted every single wall, we took out walls, added two bathrooms, gutted and built a brand new kitchen that we doubled in size, took out carpet, landscaped and SO much more.  We love this house!  It is a true labor of love.
In 2012 we chose to move our family to a smaller community and schools.  Which meant moving out of our favorite place.  It was a hard choice!  We love this house so much that we knew it had to be shared!  We use it often for Craft Weekend which you can read about under the Craft Weekend button at the top of my blog.  We host 12 women for an awesome ALL INCLUSIVE weekend of pampering and being creative.
And now… YOU can enjoy the Craft House with your friends!  We set up this house to comfortably sleep 16.  There are three full baths and five bedrooms upstairs.  On the main floor is a giant work room to spread out and work on your craft projects.  There is a full kitchen that allows easy entertaining & cooking together.  Meals can be eaten together at our barn wood table in the sunny eat-in kitchen.  There is a living room with comfy couches to relax or watch a movie on the TV & DVD player set up with surround sound.  A large wrap-around porch is a lovely place to have a cup of coffee and get some fresh air.  And of course we have free wifi at the house!
This house is perfect for scrapbooking or any kind of crafting groups.  We have had girls weekends, church small group get-aways, office retreats/conferences and large family gatherings here too.
There is no one "on site" at the home during your stay.  Your group is in charge of meals and entertainment during your stay.
Check the Craft House Calendar for availability and email me with ANY questions!  The Craft House is available to groups for weekends and during the week.  We would love to have your group enjoy the Craft House!
Our price is $1500 for Friday at 10 AM – Sunday at 4 PM.  Maximum number of guests is 16 but there is no minimum.  That is $94 per person when you fill the house.    Additional days can be added to a weekend reservation for $250 per day.
We look forward to working with you!  Your group will love this happy home!
contact:  Meg Duerksen at  cdduerksen@yahoo.com