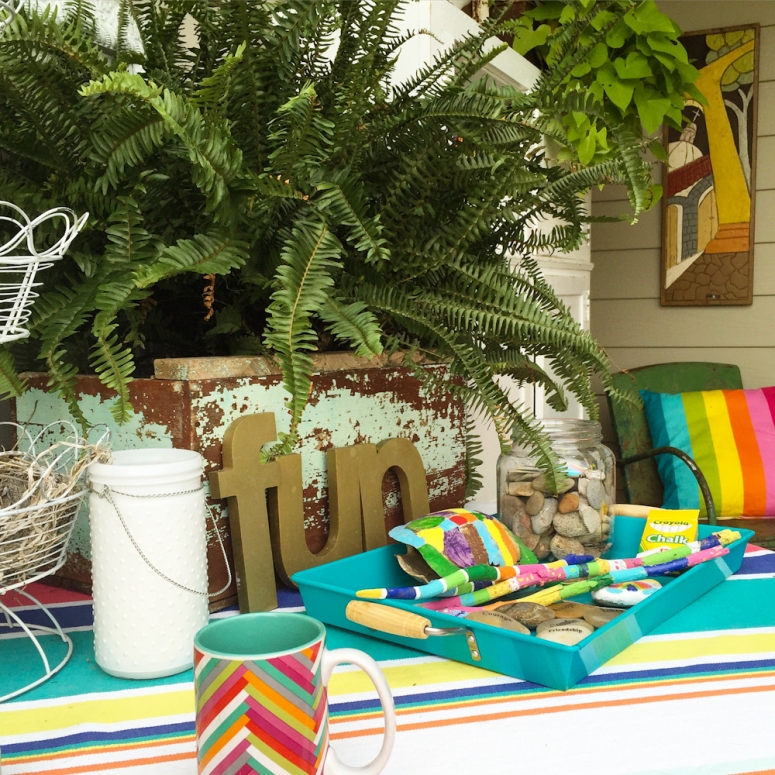 since school has started i am missing my lazy mornings on the deck.
and this is totally sad because it's PERFECT out there!
nice cool breeze and the flowers are growing like bonkers.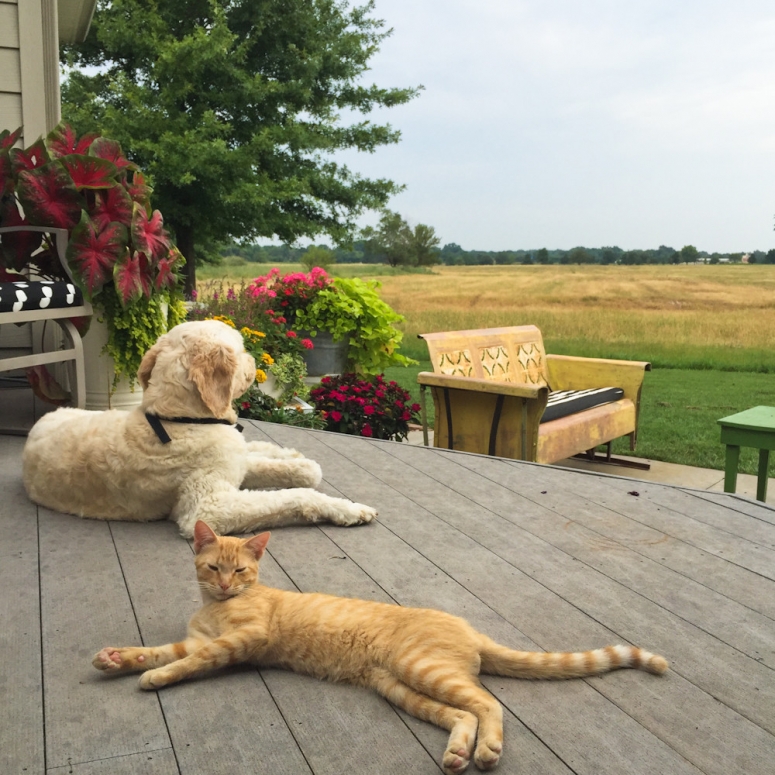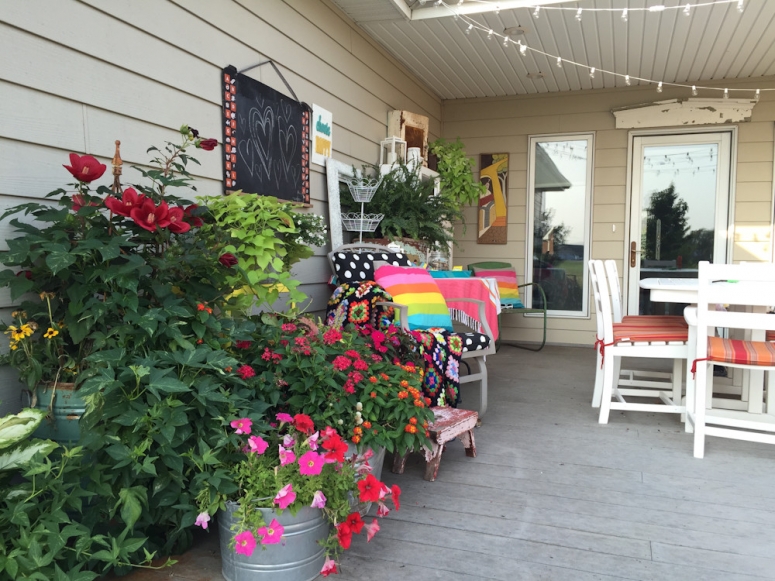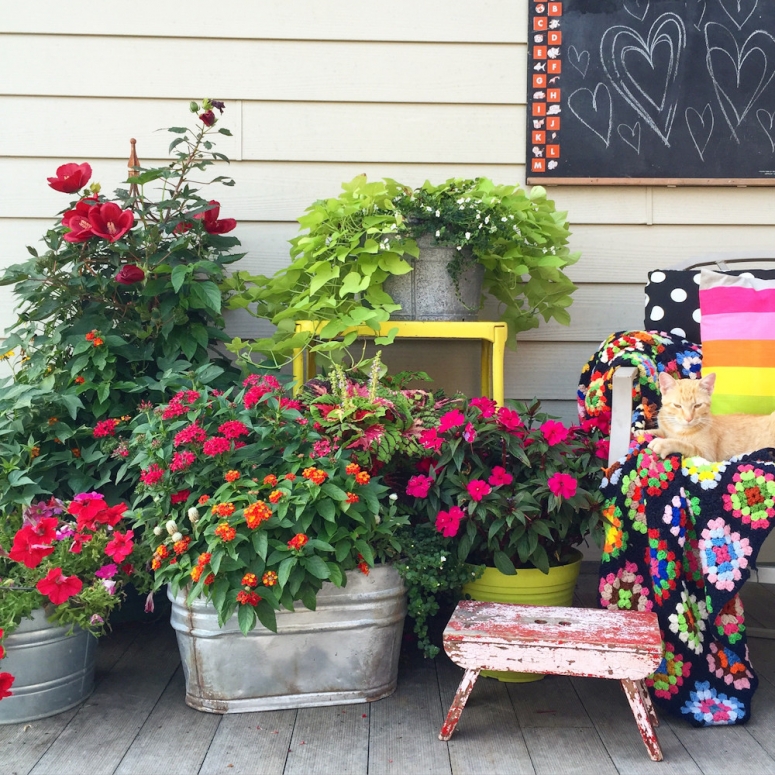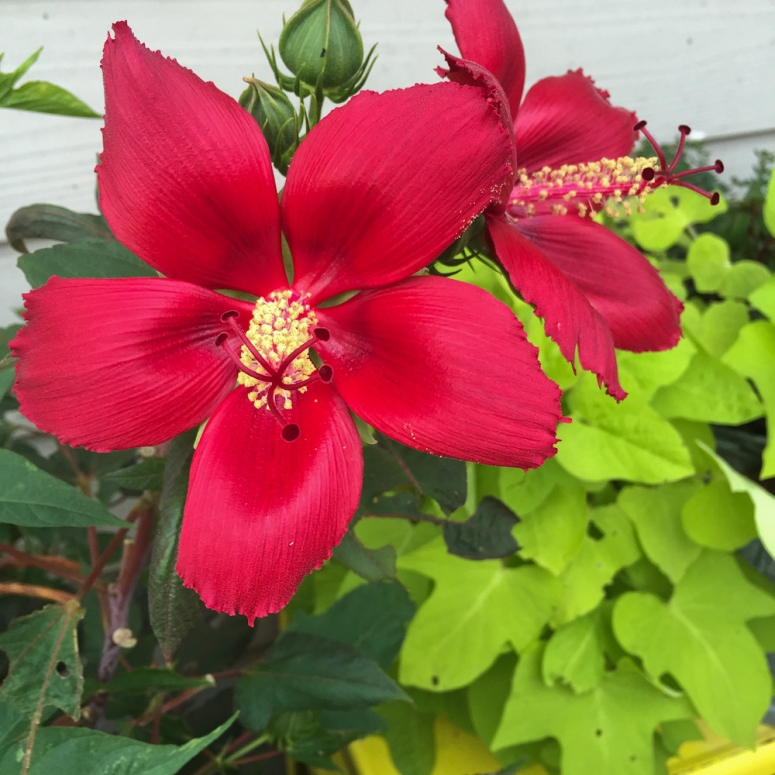 i have never grown hibiscus before.
i thought it was a tropical flower or something but i picked it up at our nursery and it's done so well!
it's very fancy pants and dramatic.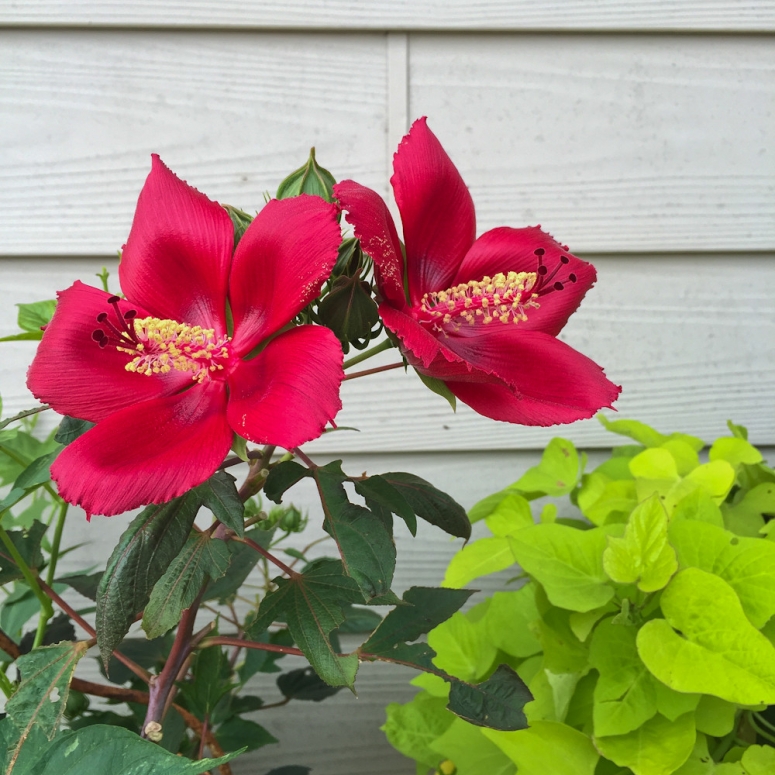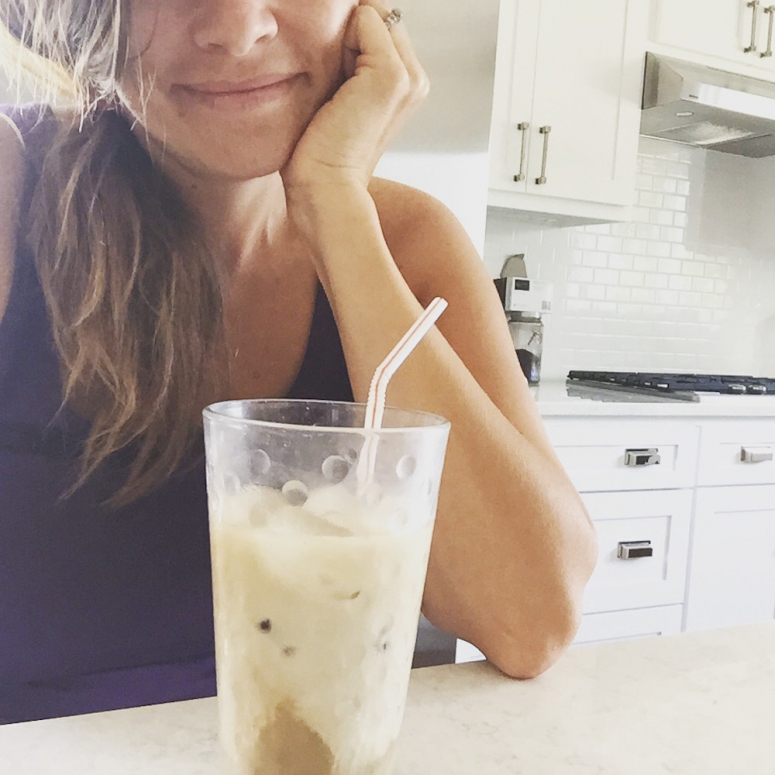 two weeks ago craig took the kids to Kansas City for a Royals game & Worlds of Fun.
i don't like roller coasters.
not at all.
i did some when i was younger but i have more memories of sickness and no memories of enjoying a roller coaster.
once in jr. high at a carnival i had a huge screaming meltdown to "STOP THE RIDE!!!" because i would surely die in the next two minutes if not.
they let me off.
it wasn't my finest moment.
i also have slight (major) hysteria about haunted houses but we can save that for another post.
and we won't even talk about the vomiting.
the last time i rode a roller coaster was when annie was a baby.
i gave it one last shot.
i hated it.
i was positive the headline would read "Mother of 5 Dies on Roller Coaster… who will care for her children now?"
i said "i am done with these forever."
the end.
so… i don't go to Worlds of Fun because craig & i don't think we should pay $40 for me to walk around for 8 hours.
and that means i got to stay home!
A L O N E.
talk about dreamy right?
i even got an over night at home alone!!!
it was absolutely the best.
i love my family to the max but alone time is so good for recharging me!
and my kids had a blast!
craig sent me this picture from the Royals game… they are pretty cute!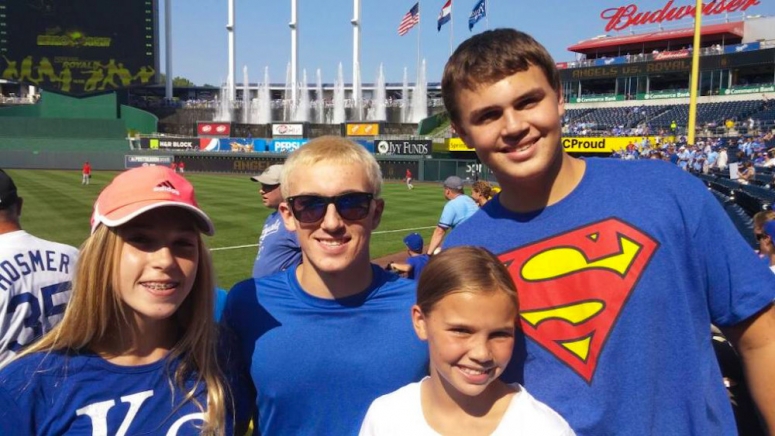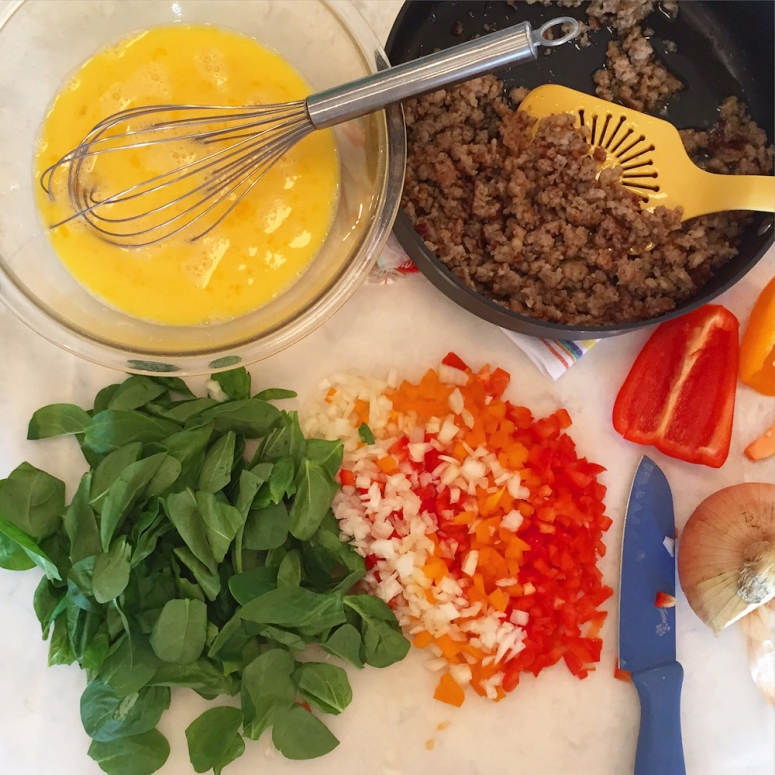 i did some meal prep and i worked on curtains for the craft house.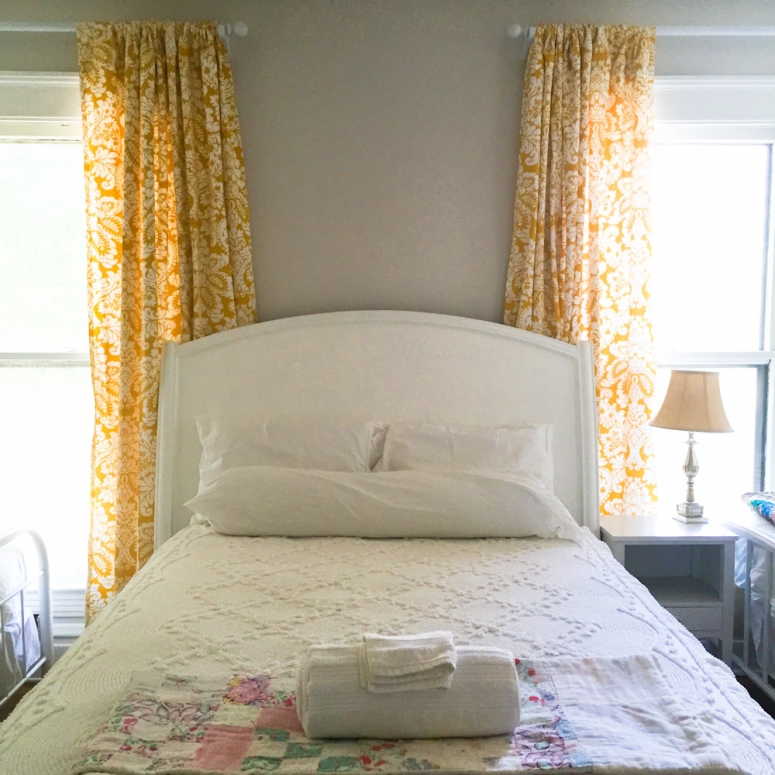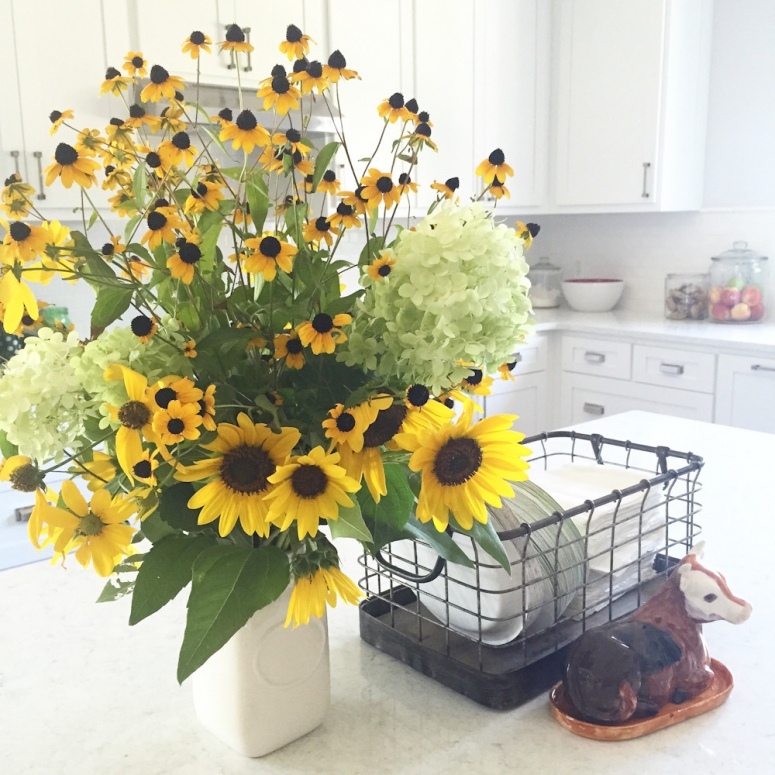 later in the week i pulled weeds, cut down dead flowers at the craft house and i cut these pretty ones too!
i also cleaned the kitchen. (obviously)
ha!
because this is NOT how it normally looks 98% of the time.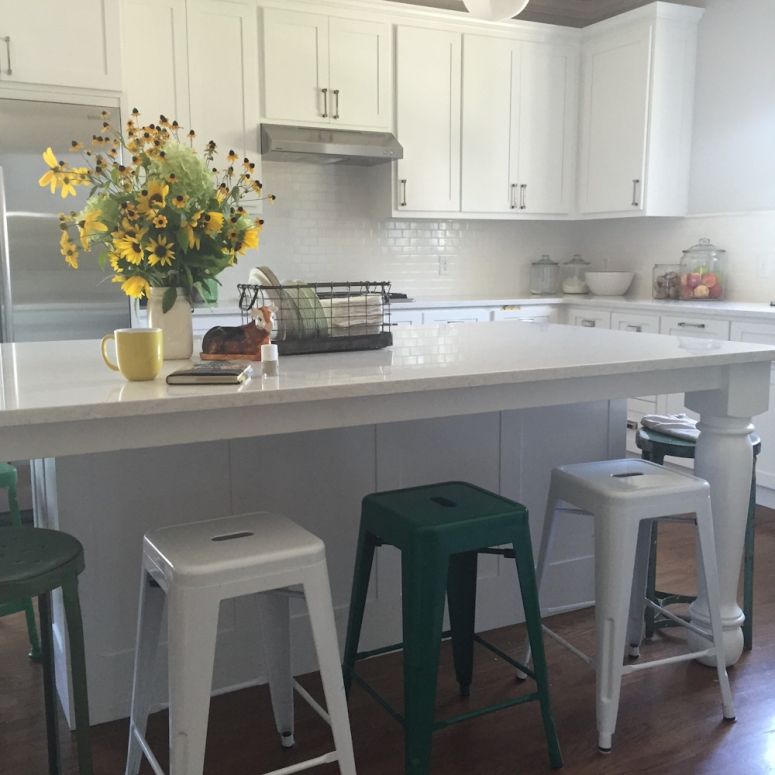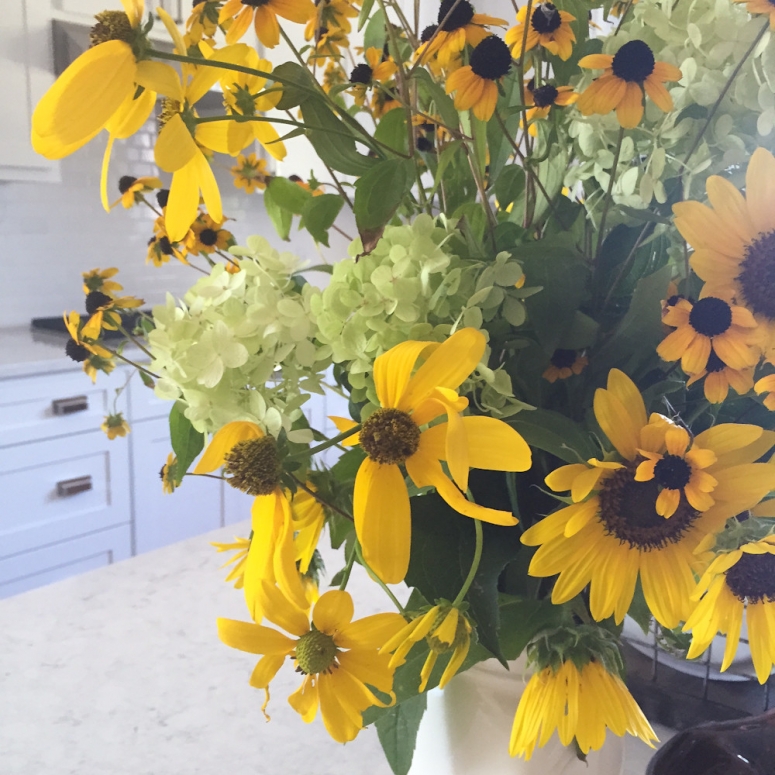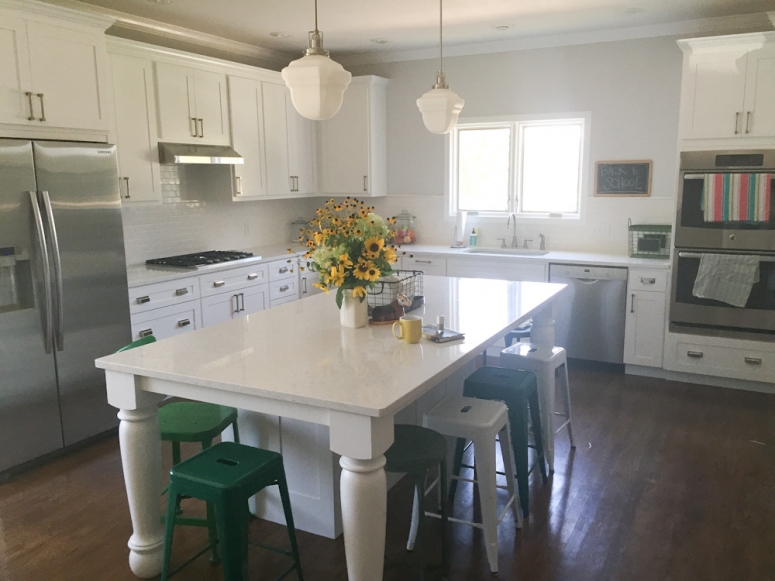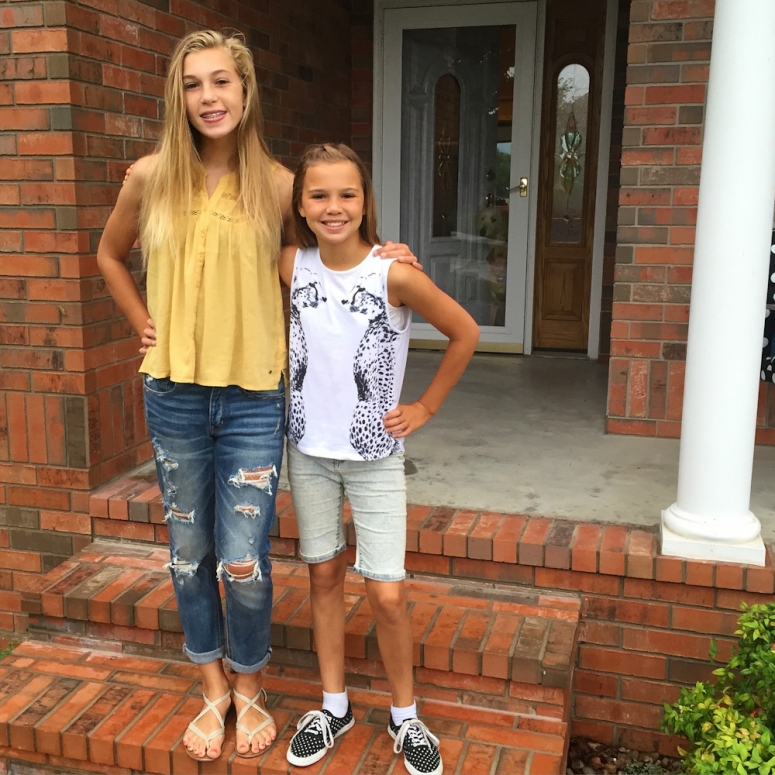 Talby started 8th grade.  Annie joined the middle school by starting 5th grade!
didn't i just blog about how scared she was that first day of kindergarten?!!
BOO.
whether i like it or not… school started.
the boys were already gone at morning football practice so i didn't get a photo of them.
volleyball is going for the girls and this year my boys are on the same team in football!
this has never happened.
i can't wait!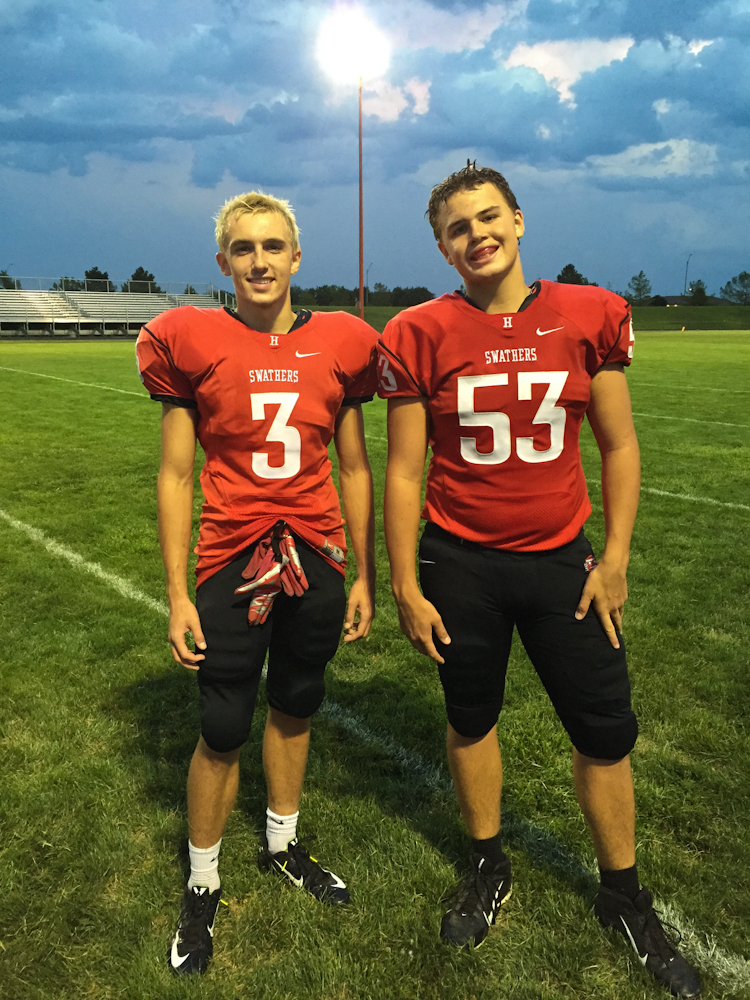 scott is a senior (whaaaat?!!) and Sean is a freshman.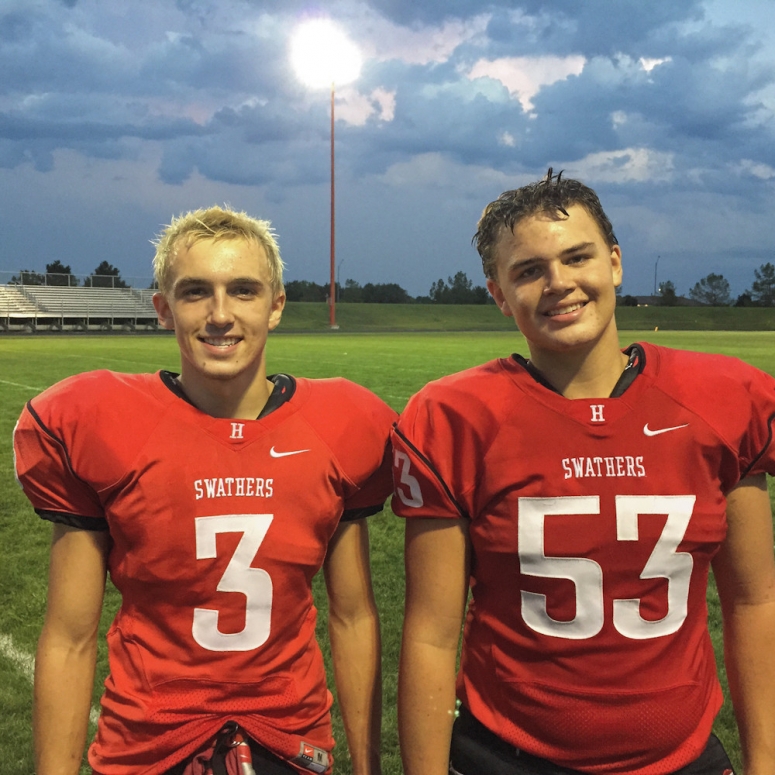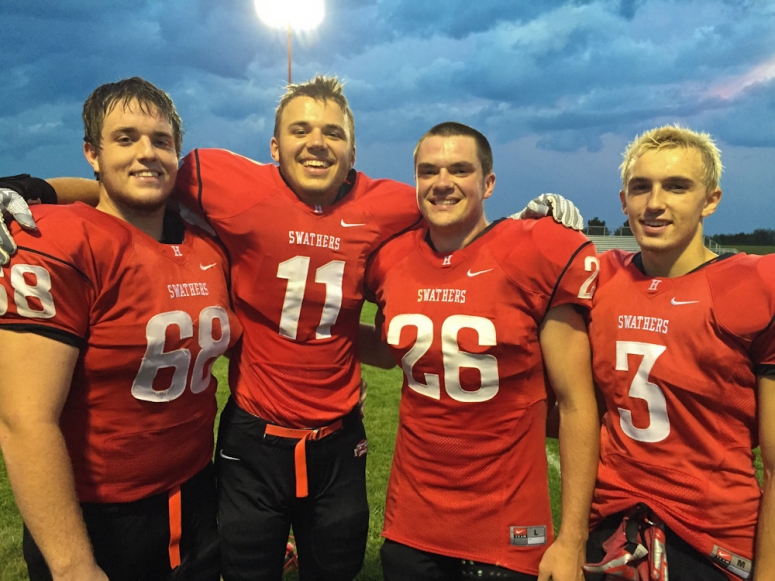 these are scott's senior buddies.
it's fun (and kind of crazy!) to watch them turn into men right before our eyes!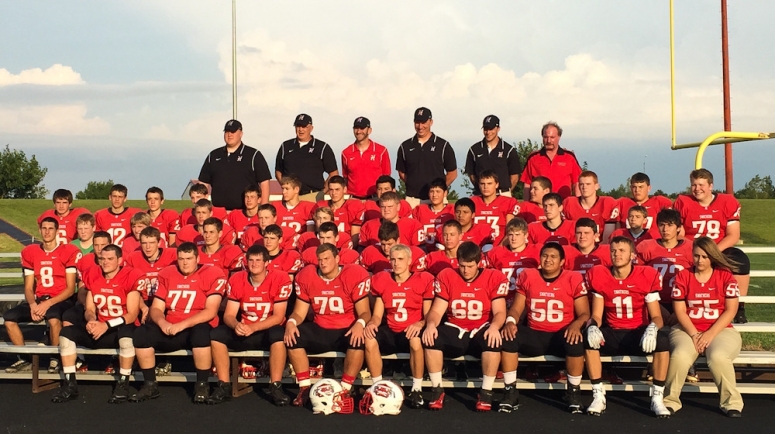 friday night was a scrimmage and next week the real games start.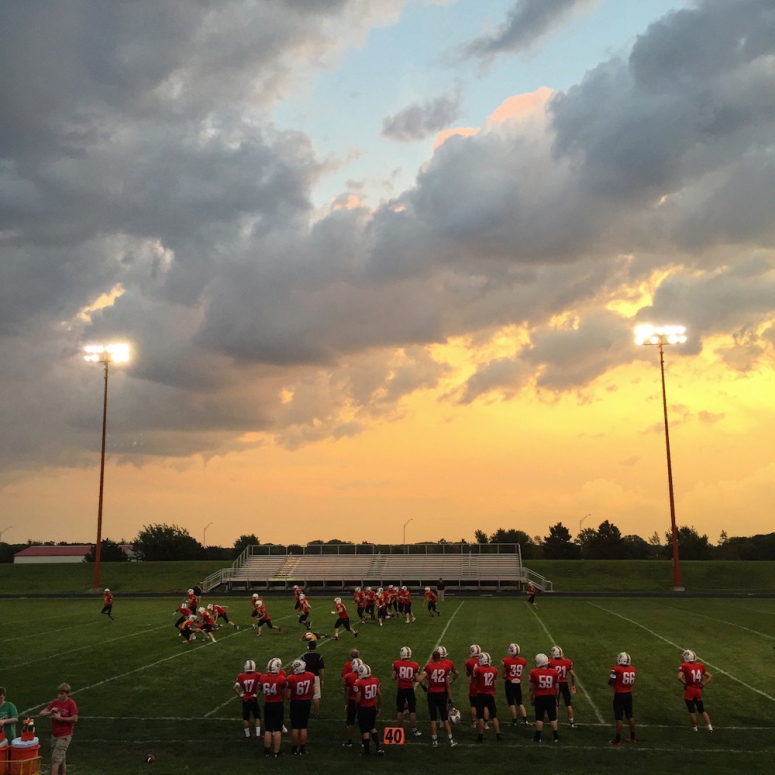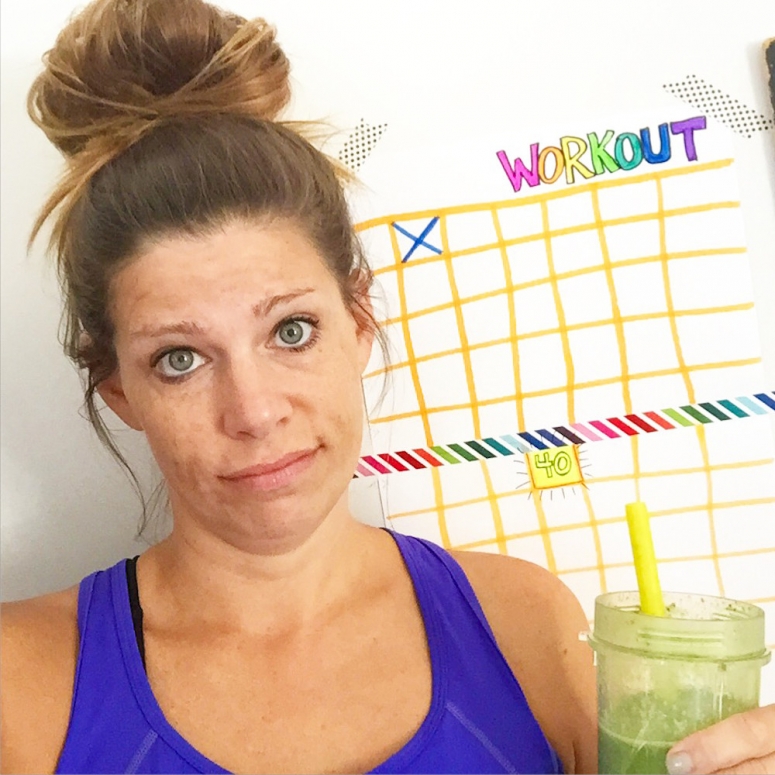 i made a new schedule for me for working out… i am a visual person.
i like to check stuff off.
and as you can see i am a month away from the big 4-0.
oy veh.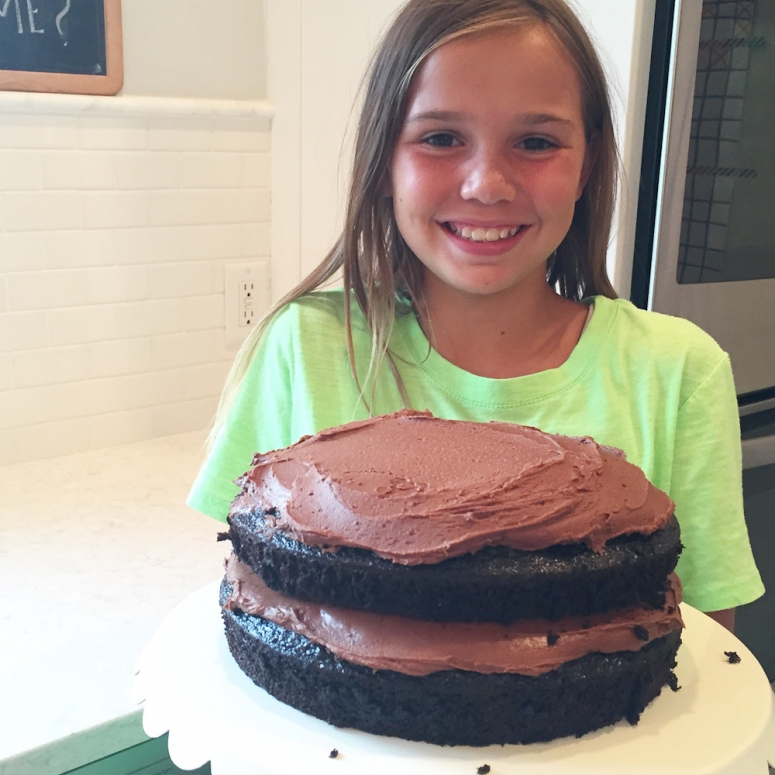 annie loves to bake and i suggested a back-to-school cake.
she searched pinterest for chocolate cake and landed on this one but only the cake.
we made the frosting by melting half a bag of chocolate chips and adding that to powdered sugar.
because that was all we had.
and it was delicious!!
but just wanted to be sure you saw THE REAL kitchen too…not just the clean version.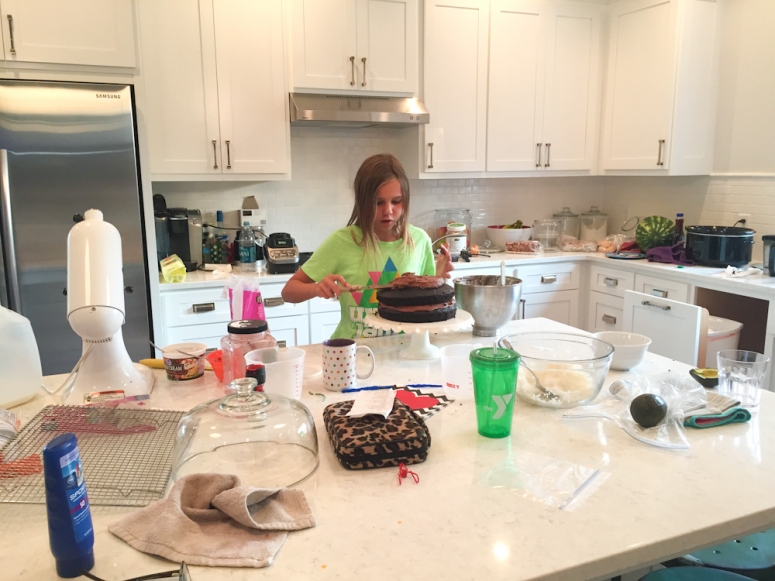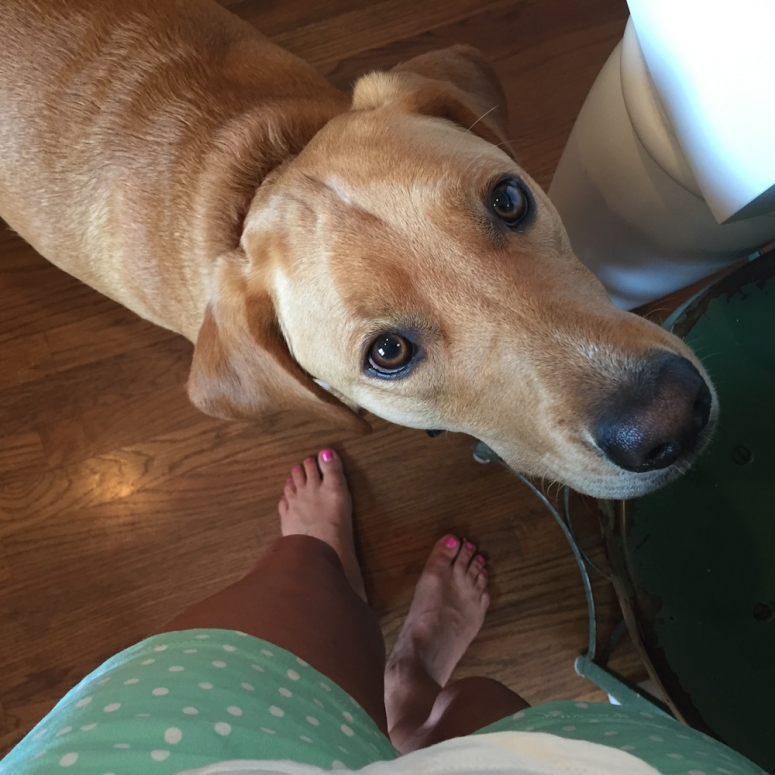 stanley also likes when annie bakes.  

this week i am working hard on everything for Camp Create.
it's coming up quick!
and my 21st anniversary is happening on thursday!
and games start for talby and the boys.
it's going to be a really good week… i have already decided.  ha ha ha
today i am meal prepping again.
and maaaybe a quick nap.