alright.
so it's been a whole week since i blogged.
that's a long time!
craig said "soooo… are you EVER going to blog again?"
to which i turned and unleashed a long string of LEAVE ME ALONE!!! I AM BUSY! HOW DARE YOU's on him like a sweet wife does when called out on her slacking.
let's see… this past week has been bonkers with activities.
just like at your house i assume.
i schedule appointments for each of my kids in december (eye dr…dentisit… etc) and then we do their christmas shopping for their siblings afterwards.
one on one.
we started this a few years ago.


half of the fun for them is the lunch stop i think!
in the past 9 days I've eaten at chipotle 4 times and Chili's once.
it's really sweet to watch them shop trying to decide what their sisters or brothers would like… within their budget.
we do a "matching" program (in a way).  i pay for it all and then they pay me back most (70-ish%) of it.
i don't make them pay it all back to me because i like their big hearts and wanting to get nice(r) gifts for people they spend most days fighting with.
it gives me hope.
maybe they will like each other when they grow up??


ever since annie was home sick on thanksgiving break we have been recording The Price Is Right on the dvr.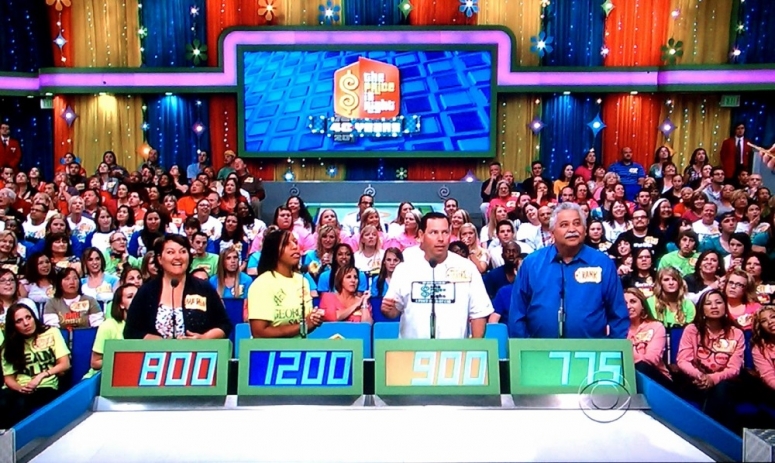 she comes home from school and watches it.
EVERY DAY.
it's such a clean show! (other than the dresses on the lady models….)
and i may or may not get teary eyes when they win the big showcase and they seem like they may pass out.
did you know there is even a MALE model on the show now?!
i think you should watch over christmas break.
bring back all the old memories of summer and being a kid in the 80's!
COME ON DOOOOOOWN!



my girlfriends and i ran in the jingle bell run again this year!
every year we try to think of reasons not to do it but honestly… the spa time afterwards makes any race worth it.
this year i ran the whole thing!
last year i did too but that was purely to stay warm because last year it was 3 degrees!
this year was cold but not like that.
and you would think i would be on an excerise high from doing so well in the run (not because of speed but because of not walking) but you would be wrong in that thinking!
i have a terrible time getting exercise into my day.
but i won't give up this battle.
i just keep hoping i will become a lover of exercise.
someday….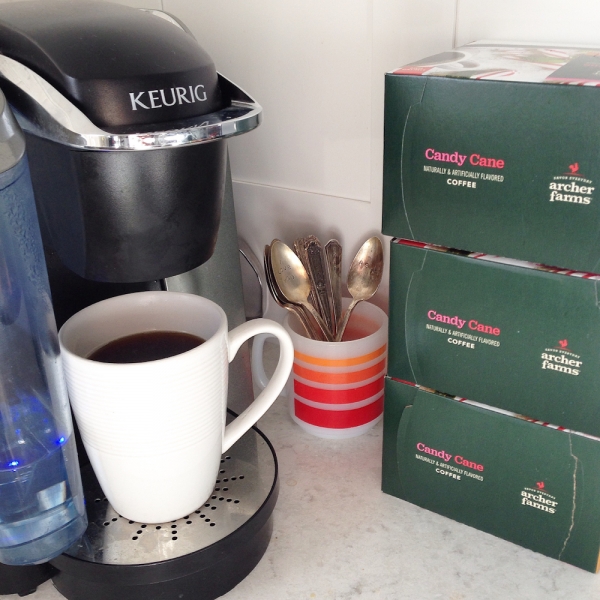 i have a thing for peppermint.
we are BFFs all the way.
so believe me when i say i have bought so many boxes of these k-cups from target it's not even funny.
i am stockpiling them.
because they will be gone and i will have to go back to my second favorite flavor of coconut mocha in january.
what i am really craving is peppermint ice cream.
and i DID purchase Peppermint Mini Oreos this week because i plan to make a milkshake with peppermint ice cream AND the mini oreos at some point in the next week.
because it's once a year and resistance is futile.
two weekends ago craig asked me if i wanted to hang up a new light?
swoon.
that is like whispering sweet nothings in my ear.
so we pulled out the old, dusty, bent up chandelier i got at the barn forever ago, figured out if it still worked and he even took all the crystals off for me!
i cleaned it and painted it and then last weekend he hung it up!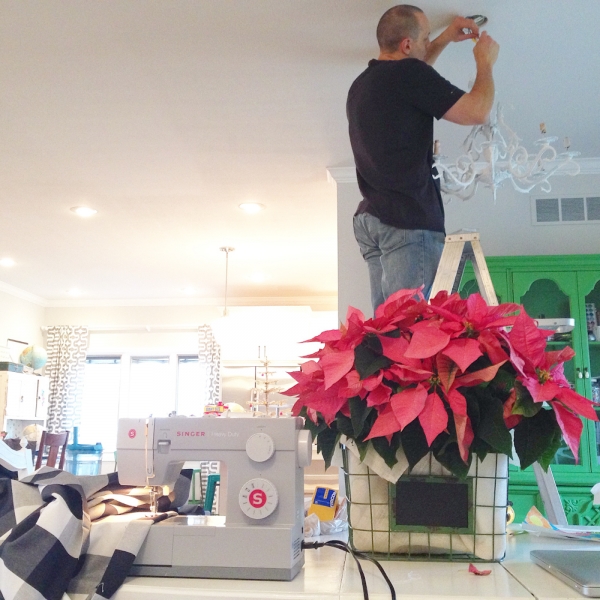 and while he did that i sewed new curtains.
the black and white gingham fabric is by the yard at ikea.
i moved the curtains i had in the dining room into the kitchen.
that big straight lined pattern was SO EASY i said "i don't ever want to sew anything without lines again!"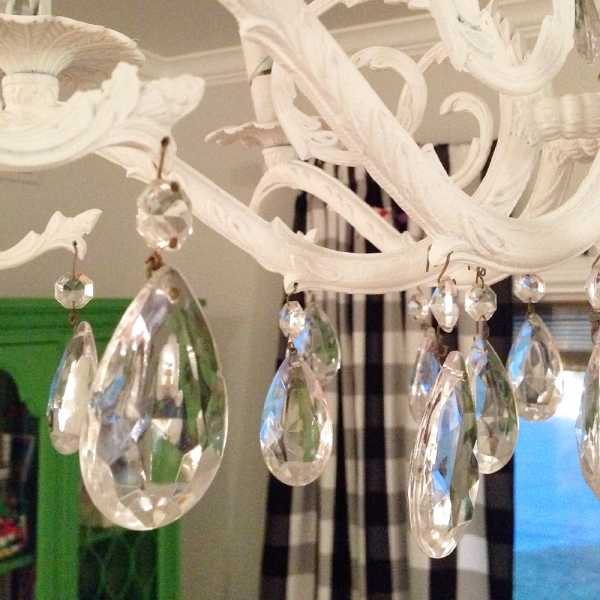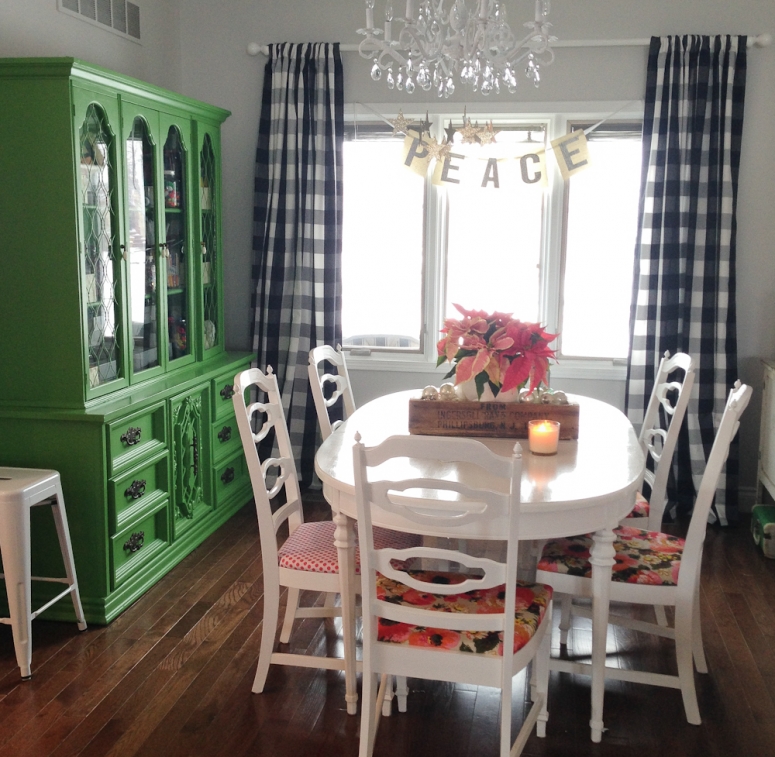 on IG people keep asking for a christmas home tour.
that's a great idea but i am waiting for my cleaning lady to come and then i will take pictures.
she is the best part of my week.
pretty much every week.



in case you wondered… she cleans the kitchen, living/dining room, guest bath and my room/bathroom.
my kids still have to clean their own rooms, the family room and their shared bathroom.
skills they need in life.
i want them to learn to do the work.
because i still have to clean stuff everyday.  all kinds of things!
it feels like i never stop cleaning (you feel this way too right? please say yes!)
it's NEVER ending.
i appreciate the professional cleaning help every week more than i can explain.
ok…. one last thing today.
christmas cards.
are you sending them?
i used to be a rock star at christmas cards.
but i am not any more.
so IF i was going to send a card it would be this one: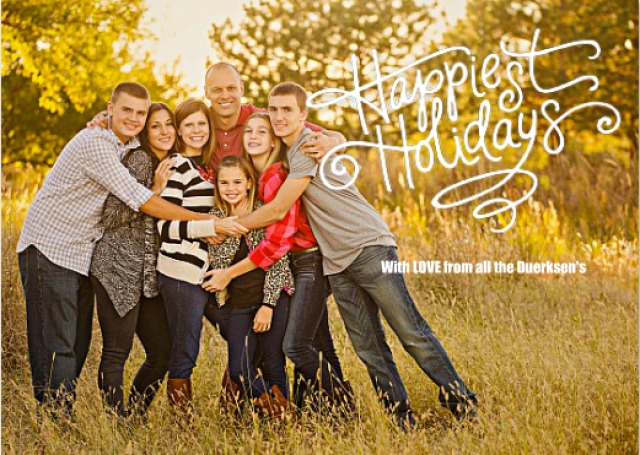 (this design was on MPIX)
but…. even though i am total slacker in the card mailing department… maybe you aren't?
if you wanted to send me a christmas card i would be thrilled!
also we have moved twice in three years… so NO ONE knows our address anymore.
and i miss christmas cards!
so if you want to send me your christmas card…  send me a quick email at megduerksen@gmail.com and i will give my address to you.
i really will.
(and i f you are thinking WHY would i ever send Meg a christmas card?? i get that and there is NO PRESSURE whatsoever to do this weirdo project.  just an idea that popped into my head. i know that not all my ideas are great

)