I found this list through pinterest of what i am currently doing… so fun!
READING…. Just started Carry On, Warrior by Glennon Doyle Melton

 and smiling a lot while reading.
PLAYING…. the Annie

 sound track.  by myself at home.  the new one.  the Annie (Original 1982 Motion Picture Soundtrack)

 is the background music to my entire childhood!  i have listened to those songs every year of my life since it came out in 1982.   i think it's fun to have a new twist on the old songs and i LOOOOOVE the new song Opportunity.  it makes me feel hopeful and inspired.
WATCHING…. i am behind on Parenthood!!! but i will catch up by next week.  (WHY do they have to be done? i don't understand tv network producers/actors.  We ALL love this show and it's going GREAT.  Why do they have to quit?!  You too Don Draper!  What is your deal?  Just give the people what they want – MORE shows!!! as soon as anything gets good they stop the series.  it's like losing a friend.  yes, that's dramatic but it's kind of true.  and it makes me want to stop watching all together because i get tired of feeling bummed about silly things like that. )
TRYING…. to stop being so dramatic.
COOKING…. spaghetti for dinner tonight…. garlic bread… broccoli
EATING… literally eating scrambled eggs right now.
DRINKING… i had a moscow mule on my date the other night after hearing rave reviews from my sister at christmas.  YUM!
CALLING….  i only call doctors and the school – other wise i never use the phone for talking.  🙂
TEXTING… my husband all morning.  🙂  he leaves SO early in the morning and i like when he checks in with me mid morning.  i tell him all the exciting things that are happening at home like "a huge coyote just ran through the yard!"
PINNING…. these are 10 recent pins…
one, two, three, four, five, six, seven, eight, nine, ten


TWEETING… ummm…i don't really tweet.  but i just watched nicole kidman on jimmy fallon from JF's twitter feed and i was DYING!! you have got to watch it.  oh my gosh.  i feel all sweaty and weird… geesh.  Poor Jimmy.
CRAFTING….Name tags for Craft Weekend!
DOING…. laundry (of course… always)
GOING… grocery shopping in about 30 minutes
LOVING…. having long hair again!  it's been six years since i chopped my hair off.  🙂
HATING… not knowing what to do with my long hair – HA HA HA!  and the fear of having "Mom Hair"
DISCOVERING… my first gray hair.  for real.  it was shocking.  i thought i wouldn't care.  oh… i was wrong.  I CARE.
ENJOYING… the silence of my house today.  even the dogs are being quiet.  ahhhhhh
HOPING (for)… a major BIG snow storm this winter (not around or near any Craft Weekends though  😉
CELEBRATING… this funny moment at Scott's game when we noticed the giant head of his in the crowd.  It was adorable.  the other players faces were there too… and Theodore Roosevelt too because that completely makes sense.  (jk… it doesn't)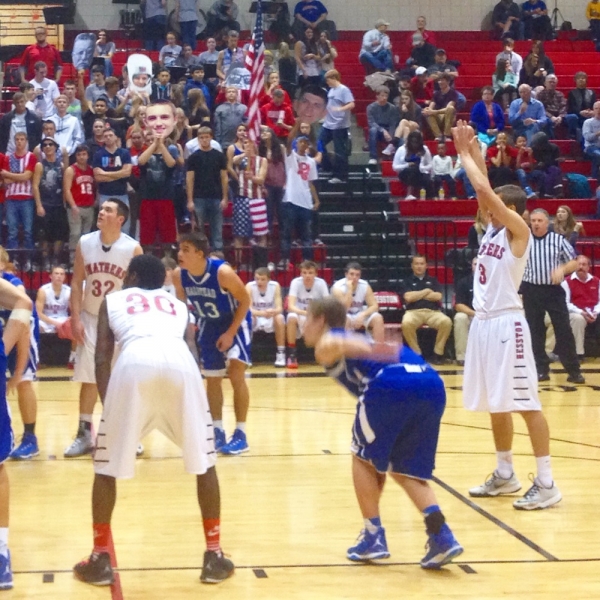 SMELLING…. skunk.  on saturday night craig and i went out for dinner.  it was a REALLY good night.. conversation was excellent… food was my favorite… it was a dreamy night.  then talby called and said "MOM! the dogs found a skunk! and they came inside! and it smells SOOOO bad in here we can't breathe! and it's still on the porch!" Talk about a downer phone call?!!  So we made our way back home and i can't even describe the magnitude of smell.  it was S I C K.  i woke up in the night and was sure i would vomit just from breathing.  it's better now but not back to normal yet.  Skunks.  WHY Lord?! What in the heck is their purpose?! Why did you need to create those?!!!
THANKING… God that there are not MORE animals like skunks.
CONSIDERING… a third cup of coffee.
FINISHING… ummm… this blog post?  i feel like i am never finishing anything.
STARTING… 1 & 2 Peter bible study from She Reads Truth.

what about you?  what are you doing?!